Nusraat Faria returns to anchoring
Popular film actor Nusraat Faria is known best for her big screen performances, but the movie star began her showbiz career as a TV presenter for the Rtv programme "Thik Bolechen Toh." Faria went onto become a popular anchor for a number of programmes, while establishing a modeling and acting career on the side. And now after two years, the actor is slated to return to her hosting roots, in a new programme titled "Ma Versus Bou."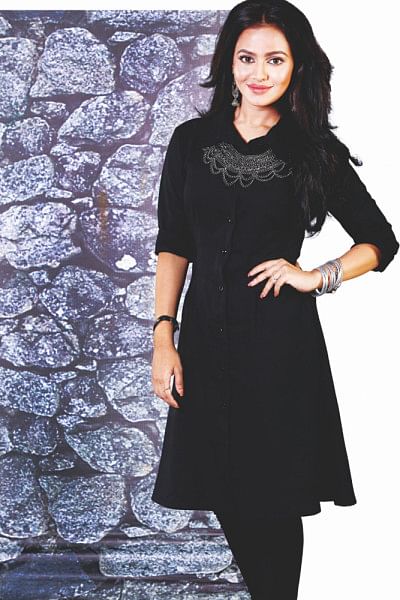 Popular film actor Nusraat Faria is known best for her big screen performances, but the movie star began her showbiz career as a TV presenter for the Rtv programme "Thik Bolechen Toh." Faria went onto become a popular anchor for a number of programmes, while establishing a modeling and acting career on the side. And now after two years, the actor is slated to return to her hosting roots, in a new programme titled "Ma Versus Bou."
Directed by Tanim Rahman Angshu, filming is said to begin from December 17-22 at FDC. "I was drawn to the premise of the show, due to its unconventional format. As a performer I want to be recognised for good work, and I am preparing to make the show a success," Faria told The Daily Star.
Each episode of the programme features a mother and her daughter-in-law, and is expected to have 15 minutes airtime.
Nusraat Faria's last film was "Boss 2", a Bangladesh-India joint venture directed by Baba Yadav.