Trafficking: Top Thai army officer suspended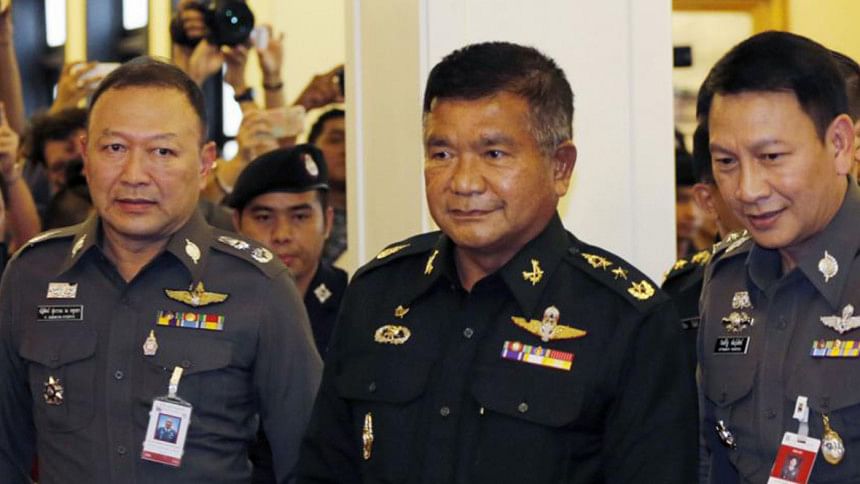 Human trafficking suspect Lt General Manas Khongpaen has been suspended from military service, Army Commander General Udomdej Sitabutr said today.
Manas, a former special adviser to the Army, would be reinstated and paid retroactively if found not guilty of the various crimes with which he has been charged, said Udomdej.
Meanwhile, another Bt34 million in assets belonging to people allegedly involved in the trafficking of Rohingya and other migrants has been ordered seized, including Bt4 million found in Manas's bank accounts.
The total value of assets belonging to suspects alleged to be involved in human trafficking in the South has reached Bt109 million, said Anti Money-Laundering Office secretary-general Seehanart Prayoonrat.
The Bt34 million also involves assets seized from another key suspect Pajjuban Angchotephan, as well as Natthaphat Saengthong, Charnnarong Phromenut and Hard Thodthing.
People found to have transferred the money to these suspects and all others involved in the trafficking would have their assets seized if the evidence were strong enough, said Seehanhart.
Meanwhile, five Rohingya on the run after escaping from a Songkhla facility last week have been found and returned to governmental care.
Six Rohingya who fled a shelter in the province's Rattaphum district had earlier been found.