Arrest order for top Thai army officer
Australia turns back boatpeople: Indonesian police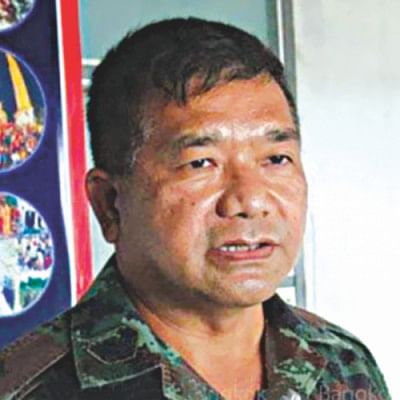 Thailand's police yesterday obtained a warrant for the arrest of an influential Army major general accused of trafficking Rohingyas and other boatpeople in the South.
In a police document submitted to a court in Songkhla, Maj Gen Manas Khongpaen has also been accused slavery of humans aged under 15 at a number of locations, including seven in South Thailand and in Bangladesh and Myanmar, between November 2102 and May this year.
During the raid of the home of a key suspect last month, law enforcers found bank transaction slips showing Maj Gen Manas as the recipient of a large amount of money, reports The Nation.
Previously, the Thai government denied reports that security officers were linked to human trafficking and modern-day slavery. 
The junta launched a crackdown on human trafficking syndicates after the country was relegated by the United States to Tier 3, the lowest level, in its Trafficking in Persons report last year.
The crackdown resulted in the discovery of a mass grave in the southern border province of Songkhla in late April, while an influx of boat people on the Indian Ocean and the Andaman Sea continued.
Meanwhile, a number of boatpeople have come ashore in eastern Indonesia after they were intercepted by the Australian navy and pushed into Indonesian waters as they headed for New Zealand, police said yesterday.
The boatpeople -- 65 migrants from Bangladesh, Myanmar and Sri Lanka -- were spotted by the Australians, said Hidayat, an Indonesian police official on Rote Island in the east of the archipelago.
"According to their testimony, they were pushed back by the Australian navy and immigration after they were interrogated," said the official. "They said they were on their way to New Zealand."
He said they were spotted by local residents Sunday near a beach after their boat sank, reports AFP.
The police official did not say where the boatpeople, who included women and children, had started their journey, although such groups in the past set off from Indonesia en route to Australia.
The would-be refugees were being held at a police station and would be processed by immigration officials today, the official said.
After Australia introduced its military-led operation two years ago, the numbers attempting the route from Indonesia to Australia declined dramatically.
THE ARREST WARRANT
Maj Gen Manas, 58, was serving the army in the South as an adviser in several prominent positions, including the chief of the Chumphon military area, and the chief of 42nd Army district in Songkhla.
A provincial court approved the arrest warrant after a written request was submitted by Pol Maj General Paween Phongsirin, an area commander responsible for provinces in the upper South and the police investigation into the entire human trafficking racket.
Army spokesman Colonel Winthai Suvari said the army was willing and ready to cooperate with the police in the arrest of any army officer accused of human smuggling.
To date, Manas is the senior most serving military officer implicated in human trafficking.
AUSTRALIAN POLICY
Australia's conservative government introduced tough immigration policies in 2013 to stop an influx of would-be refugees. Boatpeople are sent to Pacific camps and vessels are turned back when it is safe to do so, or taken back to their country of origin.
The new arrivals in Indonesia come as Southeast Asia is gripped by a human-trafficking crisis, which has seen thousands of migrants come ashore after a Thai crackdown threw the illicit trade into chaos.
Around 1,800 Rohingya from Myanmar as well as Bangladeshis have landed in Indonesia's Aceh province this month alone, and others have landed in Malaysia and Thailand.
An official said last week that Australia had prevented 18 boats carrying "asylum-seekers" from arriving in the country since its conservative government came to power in September 2013.
New Zealand's Prime Minister John Key warned last year that people-smugglers were looking to target his country after the introduction of Australia's tough border protection policies.
While the voyage to New Zealand from places such as Indonesia and Sri Lanka is potentially far more perilous than trying to reach Australia, Key said people-smugglers and asylum-seekers were willing to take the risk in the wake of Canberra's clampdown.
Meanwhile, the Royal Thai Navy has readied equipment and vessels to carry out an operation -- code named Operation Centre for Patrol and Humanitarian Assistance to Irregular Migrants in the Indian Ocean -- to rescue and help out Rohingya and other migrants stranded off Thailand's Andaman coast.
The government has also allowed the US to fly over Thai sovereign waters for maritime surveillance missions since last week after a request from Washington to help inspect the movement of boat people who might be stranded at sea.