Trafficking: Top Thai army officer surrenders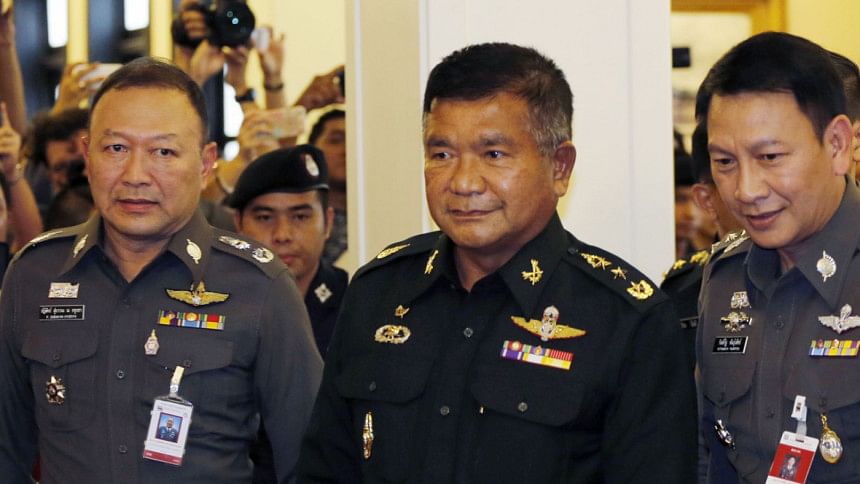 A top army officer of Thailand, Lt General Manas Khongpaen, has turned himself in days after a Thai provincial court allowed police to arrest him over his alleged involvement in trafficking of Rohingyas and other boatpeople, The Guardian reports.
Surrender of Manas, who is facing multiple charges including human trafficking, detention and ransom, marks the first arrest of a military official since start of investigation in May in the Southeast Asia human trafficking disaster, according to the British newspaper.
Over 50 people, including several local politicians and officials, were arrested after the discovery of dozens of bodies believed to be those of Burmese Rohingya migrants at the abandoned trafficking camps near the Thai-Malaysian border.
Manas denied the charges, National police chief General Somyot Poompanmoung said today.
Before Manas's arrest warrant was issued this week the army chief had denied the military's involvement in the trafficking syndicates.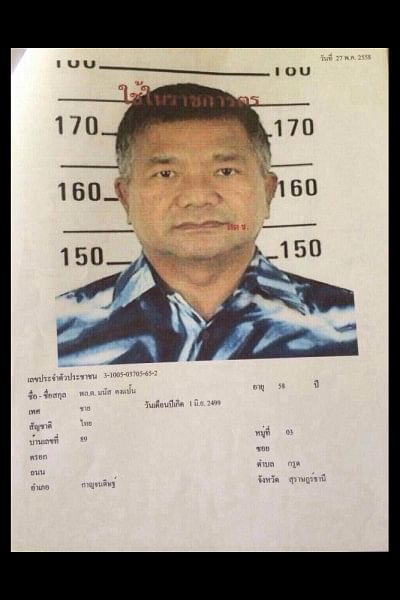 SUSPENDED 'TEMPORARILY' FROM ARMY
The Thai army officer was suspended after
police obtained his arrest warrant
over his involvement in trafficking of Rohingyas and other boatpeople amid worldwide demand for effective steps to bust the cross-border syndicate.
Manas has been suspended temporarily with immediate effect with his salary suspended,
Thai newspaper The Nation reported
today quoting army commander Gen Udomdej Sitabutr.
The army chief said an internal army investigation was underway in parallel to an ongoing police investigation, which will begin once Manas turns himself in to Padang Besar police in the country's southern province of Songkhla , as required by the warrant issued for his arrest.
Interior Minister Anupong Paochinda said the involvement of a senior military officer in human trafficking has caused great damage to the country's reputation as well as that of the Thai armed forces. "This should not happen with officer of any rank, let alone the high rank of a lieutenant general," Anupong, a former army chief, said.
Meanwhile, the prime suspect Lt General Manas said yesterday he would turn himself in to police in Southern Padang Besar to face justice after allegations of trafficking and trading in modern-day slaves.
"Please don't rush to jump into premature judgement on me, look into information of all sides and let the court to make the verdict," Manas told reporters.
"I didn't run away and will give full cooperation to police.I will accept the court's verdict, whatever it is.
"I'm a Thai. I accept social norms and practice," he said.
An arrest warrant was issued for the senior officer, who his serving as an adviser to the army, in connection with alleged trafficking in migrants in the south.
Prime Minister Prayut Chan-o-cha said yesterday he would not intervene in the inquiry to bring senior military officer Lt General Manas into justice.
The case involving Manas would process normally like a normal person would face, he said, adding that he didn't know if there were other military officers involved in trafficking.
The Rohingya trafficking issue had a clearer picture after the 14th Shangri -La Dialogue was held in Singapore on May 29, he said. The United States and other Western nations were satisfied with how Thailand was coping with the matter.
Thailand joined international efforts to help rescue thousands of boat people, some of who are still in the Indian Ocean on a dangerous journey to Southeast Asian countries.
More marine and aerial patrols had not found new boats recently, probably because of the high seas now, he said.
PRAISE FOR THAI RESPONSE
Meanwhile, deputy police chief General Aek Angsananont said diplomats from 19 countries and representatives from Interpol and international or United Nations aid agencies who attended a briefing held at the Royal Thai Police yesterday praised Thailand for how it was handling the Rohingya trafficking issue.
He said autopsy results on 36 bodies of Rohingya found on Khao Kaew in Songkhla's Sadao district found no evidence indicating physical abuse as the cause of 34 people's deaths, but the cause of two deaths were being examined.
A police commander, Maj-General Aphichart Suribunya, said officials from Myanmar and Bangladesh excused themselves from yesterday's briefing, as they preferred to attend a relevant seminar in Pattaya.
Separately, a large number of Rohingya at a Surat Thani shelter staged a protest yesterday, saying they were dissatisfied with strict regulations and upset at facing for a long time without knowing their future.
Shelter director Sudarat Bansawas said 35 of the 94 residents were victims of human trafficking - out of 200 who arrived in mid-2014. Some 106 of them later fled.
She said the Rohingya were keeping or hiding food in the shelter's sleeping quarters in violation of shelter regulations, in preparation for plans to escape.
Poor communication and their demand to go to Malaysia were key factors that caused the unrest, she said. But no one was hurt and there was only light property damage.