Nepal's Ex-PM Sushil Koirala passes away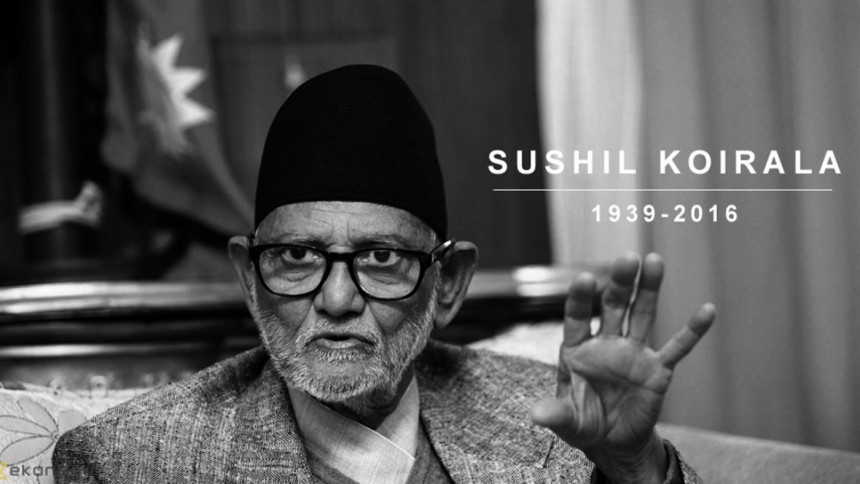 Nepali Congress President Sushil Koirala breathed his last in the wee hours of Tuesday morning, succumbing to Pneumonia, according to family sources. He was 77.
He succumbed to Pneumonia at 12:50 am, Koirala 's private secretary Atul Koirala said.
Koirala was suffering Chronic Obstructive Pulmonary Disease (COPD) and he succumbed to the condition. After the news of Koirala's death, Kathmandu based Nepali Congress rushed to his residence.
Koirala was not able to attend formal events on Monday .
Meanwhile, Nepali Congress postponed its electoral process prior to the General Convention, General Secretary Prakas Man Singh said.
Koirala was elected Prime Minister of Nepal on February 10, 2014. Sushil Koirala was elected from Banke and Chitwan constituencies in the second Constituent Assembly election of 2013, November 19. 
A devoted member of the Nepali Congress party of which he is currently president, Koirala once spent three years in an Indian prison for his involvement in the hijacking of a plane.
Koirala entered politics in 1954 inspired by the social-democratic ideals of the NC. He was in political exile in India for 16 years following the royal takeover of 1960.
While in exile, Koirala was the editor of Tarun, the official party publication. He has been a member of the Central Working Committee of the party since 1979 and was appointed General Secretary of the party in 1996 and Vice President in 1998.
In 2001, he lost the contest for the NC Parliamentary Party leader to Sher Bahadur Deuba. 
Koirala was appointed acting President of the party in 2008 by President Girija Prasad Koirala. On September 22, 2010, the 12th general convention of the NC elected him as party President.
The NC emerged as the largest party in the 2013 Constituent Assembly elections under Koirala's leadership. He was elected leader of the NC Parliamentary party securing 105 out of 194 votes against former Prime Minister Sher Bahadur Deuba's 89 votes.