Detecting pneumonia symptoms in children and what to do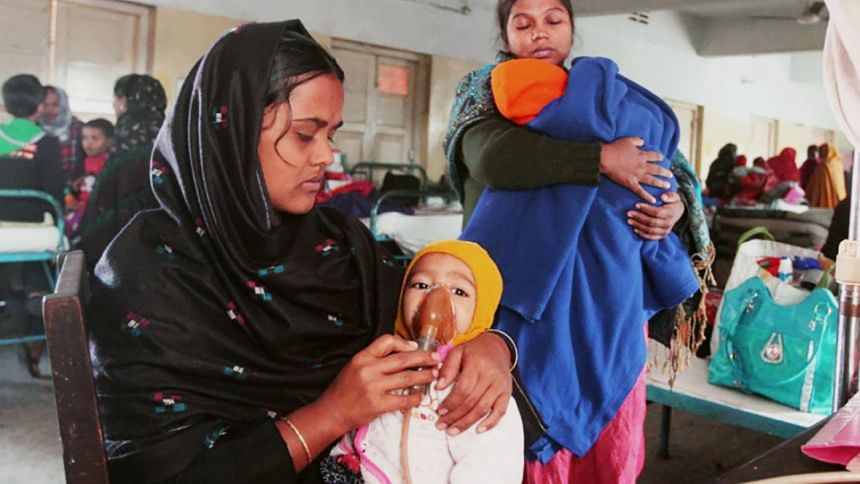 With the onset of winter, reports are coming in from around the country of growing cold-related illnesses in children. Among the more serious winter ailments is pneumonia.
But most parents are often confused about how to differentiate between pneumonia and the common flu.
According to physicians, the common flu has a very sudden onset while pneumonia takes much longer to develop and can be a complication arising from flu.
The common flu is a result of viral infection, while pneumonia is a result of either a bacterial infection or a viral infection.
It is difficult to approximate when the common flu or a cold develops into pneumonia but early detection is important to save lives. So, what are the signs that can help us understand a child has pneumonia?
The Daily Star got in touch with Prof Mohammod Shahidullah, Chairman of Bangladesh Shishu Hospital and Institute for some advice on the matter.
"Inflammation of the lungs, high fever, coughing, and breathing difficulties are symptoms of pneumonia," says Prof Mohammod Shahidullah. 
The three most important symptoms that anyone can identify are: coughing, fever, and breathing troubles or chest in-drawing. Chest in-drawing is the inward movement of the lower chest wall when the child breathes in, and is a sign of respiratory distress.
"If your child shows these three signs, it is mandatory to consult a physician without any delay," Shahidullah said.
The physician can then decide to either continue the treatment of the child at home or could suggest admission to a hospital based on severity, he said.
To prevent pneumonia in children, Shahidullah advised caution against catching cold in the first place, avoiding dust, staying away from other pneumonia or common cold patients, short showers with warm water, and no frozen or cold food.
"If the parents or any close family members catch a cold, they should handle the child with extra caution including wearing a mask and washing, sanitising hands frequently," Dr Shahidullah added.
He also suggested taking vaccines if the child hasn't been vaccinated yet.