Fidel Castro interred in rock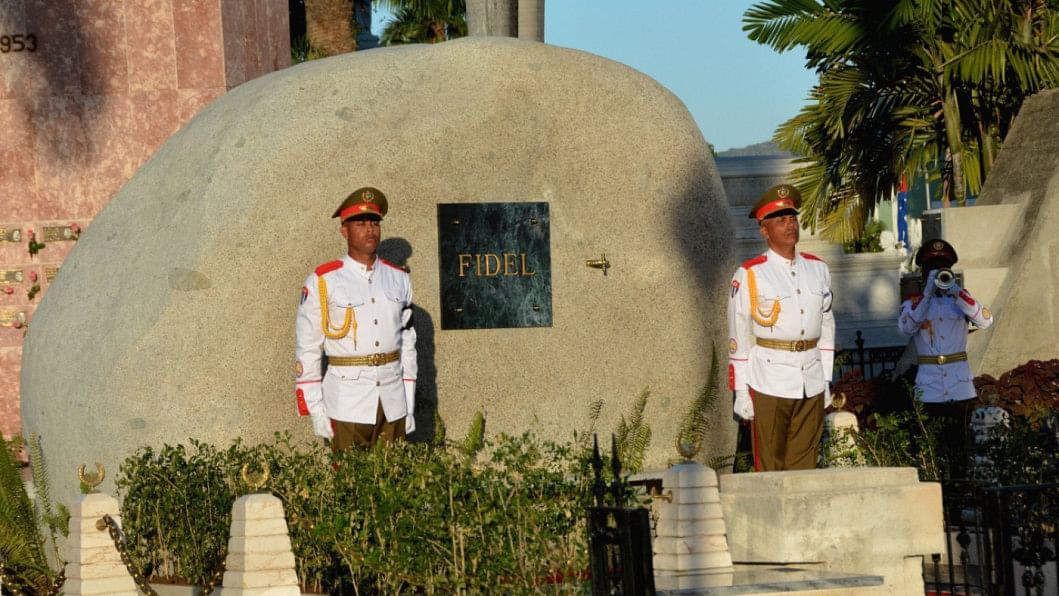 Cuban revolutionary Fidel Castro's ashes were encased in a large granite boulder on Sunday in a ceremony that capped nine days of public mourning and aimed to literally set in stone the legacy of one of the 20th century's most influential characters.
Cutting a solitary figure in his four star general's uniform, Cuban President Raul Castro placed a cedar box containing his brother's cremated remains in a niche in the rock at the Santa Ifigenia Cemetery in southeastern Cuba.
A dark plaque engraved with the word "Fidel" was then fixed over the niche. Raul Castro saluted the rock, which was flanked by two honor guards in white uniform, and a 21-gun salute echoed out.
Fidel Castro toppled a U.S.-backed strongman in a 1959 revolution and went on to build a Communist state a short distance from the Florida coast, surviving the collapse of the Soviet Union and relentless U.S. efforts to force him out.
His monument at the cemetery in the city of Santiago de Cuba sits a few steps from the mausoleum of independence hero Jose Marti, another towering figure of Cuban history with whom Castro shared a mistrust of the United States.
Castro's naturalistic memorial is dwarfed by Marti's mausoleum and other elaborate edifices at the cemetery.
The stone is a few steps from a monument to rebels who died in an attack on the Moncada military barracks in Santiago at the start of the revolution.
Since Castro's death on Nov. 25 at age 90, hundreds of thousands of Cubans have lined streets and plazas to bid farewell to "El Comandante" (The Commander), with a combination of tears, vows to sustain socialism and choruses of "I am Fidel!"
By contrast, the ceremony on Sunday was a private event and not broadcast on state media.
A few photos and eyewitness accounts on state media described a small group of guests including Castro's wife Dalia Soto del Valle and Argentine soccer legend Diego Maradona, who was a friend of the Cuban leader.
A clutch of left-wing allies were also present, such as Nicaraguan President Daniel Ortega, who like Castro survived the Cold War.
Later, members of the public were allowed to lay flowers at the memorial in small groups of ten.
"I wanted to give him one last goodbye, although he will always be present in my heart," said Angela Rodriguez, 62, one of the first people allowed to view the boulder.
War and Peace
Castro gave Cuba an outsized influence in world affairs.
He was feted by South African leader Nelson Mandela for helping to end apartheid at a time when the U.S. government and other Western powers supported the racist system.
Castro aligned Cuba with the Soviet Union and relished tormenting Washington during half a century in power.
He crossed swords with 10 U.S. presidents, before an intestinal ailment forced him to cede power to Raul, now 85, at first provisionally in 2006, then definitively in 2008.
But he was despised by Cuban exiles who fled his government in the hundreds of thousands as he confiscated private property, jailed opponents and shut down almost all dissent.
Castro also helped take the world to the brink of nuclear war during the Cuban Missile Crisis in 1962.
In his final years, he wrote columns on world and local matters and received foreign dignitaries at his home on the outskirts of Havana.
Castro's rule was longer than any contemporary except for Britain's Queen Elizabeth and King Bhumibol Adulyadej of Thailand.
It even came with its own wardrobe and props: olive green fatigues and military hat, boots and a beard, and, until he quit smoking in the 1980s, a long lancero cigar.
But he angrily rejected suggestions he was a dictator and denied any personal enrichment or personality cult around him.
In keeping with his wishes, Castro's image will not be immortalized with statues and public places will not be named after him, his brother said on Saturday.
Throughout his rule, Castro sent doctors and soldiers overseas to burnish Cuba's international reputation. In recent years, Cuban doctors have been praised for quick deployment in international health crises, including the 2014 Ebola outbreak in West Africa and the aftermath of Haiti's 2010 earthquake.
The impact of his long clash with the United States is still being felt. Cuban-Americans in Miami celebrated his death, and Washington maintains a trade embargo that Castro long decried as the reason for Cuba's economic troubles.
President Barack Obama changed course on U.S. policy toward Cuba in December 2014, agreeing with Raul Castro to exchange prisoners, restore diplomatic ties and boost commercial links between the two countries.
But President-elect Donald Trump has threatened to reverse Obama's rapprochement once he takes power on Jan. 20 unless Cuba makes more concessions to its internal and external opponents.
Vice President-elect Mike Pence on Sunday called Raul Castro "a murdering dictator," a new sign that the Trump administration will take a tougher line with Cuba, rhetorically at least.
Fidel Castro gave only grudging approval to the detente brokered by his brother. He did not meet Obama during his historic visit to the island, instead penning a column that warned Cubans not to trust the president's "honey-coated" words.