Maradona mourns "second father" Castro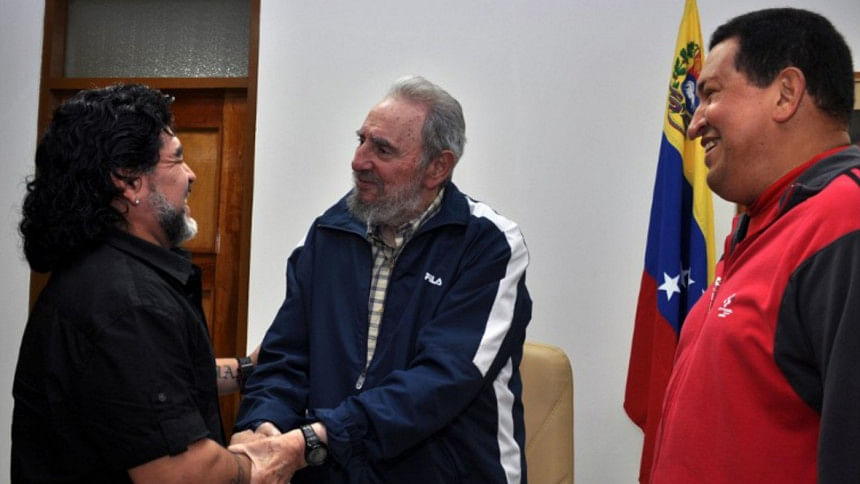 For football great Diego Maradona, Cuban revolutionary Fidel Castro was more than a friend and fellow Latin American legend, he was "a second father."
Maradona said Castro's death late on Friday hit him like a tennis ball to the chest served by Juan Martin del Potro, the Argentine player he cheered on in the Davis Cup final where he received the news.
"I wept uncontrollably," Maradona told reporters on the sidelines of the tennis tournament. "After my father, it's the deepest sorrow I know."
The two controversial figures first met in 1987, a year after Maradona helped Argentina win the World Cup in Mexico and four years before the fall of the Soviet Union that would usher in a new era of economic hardship in the communist island.
An unlikely friendship between the often outlandish footballer and the well-read revolutionary deepened at the start of the century when Maradona spent four years in Havana to shake an addiction to drugs.
Cuba has strict penalties for drug possession and is known in the region for deploying doctors and humanitarian aide to countries in need.
"He opened Cuba's doors to me when clinics in Argentina were slamming them shut because they didn't want the death of Maradona on their hands," Maradona said.
Castro often called on Maradona early in the morning to talk about politics or sports and to encourage him to push forward toward a full recovery, Maradona said.
"He said I could do it and I did it. And here I am, talking about him," Maradona said, his voice breaking. "That's the best memory I have of him."
Maradona, the son of a factory worker raised in a shantytown on the outskirts of Buenos Aires, was one of several leftist celebrity admirers of Castro who lent him broader international appeal.
In 2005, Maradona interviewed Castro on his Argentine TV show, asking how George W. Bush had been re-elected president of the United States, to which Castro responded: "Fraud. The terrorist mafia of Miami!"
Thousands from the Cuban exile community that Castro reviled poured into the streets of Miami's Little Havana Saturday to mark the death of a man they considered a dictator.
Last year Maradona, who has Castro's face tattooed on his calf, quashed rumors that Castro was dead by waving a letter from him in front of reporters.
Now that his death is real, Maradona said he would travel to Havana to take part in ceremonies paying homage to his friend.