World reacts to death of Cuba's Fidel Castro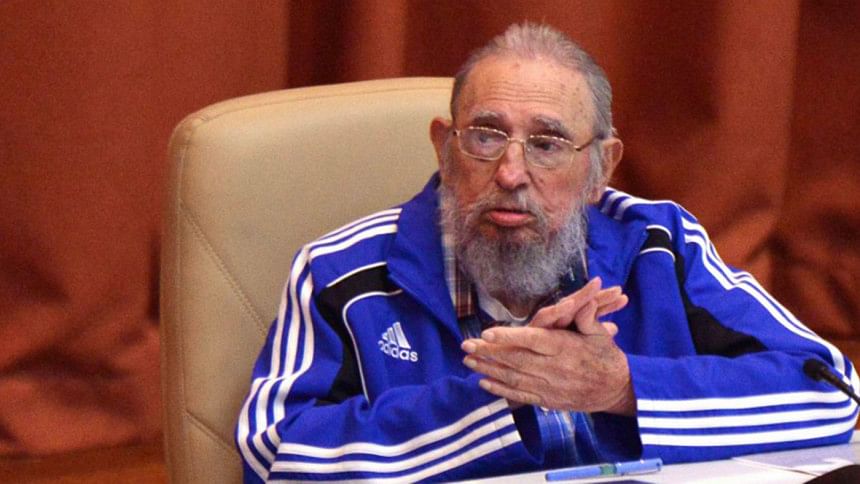 The death of Cuba's Fidel Castro brought praise today by world leaders who remembered him as a friend and ally.
Castro died yesterday aged 90, his younger brother and successor Raul Castro announced on state television.
Here are some early reactions to the death of the 90-year-old Cold War icon, whose life was defined by his resistance to the capitalist United States.
Sheikh Hasina
Bangladesh Prime Minister Sheikh Hasina expressed profound shock at the death of the Cuban revolutionary leader.
Barack Obama
President Barack Obama today said the US is extending "a hand of friendship to the Cuban people" following the death of revolutionary leader Fidel Castro.
"History will record and judge the enormous impact of this singular figure on the people and world around him," he said in a statement.
"During my presidency, we have worked hard to put the past behind us, pursuing a future in which the relationship between our two countries is defined not by our differences but by the many things that we share as neighbors and friends," Obama said.
Vladimir Putin
"The name of this distinguished statesman is rightly considered the symbol of an era in modern world history," the Russian president said in a telegram to Cuban President Raul Castro, Fidel's brother, cited by the Kremlin.
"Fidel Castro was a sincere and reliable friend of Russia."
Mikhail Gorbachev
"Fidel stood up and strengthened his country during the harshest American blockade, when there was colossal pressure on him and he still took his country out of this blockade to a path of independent development," Interfax news agency quoted former Soviet leader Mikhail Gorbachev as saying.
"In the past years, even when Fidel Castro was not formally in power, his role in strengthening the country was huge."
Jacob Zuma
The South African president gave one of the warmest tributes to the late Cuban leader.
"President Castro identified with our struggle against apartheid. He inspired the Cuban people to join us in our own struggle. As a way of paying homage to the memory of President Castro, the strong bonds of solidarity, cooperation and friendship that exist between South Africa and Cuba must be maintained and nurtured," Zuma said.
Donald Trump
US President-elect Donald Trump gave his first reaction to the death of Fidel Castro, saying on Twitter, "Fidel Castro is dead!", without elaborating.
He also said that his administration, which takes office January 20, would "do all it can" to help boost freedom and prosperity for Cuban people after the death of Fidel Castro.
"Though the tragedies, deaths and pain caused by Fidel Castro cannot be erased, our administration will do all it can to ensure the Cuban people can finally begin their journey toward prosperity and liberty," Trump said in a statement.
"While Cuba remains a totalitarian island, it is my hope that today marks a move away from the horrors endured for too long, and toward a future in which the wonderful Cuban people finally live in the freedom they so richly deserve," he said.
Francois Hollande
Fidel Castro embodied Cuba's revolution in both its "hopes" and its later "disappointments", the French President said in a statement.
"An actor of the Cold War... he represented, for Cubans, pride in rejecting external domination," Hollande added, alluding to Castro's opposition to the United States.
Nicholas Maduro
The Venezuelan president, Cuba's main ally in the region, said of Castro on Twitter: "It is up to us to continue his legacy and carry his flag of independence."
Mariano Rajoy
The Spanish prime minister sent his condolences to Cuba's government and people, via Twitter, where he described Castro as "a figure of historic significance."
Narendra Modi
India's prime minister sent his "deepest condolences" to Cuba.
Fidel Castro was one of the most iconic personalities of the 20th century. India mourns the loss of a great friend.

— Narendra Modi (@narendramodi) November 26, 2016
Xi Jinping
"The Chinese people have lost a good and true comrade," said Xi in a message read at the beginning of the nightly news on the country's main TV channel. "Comrade Castro will live forever."
Castro was "a great man of our time," said the president. "History and people will remember him," he added.
Sonia Gandhi
Congress chief Sonia Gandhi on Saturday said the revolutionary icon will forever be remembered for his contribution to the Non Aligned Movement.

Describing his death as a loss not limited to Cuba or a particular ideology, Sonia Gandhi, in a statement, said that Castro led the oppressed and the striving from the front and stood up to every attempt at stifling the voice of freedom.