Friends gather at Castro funeral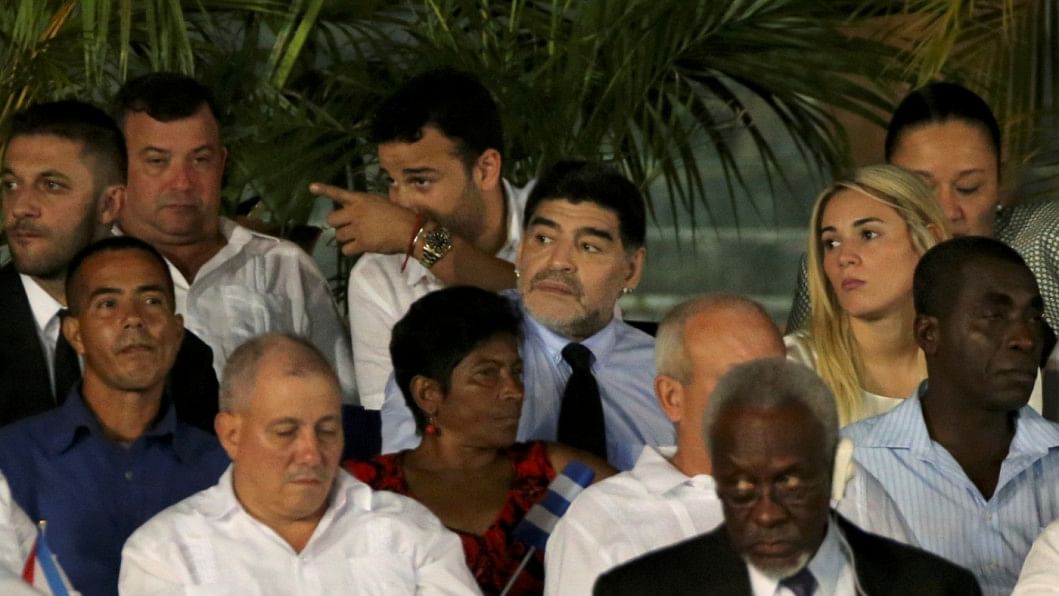 Flag-waving Cubans leaned from windows and lined the streets as Fidel Castro's funeral cortege approached the end of three-day journey on Saturday, rolling into the city of Santiago de Cuba where the revolutionary leader's remains will be laid to rest.
High-profile leftist friends of Castro, including Venezuelan President Nicolas Maduro and soccer's Diego Maradona, were expected for an evening farewell in the city where Castro launched his revolution six decades ago.
On Sunday morning, his ashes will be entombed near the remains of Cuba's independence hero Jose Marti in a cemetery in the eastern city, in what is likely to be a solemn ceremony.
Drawn in a trailer behind an olive green army jeep, Castro's ashes have made a 600-mile (1,000-km) journey in which hundreds of thousands of Cubans, many chanting "I am Fidel!," have lined up on roadsides and gathered in plazas for a final tribute.
Castro, the fiery revolutionary who built a Communist state 90 miles (145 km) from the United States and survived a half century of U.S. attempts to topple him, died on Nov. 25 at 90 years old.
The government of his brother, current President Raul Castro, 85, declared nine days of mourning that ends on Sunday with his interment in Santiago, Cuba's second largest city.
On Saturday night, foreign dignitaries and Raul Castro are set to commemorate a man who was loved by leftists and the downtrodden in the developing world but hated by Cuban exiles driven from the island by his brand of Soviet-sponsored communism.
Among the current presidents expected are Maduro, Nicaragua's Daniel Ortega and Bolivia's Evo Morales, according to official Cuban media.
Former Brazilian presidents Luiz Inacio Lula da Silva and Dilma Rousseff were also due.
Lula was a close ally of Cuba when he was president from 2003 to 2011, as was his successor Rousseff until she was impeached this year.
Maradona, the Argentine considered one of soccer's greatest players, struck up a friendship with Castro and came to Cuba for rehabilitation for cocaine and alcohol abuse in 2000.
On Tuesday night, sitting presidents and prime ministers from around the world said goodbye to Castro in a four-hour ceremony attended by tens if not hundreds of thousands of Cubans.
The funeral cortege departed Havana the next day, retracing the route Castro and his bearded rebels took from Santiago to Havana from Jan. 1 to. Jan. 8, 1959, upon toppling U.S.-backed strongman Fulgencio Batista.
Castro went on to rule for 49 years until illness forced him to resign and he ceded power to his younger brother.
Castro's critics have kept a low profile during the mourning period, when Castro's supporters have displayed loving admiration, even under the tropical heat.
"A little bit of sun is not going to stop us from honoring our commander the way he deserves," said Alba Rodriguez, 29-year-old school teacher, from the city of Bayamo.
Cuba's government has not revealed the cause of Castro's death, but he had been frail ever since a severe stomach condition nearly killed him in 2006.