Thousands mourn at Chapecoense stadium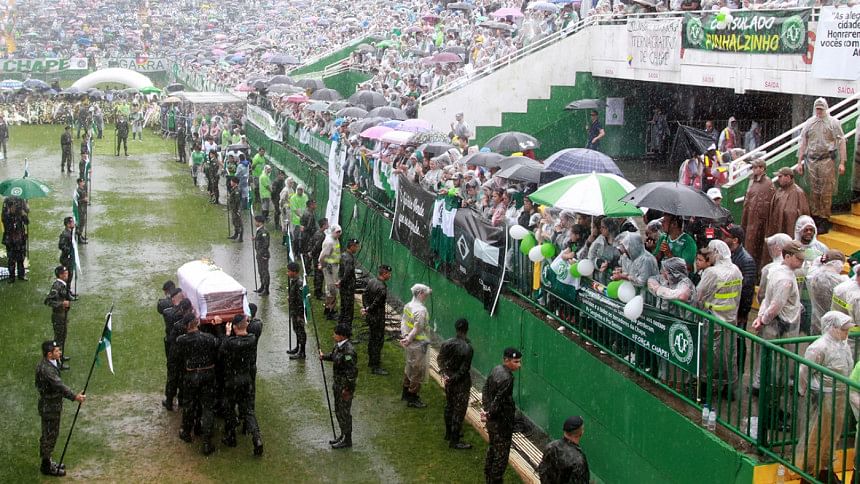 A downpour drenched thousands of mourners in this Brazilian city on Saturday as they grieved over 50 caskets flown overnight to the stadium of the local Chapecoense soccer team, which was all but wiped out in an air crash Monday in Colombia.

An arena filled with banners and team faithful donning its green and white colors served as an open-air wake for locals. Just a week ago, they were braced to celebrate the plucky squad, which had ascended from minor leagues in recent years to reach the final of a major South American tournament.

Instead, they looked on as Air Force troops, after unloading the bodies from cargo aircraft, ferried the caskets to makeshift tents erected on the team's soggy home turf, where victims' families sat in sorrow.

President Michel Temer, who flew in from Brazil's capital at dawn to receive the caskets at a Chapeco airfield, bestowed posthumous honors on the deceased athletes.

"This event, as you know, shook the whole country," Temer told reporters in brief comments before making the short drive to the stadium, where he remained silent for the rest of the emotional tribute. "This rain must be Saint Peter crying."

Monday's disaster, which killed 71 passengers and crew, shocked soccer fans the world over and plunged Brazil into mourning. A BAe146 regional airliner operated by Bolivian charter company LAMIA had radioed that it was running out of fuel before smashing into a hillside outside Medellin, Colombia.

Only six people survived, including just three members of the club, en route to the Copa Sudamericana final, the biggest game in its history. Earlier on Saturday, the bodies of eight journalists who also died in the crash arrived in Rio de Janeiro.

Victims' families in recent days have been outraged by reports that the plane, which circled for 16 minutes while another aircraft emergency landed, had barely enough fuel for the flight.

Bolivian President Evo Morales has pledged to take "drastic measures" to determine the cause. Bolivia has suspended LAMIA's operating license and replaced the national aviation authority's management.

In Chapeco, a small agricultural city, dozens of fans kept vigil overnight at the stadium, where an impromptu shrine swelled with fresh flowers and handmade posters.

By Saturday afternoon, thousands more gathered, cheering and applauding as the caskets arrived. Visitors from other parts of Brazil joined locals, waving flags of other teams in solidarity.

The ceremony, at times solemn and at times raucous, was "as informal as formality would allow," said an announcer, thanking those who packed the 20,000 capacity stadium to chant and sing in breaks between speeches, tributes and prayers.

"THERE ARE NO WORDS"

Fans said the tragedy was especially painful for locals who not only saw players on the field, but on the streets and in apartment buildings of a city of just 200,000 people.

"They could put Neymar on the field here and it wouldn't replace what we've lost," said Juliana Frata, a local supporter, referring to the Brazilian soccer star. "Those players were our neighbors. It felt like every day you would bump into them and their families."

Among dignitaries in attendance was Gianni Infantino, president of world soccer governing body FIFA. "There are no words that can diminish the suffering," he said in a brief speech.

In response to outpourings of support from soccer fans and clubs around the globe, Chapecoense hung a huge black banner from the outer wall of its stadium.

"We looked for one word to thank all the kindness and we found many," it read, followed by the words "thank you" in more than a dozen languages.

Workers had laid out giant banners on the field, decorated with white flowers, carrying the logos of Chapecoense and Atletico Nacional, the Colombian team that held a memorial ceremony on Wednesday instead of hosting the Cup final.

Meanwhile, uproar over the cause of the crash continued.

Brazilian media, citing an internal document, reported that an official at Bolivia's aviation agency had raised concerns about LAMIA's flight plan.

The official urged the airline to come up with an alternative route because the journey of four hours and 22 minutes was the same length as the plane's maximum flight range.

A Colombian civil aviation document seen by Reuters confirmed the flight time was set to be four hours and 22 minutes.

LAMIA Chief Executive Officer Gustavo Vargas said the plane had been correctly inspected before departure and should have had enough fuel for about 4-1/2 hours. He said it was the pilot's responsibility to decide whether to stop to refuel.