Egypt says sending Arab troops to Syria a possibility: State newspaper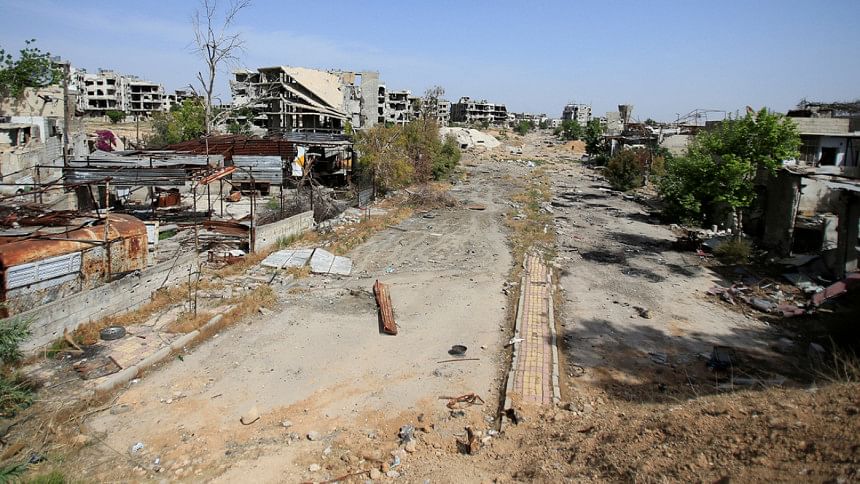 Sending Arab troops to Syria is a possibility that is being discussed by officials from various countries, Egypt's foreign minister was quoted on Friday as saying.
But a foreign ministry spokesman said Sameh Shoukry, who was speaking at a function on Thursday night, was not raising the possibility that Egypt itself might be ready to send forces to Syria, adding that such a decision was subject to constitutional constraints.
The Wall Street Journal reported last month that the administration of US President Donald Trump was seeking to assemble an Arab force to replace the US military contingent in Syria.
"In regards to the situation in Syria, Shoukry said that the idea of replacing forces with another that may be Arab is a possibility," Al-Ahram quoted the Egyptian foreign minister as telling journalists.
"This proposition is not only being discussed by the media, but also during discussions and deliberations amongst officials of states to look into how these ideas could contribute to stabilising Syria," he added, according to Al-Ahram.
Shoukry did not name the countries discussing the matter. But an Egyptian Foreign Ministry official said Shoukry's comments did not pertain to Egypt.
"The principles that govern sending Egyptian forces outside the country are known to everybody. That won't happen unless it was in line with constitutional mechanisms, and rules and regulations that have been affirmed more than once, such as cases related to United Nations peacekeeping operations," said Ahmed Abu Zeid in a statement.
Saudi Arabia said last month it was open to sending troops to Syria under wider coalition.
Hundreds of thousands of people have been killed in a civil war in Syria between rebels seeking to overthrow President Bashar al-Assad.
Egypt is the most populous country in the Arab World and has the strongest army.
A UN advisor said on Thursday millions of civilians were still caught up in the seven-year-old conflict and many who escaped battle zones had to seek shelter in overcrowded camps for the displaced in Idlib in the northwest.