Day of hope, tensions in Syria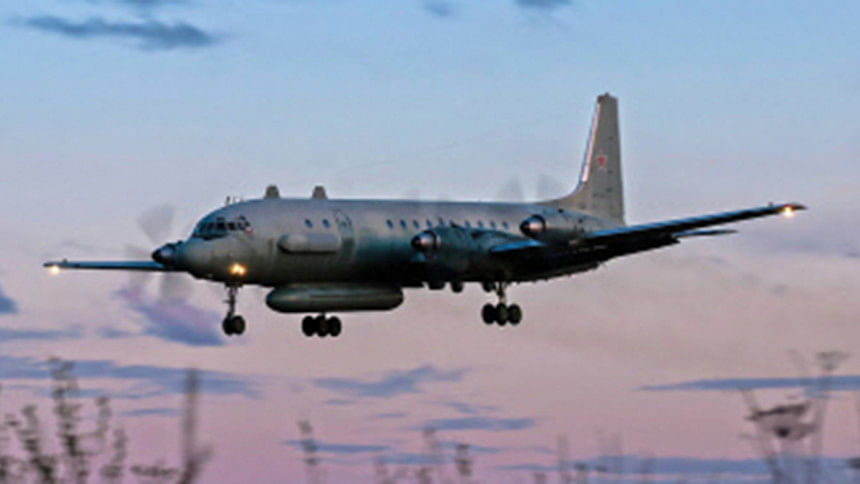 Syria accidentally shot down a Russian military aircraft, killing all 15 crew members, when its air defences swung into action against an Israeli missile strike, Russian and Israeli forces said yesterday.
The Russian Ilyushin dropped off the radar over the Mediterranean moments after Turkey and Russia announced a deal that offered millions of people reprieve from a threatened military assault in northern Syria.
The Russian government stressed that the incident would have no impact on the fledging Idlib deal, but warned Israel of reprisals and summoned its envoy in Moscow.
Russian President Vladimir Putin later downplayed the incident.
"It rather looks like a chain of tragic accidental circumstances," Putin told reporters, rejecting any comparisons with the downing of a Russian jet by Turkey in 2015.
"An Israeli jet did not shoot down our plane," Putin said.
There was no immediate word from Damascus, but the deadly air war sequence started when Israeli missiles struck the coastal region of Latakia on Monday.
Israel confirmed that it had targeted a Syrian military facility where weapons manufacturing systems were "about to be transferred on behalf of Iran" to Lebanese Shia group Hezbollah.
The Russian military claimed Israeli pilots had attacked Syrian targets by using "the Russian plane as a cover, exposing it to fire from Syrian air defences".
Earlier in September, Israel admitted carrying out 200 strikes in Syria over the past 18 months.
The Syrian blunder came hot on the heels of a major deal announced by Russian President Vladimir Putin and his Turkish counterpart Recep Tayyip Erdogan after talks in the Russian resort of Sochi.
The two main brokers in northern Syria agreed to create a 15-20 kilometre-wide demilitarised zone along the line of contact between rebels and regime troops in the Idlib region. That would be achieved by October 15 and would entail a withdrawal of all jihadist fighters from the area.
The demilitarised zone will be secured with the help of "mobile patrol groups of Turkish contingents and contingents of Russian military police," Putin said.
By the end of the year, transport routes between the key port of Latakia and Aleppo as well as Latakia and the major city of Hama must be restored, he added.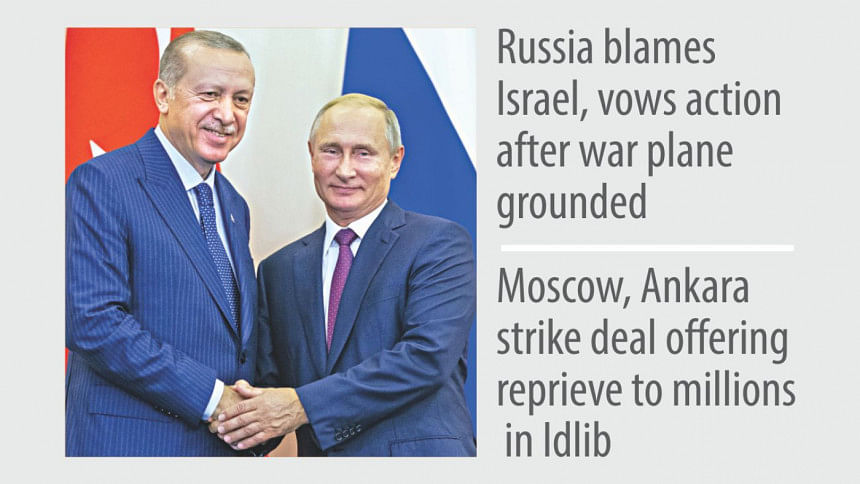 Iran, Syria welcomed the deal.
UN Secretary-General Antonio Guterres yesterday welcomed the deal. Guterres called on all warring parties in Syria to cooperate in implementing it and ensure access for humanitarian aid to all areas of Idlib, where three million people live.
Guterres said he welcomed the agreement to "create a demilitarized buffer zone in Idlib region, which should avert a full-scale military operation and provide reprieve for millions of civilians," a UN statement said.
Three million people reside in the Idlib region, the last significant chunk of Syria still held by rebels. The UN had warned that a fully-fledged ground assault aimed at completing Damascus's military reconquest could spark the worst humanitarian catastrophe yet in a conflict that has killed more 360,000.