How can a teacher be treated so disrespectfully?
Narail incident speaks volumes about rising religious intolerance in the country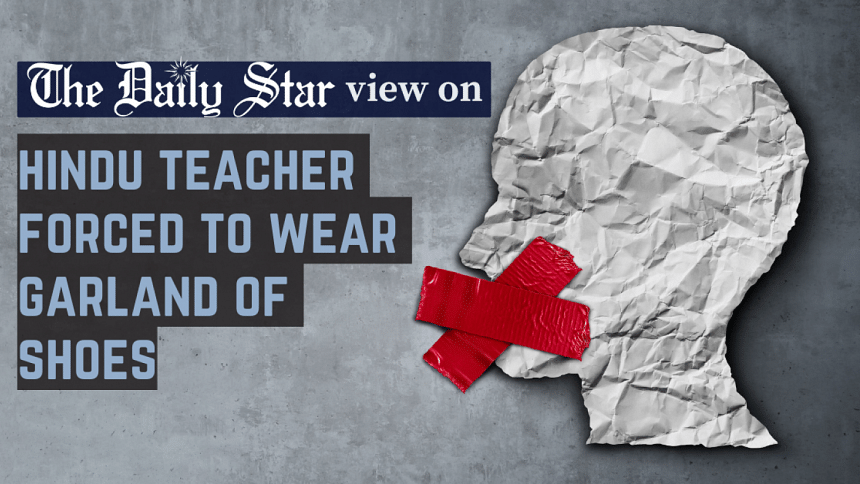 While the nation's attention was fixed on the inauguration of the Padma Bridge – a milestone in our development history – a teacher was assaulted by students and local people in the Narail district. The incident only came to our notice after a video of the teacher being forced to wear a garland of shoes around his neck went viral on social media. Reportedly, this happened in the presence of police at the Mirzapur United College in Narail Sadar Upazila on June 17. The teacher is now in hiding, fearing further harassment.
What we understood from various media reports is that a Hindu student of the college wrote a post on Facebook in support of Nupur Sharma, the expelled BJP leader in India who had made derogatory comments about Prophet Muhammad. This outraged some students of the college who asked him to remove the post from Facebook, which he refused to do, further angering the former. After the college principal, also a Hindu, was informed about the situation, he called the police. At this point, rumours spread that the principal took the side of the student on this issue, and subsequently some students and locals forced both to wear garlands of shoes. As the situation became violent, police took the principal out of the campus.
We feel that this incident is not just an insult to the principal, but to the entire nation for we've failed to uphold the dignity of teachers again and again. The memory of science teacher Hridoy Chandra Mandal, who was arrested and jailed on false charges of "hurting religious sentiments" after his students staged a demonstration against him, is still fresh in our minds. While writing this editorial, news of yet another incident emerged where a teacher died after being hit with a cricket stump by a student. Such instances of intolerance and violence will only rise if we cannot take action against those responsible.
Coming back to the case of Principal Swapan Kumar Biswas, there are several obvious questions: How could he be assaulted in such a manner in the presence of the police? Why are the police now denying that they have witnessed the incident? Was the principal attacked because of his religious identity? If so, what signal does it send to the nation? We believe those who harassed him must be punished, and he and his family must be given protection so that they can live and work peacefully again. We also should address the underlying causes behind the rise in hatred and intolerance in the country and take measures to uproot them. Unless we do so, such instances may continue to recur.