Heritage sites in Tongibari
Once known as the City of Courage, Bikrampur -- now called Munshiganj -- holds a history of more than 2,500 years.
And if you are planning a day-trip to visit a few heritage sites close to Dhaka, then make a trip to Tongibari, a part of the-then Bikrampur capital of Bengal. We managed to visit only three out of the dozens of heritage sites there.
Destination one: The Sonarang temples. The Sonarang temples are basically two temples, standing side by side on a single masonry platform. According to the Archeological Survey Report-2000, a man named Rupchandra had built the large Shiv temple in 1843. The smaller one, Kali temple, was built in 1886.
The Kali temple is decorated with snake heads on all sides.
"There are so many snakes in this temple that if they come out, they can devour all the people of the country," said a local man humourously. The locals also muse that there are hidden treasure chambers in sikharas—guarded by giant snakes.
While the Archeological Department's signboard warns people against damaging this heritage site, the twin temples are in need of maintenance as walls are peeling off.
Our next destination was Outshahi Math. The sikhara type structure with a 19-meter conical sphere, can be seen from far away. Here, there is no signboard of the Archeological Department.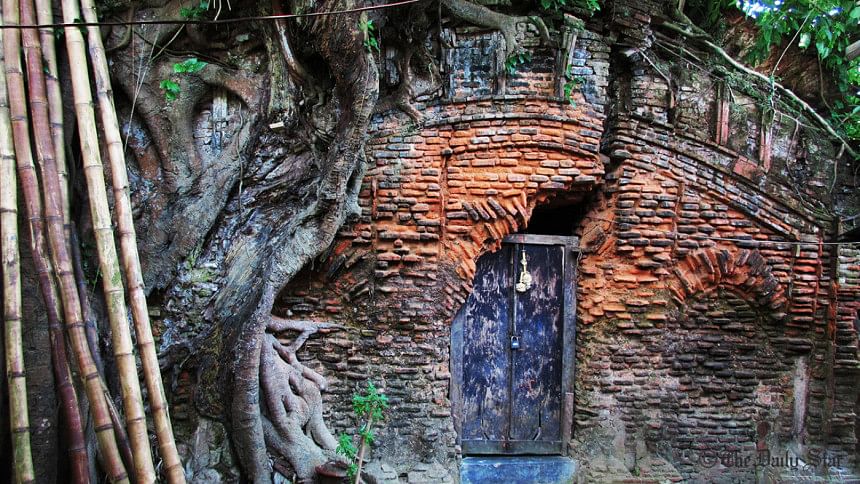 Some Hindu families, who live near the Math, informed us that they do not know of any government initiatives to preserve the site.
Bashanti Rani, who has been living there for five decades, said there was an inscription on the entrance wall that suggested that the Math was built 600 years ago.
By the time we  started for Mulchar village, it was already afternoon. There, we found the oldest temple of Bikrampur, popularly known as the Radha Govinda Temple. This is a good specimen of the do-chala temple, very popular in Bengal during the late medieval period. The temple may date to the 16th century.
The south facing temple rises to a height of 4.5m. This part is highly ornamented with terracotta panels; however, it is not in a good state. The roof is badly damaged and a fig tree has grown over the wall, strangling the whole structure.
The temple has developed innumerable cracks that bear witness to its advanced stage of disintegration. Though it was included in the archeological survey, there is no visible effort from the government to protect it. It could break down anyday; the ramparts will be thrown away, and we will lose another rich vestige of our heritage.