Dhaka Lit Fest closing: literature too can be a party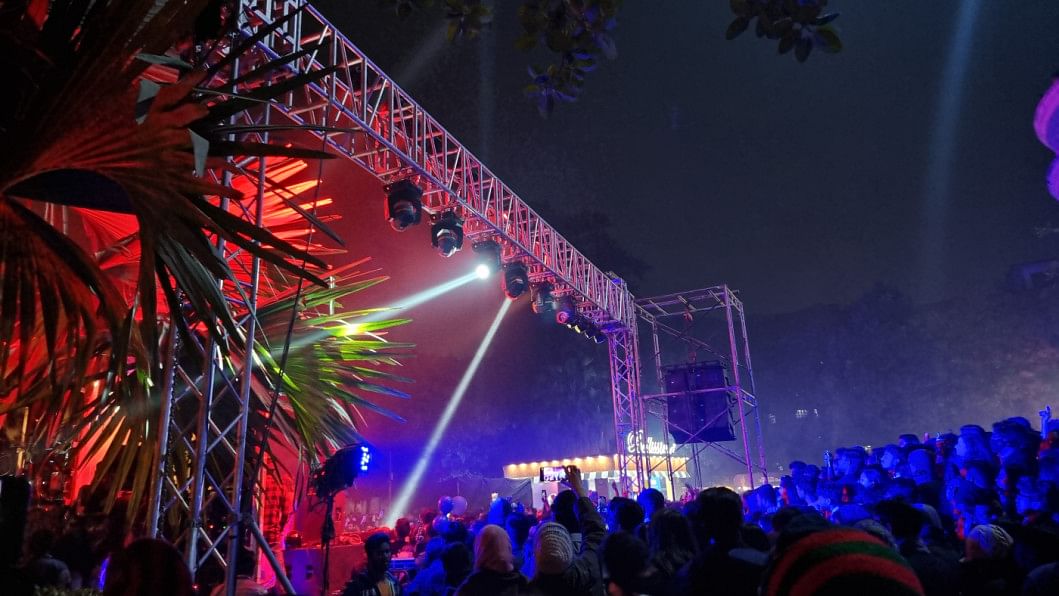 The last day of the 10th Dhaka Lit Fest today began on a calmer note than the weekend days, the sun warmer. The morning sessions opened with conversations on the future of urbanism, the plights of street children as explored in Rubaiya Murshed's Nobody's Children (UPL), the future of poetry, micro tales by Sehri Tales, and sexism in the world of gaming. Nobel laureate Abdulrazak Gurnah discussed his novel Desertion with Bloomsbury publisher Alexandra Pringle. 
The Bangla Academy grounds began to fill up as the afternoon sessions began. Professor Firdous Azim moderated a session on feminist scholars and writers, with Professor Sabiha Huq, Emeritus Reader of postcolonial literature Denise deCaires Narain, and International Booker Prize winning translator Daisy Rockwell. 
Polical and cultural analyst Pankaj Mishra discussed Run and Hide, the first novel he has written in 25 years, in conversation with writer Vivek Menezes. Daily Star Books' discussion on Is A Book Worth Reading: Who Decides, moderated by DS Books editor Sarah Anjum Bari, brought forth discussions the value of book reviews, the politics of selecting school and university curricula, censorship in the literary world.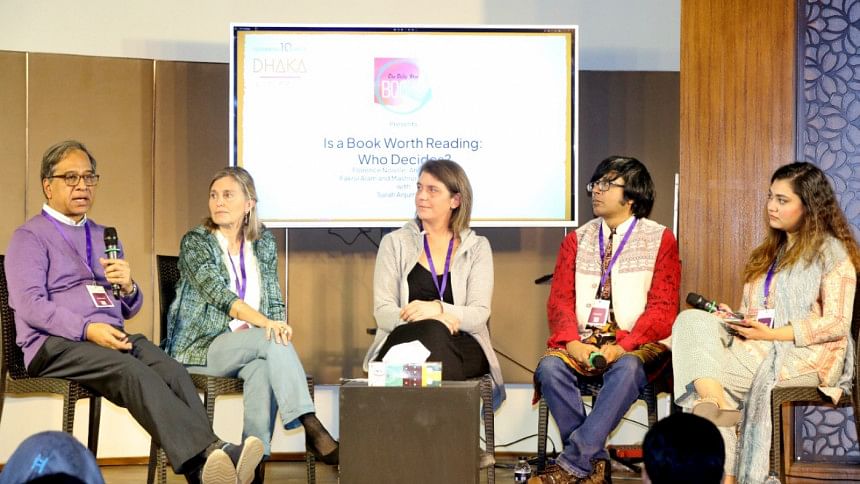 Alongside workshops and sessions on haiku poetry, Dhaka and it's dystopia, and translation, crowds were drawn to Kishwar Chowdhury's DLF Innovation Talk on the culinary arts. 
"It's important to have voices like mine and see visibility so we can tell our story and share our dishes authentically", she shared. 
Right before the closing ceremony, 2022 Booker Prize winner and Sri Lankan author Shehan Karunatilaka discussed his Booker-winning novel, The Seven Moons of Maali Almedia, with among South Asia's most prolific literary agents, Kanishka Gupta. 
The premises filled up to brim when the musical performance of the night by Coke Studio began at 7 PM. Despite delays in starting and less than satisfactory sound quality, hundreds of audience members have gathered in and crawled up every available space in Bangla Academy to watch Animes Roy, Pantha Kanai, Momtaz, Ritu Raj and other Coke Studio artists bring the 10th Dhaka Lit Fest to a musical end. 
This year's edition of DLF began amidst much apprehension, with tickets charges drawing doubts on how many people would attend. 
Despite occasional lags in communication—regarding changes in session timings or authors such as Orhan Pamuk and Hanif Kureishi not attending the festival—the inventiveness with which DLF 2023 was curated showcased how stories run across not just literature and art, but science, technology, business, climate change, music, sports, culinary arts, and more.