Historic graves at Old Dhaka's Hussaini Dalan that often go unnoticed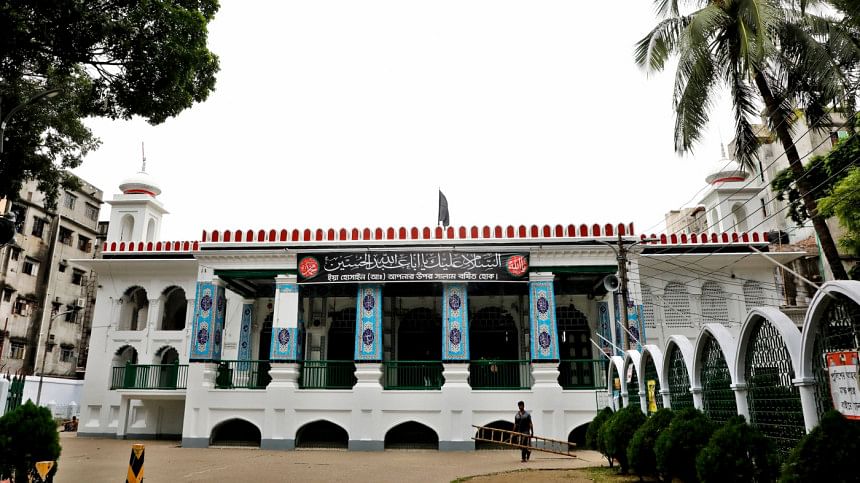 Hussaini Dalan is not just a Shiite centre in Dhaka; it is also a Dhaka landmark, spanning centuries of history. While its religious programmes, especially during Muharram and more particularly Ashura are unparalleled, Hussaini Dalan as a Dhaka heritage is extraordinary as well.
Dhaka can be rather secretive when it comes to its past. It gives enough hints to everyone, but then falls quiet to anyone not interested beyond a certain point — sort of like in silent anger, as if our old weary city is saying, "Let's see how much you care about my past."
For those who really care, Dhaka opens up more. As it is the month of Muharram now, Hussaini Dalan seems to be an apt case-in-point for this. Beyond its basic history and architectural beauty, did you know that within its premises are buried some important people whose names shall forever be connected with Dhaka?   
Basic things to know about Hussaini Dalan
Let's start with the obvious, though. Located in Hussaini Dalan Road of Puran Dhaka's Bakshi Bazaar area, Hussaini Dalan is an imambara. What is an imambara, you ask? To put simply, an imambara is a religious centre of Shia Muslims that hosts special programmes in the commemorative dates of Prophet Muhammad (PBUH) and his family and companions. An imambara is a house of mourning, functioning as a memorial to the tragedy of the battle of Karbala, where Prophet Muhammad's (PBUH) grandson Imam Hussain along with many others lost their lives. 
There are a number of imambaras in Dhaka, with Hussaini Dalan being one of the oldest and most prominent. It was established in 1642, although historians have argued that the old structure has been replaced with plenty of reconstruction and renovation work.
Inside Hussaini Dalan: A visitor's guide  
As you enter through the large gatehouse, the main building comes into view, standing on a raised platform and splendid with its pillars and calligraphy. Enter the main building and you are at the front terrace. You can then usher yourself into the main hall. The beautiful arched doorways around will lead you to various chambers and sections.
Being an imambara, you will see certain things there which shall strike a spiritual chord, along with sights of people worshipping or even crying. You will see a 'tazia mubarak': an elaborate and ornate set of two miniature grave-like structures in remembrance of Imam Hasan and Imam Hussain. You may also see black flags and even swords. The purpose of an imambara as a house of mourning and a reminder of the martyrdom at Karbala is served by many such artefacts and elements.
From the main hall, as you walk to the veranda in the back, you will be pleasantly surprised with the view of a pond, indeed a rare sight in Dhaka!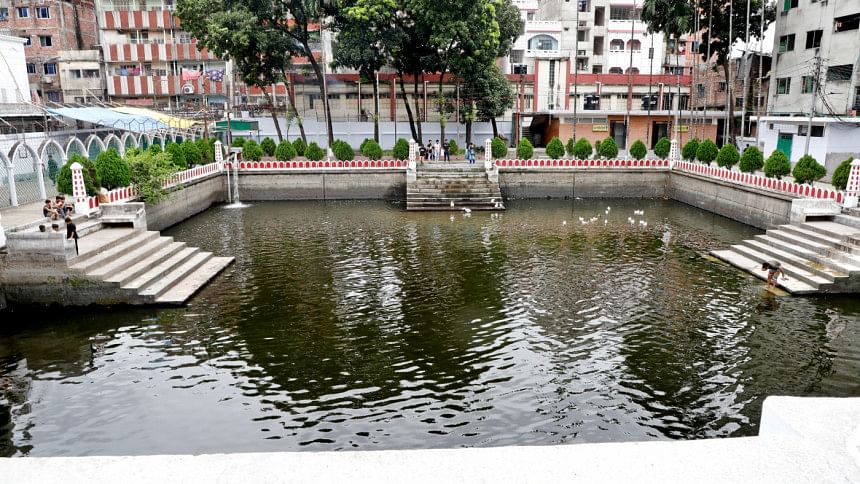 Exit the main building and go around the pond to the point where you face the back of Hussaini Dalan, essentially with you now looking at the veranda in the back. From there, arguably, you will get the most impressive view of the Dalan, with the building rising above the pond in all majesty of large imposing pillars and other magnificent architectural elements.   
From that vantage point, take out your phone and Google for old photos of Hussaini Dalan. The search results will include a picture taken by one Fritz Kapp in 1904. The view today is surprisingly similar to what it was back then.
The historic graves many visitors don't notice
As you compare closely the century-old photo with what you are seeing in 2022, certain differences will appear. One major difference is that the photo shows a small building on one side of the Dalan. You will not find this building now...
This section of the Hussaini Dalan premises was known as 'Muqbara-e-Naib Nazim', where the last four Naib Nazims of Dhaka had been buried: Nusrat Jung (died in 1822), Shamsuddaula (died in 1831), Qamruddaula (died in 1834), and Ghaziuddin Haider (died in 1843).
Naib Nazims were essentially deputy subahdars, although by the time history reaches these four Naib Nazims we are talking about, the influence of this post had declined as the British by that time already rose to power. These four Naib Nazims tell the story of how a dynasty collapsed.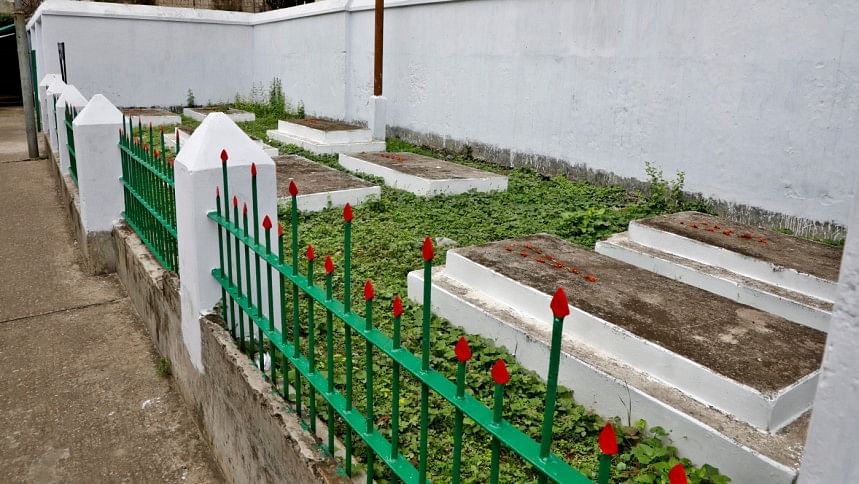 As you walk beside the pond towards the now non-existent building of the old photograph, you will find that a set of eight graves lie near a set of stairs of the Dalan. Among these graves, four of them are of the Naib Nazims; others, historians say, belong to their family members and acquaintances.
There are no names on the graves, making it difficult to identify which one belongs to whom. The graves themselves are rather modest and unpretentious. But the significance springs from the people buried here.
Take for instance the longest serving Naib Nazim of Dhaka, the much-revered Nusrat Jung.
Charles D'Oyly, an artist and a Collector of Dhaka who visited him in about 1814, left us an account of the Naib Nazim, saying that he was "... respected for his urbanity of manners and the benevolence of his heart. Moreover, he possesses taste for Fine Arts. He resides in Dhaka in a palace splendidly ornamented in oriental manners and his audience chamber is so much crowded with English prints and paintings that not an inch of wall could be seen. In his visits of ceremony, Nusrat Jung is attended by an immense train of horsemen and other followers."
Nusrat Jung, and in fact Naib Nazims in general, were responsible as 'mutawallis' of Hussaini Dalan for its upkeep.
Nusrat Jung's brother Shamsuddaula would succeed him as the Naib Nazim, who in turn made way for his son, Qamruddaula —checkered histories of allegations of conspiracies to overthrow the British rulers and also of overindulgence and decline of power.
Things worsened with time. The last Naib Nazim was Qamruddaula's son, Ghaziuddin Haider, popularly referred to as Pagla Nawab. When he died, childless, the British perhaps out of courtesy for the dynasty that once was, gave him a military funeral.
And so, that was the end of the Naib Nazims.
As for their graves, there is nothing much to see. But when you know about the people buried here, there is a lot to imagine and the graves become immensely important. Otherwise, being simple in appearance, these historic graves do not receive much attention from many visitors.
Dhaka can indeed be quite secretive about its past!    
Main sources: Glimpses of Old Dhaka by S M Taifoor; Asudegan-e-Dhaka by Hakim Habibur Rahman; Notes on the Antiquities of Dacca by Sayid Aulad Hasan.