'A platform for erasing the cancelling of the other': ULAB's Inter-University Student Conference
Students unpack the 'Facets and Faces of Conflict' at ULAB's 8th Inter-University Student Conference 2022
The Department of English and Humanities at the University of Liberal Arts Bangladesh (ULAB) held the 8th Inter-University Student Conference and Cultural Competition on October 20-21, 2022. 
The chief guest, Ambassador Md Nazmul Quaunine, in his speech recognised the efforts of the department, and called the event a "social movement that is nurturing collaboration amongst private and public universities all over Bangladesh".
He also appreciated the contributions of the different universities who took part and their student representatives into making the event a success. 
The 2022 Inter-University Student Conference and Cultural Competition explored different facets of conflict and avenues for conflict resolution on topics within literature, language, linguistics, cultural studies, communication studies, translation studies, and digital humanities.
Amreeta Lethe Chowdhury of the Department of English and Humanities at ULAB won the Best Paper Award for her presentation on 'The Politics of Language Surrounding Trans and Gender Diverse Communities in Bangladesh', while Mehenaz Sultana Tisha from SUST was awarded for the Runner-Up Paper, 'Projection of Gender Roles in Fiction: A Study on Khaled Hosseini's The Kite Runner and Saul Bellow's Seize The Day'. 
The cultural competition segment of the competition saw students interpreting conflict as experienced among religious and ethnic communities, by the Birangona and by Hindus and Muslims—each of whom were made minorities and faced violence during the historical events of Partition and Bangladesh's Liberation War, and the individual's internal conflicts of honesty, integrity, and freedom.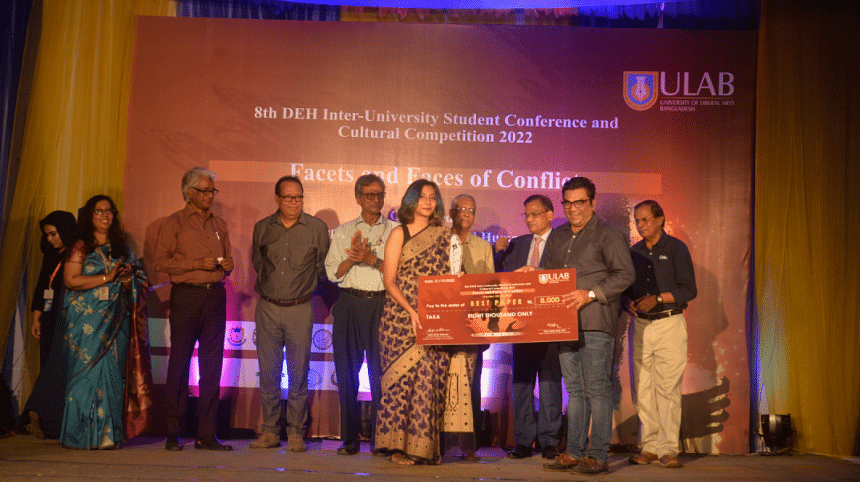 "This is a platform for erasing the cancelling of the other", said Professor Shamsad Mortuza, Special Advisor to the ULAB Board of Trustees, lauding the performing students for their diverse interpretations of conflict. 
East West University won the Champion's Award in the Cultural Competition, winning BDT 15,000 prize money, while the University of Dhaka and ULAB tied for the runners up position, winning a prize money of BDT 10,000. 
Seventeen public and private universities competed this year in the academic and cultural segments of the conference.
The conference is an annual event that brings together students of public and private universities to compete in academic and cultural presentations in a congenial environment. ULAB is the only university in Bangladesh that has been consistently organising such a conference where students conduct research on particular themes, usually marking specific literary anniversaries and events of global significance, and present their ideas before an independent panel of judges.
The conference offers a platform for students to network and connect as well as express their interpretations of the given theme in creative ways, encouraging teamwork, leadership skills, and friendly competition.