Hundreds protest at Gulshan against Khaleda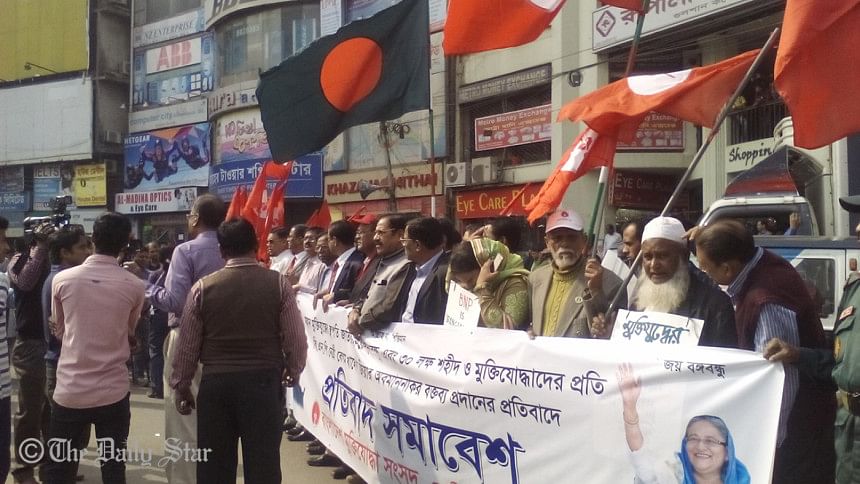 - Hundreds join in at protest in Gulshan-2
- Demand for Khaleda's trial under sedition
- Tarana Halim speaks of law on liberation war denial
Protestors, hundreds in number, today demanded BNP Chairperson Khaleda Zia's trial in sedition charge for her statement questioning the number of 1971 martyrs of Liberation War.
Freedom fighters, political and cultural activists and people from all walks of life joined in the protest at Gulshan-2 intersection in a human chain that began at 10:00am.
READ more Khaleda demands army deployment
Alongside Joy Bangla, they were chiming slogans: my motherland won't be allowed to become Pakistan, no space for Pakistan lovers in Bangabandhu's Bangla and others.
On December 21, the BNP chief, in her first public address in more than a year, said, "There are controversies over how many were martyred in the Liberation War. There are also many books and documents on the controversies."
"Khaleda has insulted the Liberation War and its martyrs – it is tantamount to sedition. She should be tried under sedition charge," said former Supreme Court judge Shamsuddin Chowdhury Manik.
BNP chairperson Khaleda Zia, whose office is just a few minutes from Gulshan-2, has faced widespread flack after she questioned the number of martyrs of Liberation War.
Also READ more at Khaleda draws flak for martyrs remark
Khaleda's comments came hot on the heels of Pakistan's denial last month of committing any war crimes or atrocities in the nine-month bloody war.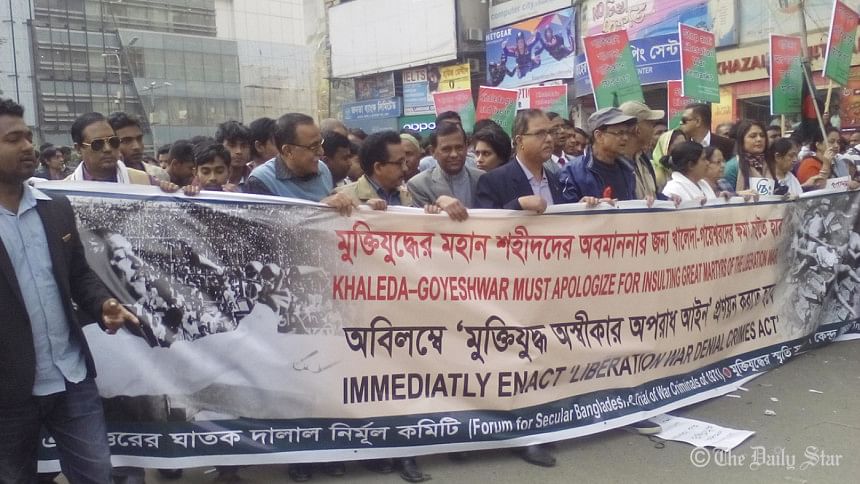 Ferdousi Priyabhashini urged the media to boycott Khaleda Zia and said: "It is nothing new for her. She is an agent of Pakistan. She should be ousted from the country… tried for sedition."
Sammilita Sangskritik Jote President Nasiruddin Yousuf Bachhu echoed similar words and added that pro-liberation forces will not allow Khaleda to do politics in Bangladesh.
Tarana Halim, currently the state minister for post and telecommunications, said the government will soon formulate a liberation war denial law. "We have tolerated enough, no more."

READ more here at Opinion: BNP-Jamaat must explain what is Hanadar Bahini
Former prime minister Khaleda is already facing sedition cahrge, where a Dhaka court has asked police to probe allegations against her, and a legal notice asking her to apologise for her statement.
A few days ago, Sajeeb Wazed Joy, the son of Prime Minister Sheikh Hasina, had told pro-liberation forces to protest near the residence of Khaleda for her outrageous comments.