Joy's Facebook status led to Shafik's arrest: Fakhrul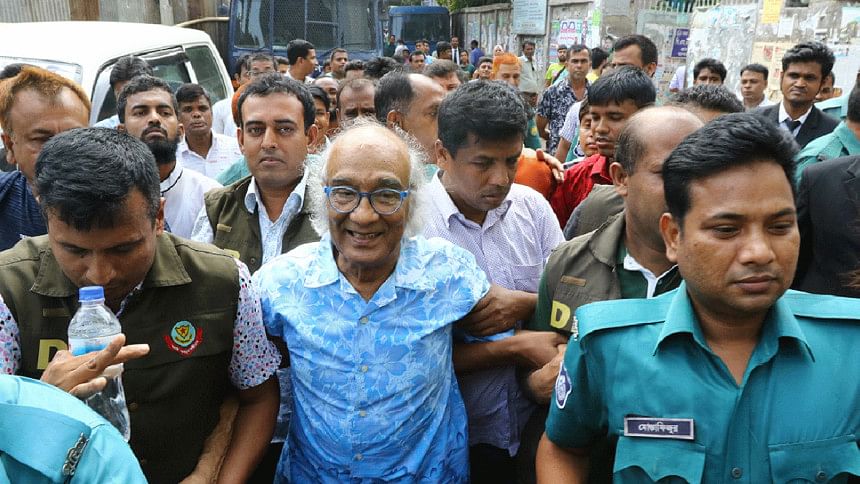 Journalist Shafik Rehman was arrested only based on the Facebok status posted by the prime minister's son Sajeeb Wazed Joy, BNP Secretary General Mirza Fakhrul Islam Alamgir said today.
"The so-called plot of abduction and killing Joy was not true and it has been proved by the US authorities," Fakhrul said while addressing a press conference at BNP Chairperson's office in Gulshan area of Dhaka.
Fakhrul demanded immediate release of Shafik, who was arrested by plainclothes detectives on April 16 from his Eskaton house in Dhaka and placed on a five-day remand by a Dhaka court in a case filed for alleged attempts to abduct and murder prime minister's son Sajeeb Wazed Joy.
READ MORE: Cops arrest journalist Shafik Rehman
Police on Tuesday claimed that Shafik admitted having more than one meeting with those in the US allegedly involved in the plot against Joy.
DMP Additional Commissioner Monirul Islam on the same day said Shafik admitted meeting four persons including the three convicted by a US court over bribing an FBI special agent to collect confidential information. They are US-Bangladesh citizen Rizve Ahmed Caesar, former FBI special agent Robert Lustyik and his "contact" Johannes Thaler.
Shafik, who also holds British citizenship, worked in various media outlets, including the BBC, but came in the limelight after becoming editor of the weekly Jaijaidin in the 1980s.
THE CASE
According to the case statement, Caeser's father Mamun and some top leaders of the BNP and its allies met in the UK, the US and various places of Bangladesh before September 2012 and conspired to abduct and kill the PM's son.
ALSO READ: Fresh remand for journalist Shafik
In March last year, Caesar was convicted by a US court for bribing an FBI special agent to collect information regarding a Bangladeshi political figure.
The US Justice Department did not name the figure, but it is believed to be Joy.
JOY'S FACEBOOK POST
In his Facebook post on March 9 last year, Joy, also ICT affairs adviser to the prime minister, accused BNP leaders of conspiring to abduct and kill him.
After Shafik's arrest on April 16, the PM's son wrote in his Facebook page: "The evidence against 'journalist' Shafik Rehman comes directly from this case. Note I put the word journalist in quotes because once you're involved in trying to kidnap and kill someone I believe you have changed your career path from journalist to criminal. The BNP runs a mid-career course for that sort of thing."