'Murder Plot' Against Joy
Journalist Shafik Rehman arrested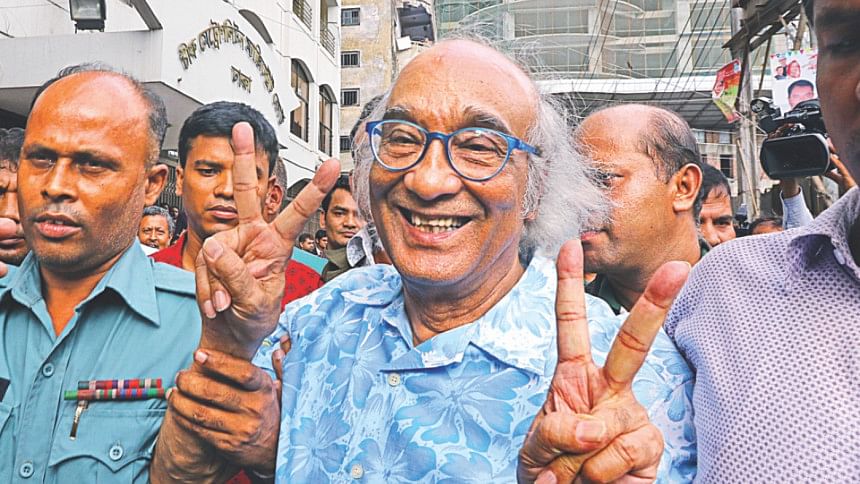 A Dhaka court yesterday placed senior journalist Shafik Rehman on a five-day remand in a case for alleged attempts to abduct and murder prime minister's son Sajeeb Wazed Joy, hours after detectives arrested him from his house in the capital.
Metropolitan Magistrate Muhammad Mazharul Islam passed the order after Assistant Police Superintendent of Detective Branch of police Hasan Arafat produced the pro-BNP intellectual before the court, seeking seven days' remand for interrogating him. 
The court rejected the bail plea filed by the counsel for Rehman, 80, editor of vernacular weekly Mouchake Dhil.
The BNP blasted the government for the arrest and demanded his immediate release.
Taleya Rehman, Shafik Rehman's wife, said her husband also held British citizenship and the British High Commission in Dhaka was aware of his arrest.
The High Commission will look into if it can offer any legal assistance under British citizenship law, she told The Daily Star. 
The veteran journalist had been acting as convener of the international affairs sub-committee of the BNP's sixth national council held recently in the city.
Also, Rehman has been active in joining and addressing different BNP programmes in recent years. According to party sources, he plays a key role in preparing BNP Chairperson Khaleda Zia's speeches. He is also considered an adviser to the BNP chief.  
THE ARREST
Plainclothes detectives entered his Eskaton residence around 6:00am identifying themselves as Boishakhi television reporters "to interview him". However, before leaving with him around 8:15am, they told family members that they were detectives, his wife said.
Police at first denied arresting him when reporters contacted the Dhaka Metropolitan Police. Later, Deputy Commissioner (Media) of DMP Maruf Hossain Sarder admitted that detectives arrested Rehman. But he denied that the DB men posed as journalists.
Matin Molla, caretaker of the house, said the team comprised three men. "They told me that they wanted to interview Shafik Rehman."
Hearing this from Matin, Rehman asked him to take them inside and serve breakfast.
"As sir was taking time to come down, they insisted that I take them to his room."
At one stage, they gave a visiting card to the house cook, Ali Ajam, to be given to Rehman.
As Ali was going up to give the card to Rehman, the three men followed Ali. By this time Rehman came down.
Taleya came out of her room hearing a hue and cry and saw plainclothes men taking her husband with them.
The team picked up Rehman in a microbus waiting before his house around 8:15am, Taleya said.
She slammed the arrest, saying the detectives should have obtained an arrest warrant before picking her husband up. "The most unfortunate part is that they entered our house posing as Boishakhi Television journalists."
Around 10:00am, the Detective Branch phoned Taleya and requested her to take breakfast and medicine for her husband at the DB office.
'CONSPIRACY'
Shafik Rehman obtained British citizenship while working in the UK for a long time. He worked in various media outlets, including the BBC, but came in the limelight after becoming editor of weekly Jaijaidin in the 1980s.
He left Bangladesh during the autocratic rule of HM Ershad but returned home in 1991 after the dictator's fall. He currently produces and anchors a programme named Lal Golap (Red Rose) at Bangla Vision.
Asked about the arrest, Masrukur Rahman Khaled, DB (south) deputy commissioner, said they were investigating a case on charges of attempting "to abduct and murder Prime Minister Sheikh Hasina's son Joy", who lives in the US. The case was filed by DB Inspector Fazlur Rahman with Paltan Police Station in August last year. 
"He [Rehman] has been arrested since his involvement has been found," he added.
In the case, police mentioned the name of Mohammad Ullah Mamun, vice-president of BNP's cultural wing Jasas, as a conspirator.
The case statement says Mamun and some top leaders of the BNP and its allies met in the UK, the US and the Jasas office at the capital's Paltan and other parts of the country before September 2012 and conspired to abduct and kill the PM's son.
In March last year, Mamun's son Rizve Ahmed Caesar was convicted by a US court for bribing an FBI special agent to collect information regarding a Bangladeshi political figure.
The US Justice Department did not name the figure, but it is thought it was Joy.
In a Facebook post on March 9 last year, Joy, also ICT affairs adviser to the prime minister, accused BNP leaders of conspiring to abduct and kill him.
After Rehman's arrest, the PM's son wrote in his Facebook page: "The evidence against 'journalist' Shafik Rehman comes directly from this case. Note I put the word journalist in quotes because once you're involved in trying to kidnap and kill someone I believe you have changed your career path from journalist to criminal. The BNP runs a mid-career course for that sort of thing."
 'TERRIBLE MISRULE'
Khaleda Zia strongly criticised the arrest, saying it was nothing but the reflection of dictatorship.
In a statement, she said that through the arrest of a "brave journalist" like Shafik, the government wanted to divert people's attention from its "terrible misrule," including killing, forced disappearance, abduction and attack on opposition men.
At an emergency press briefing at the party's Nayapaltan office, the BNP demanded his immediate release.
The BNP will wage a tough movement if the government does not release Rehman right away, said BNP Senior Joint Secretary General Rizvi Ahmed.