The biggest tech flops of 2020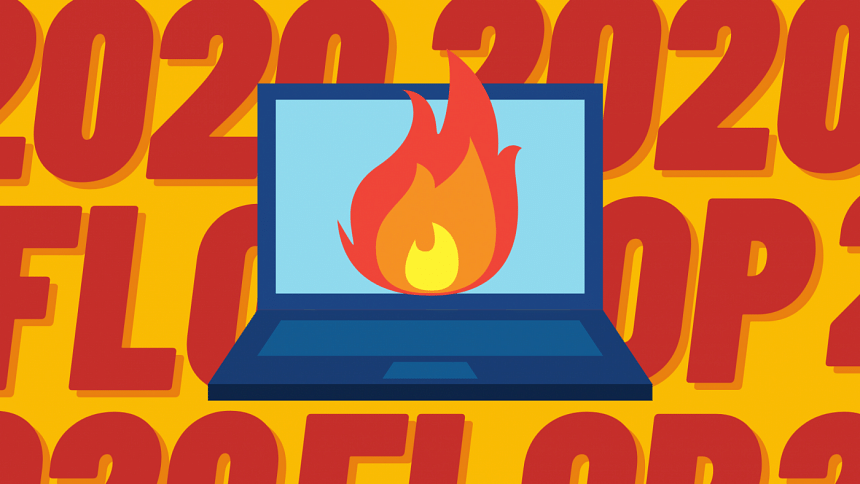 2020 was a year when people got closer to technology more than ever, solely due to the coronavirus pushing the mass to get acquainted with it. Work from home, upsurge of mobile and PC gaming, increased usage of social media platforms has integrated tech into almost everything we do. But if anything this year has helped us see clearly, is the fact that the internet and the global tech community has been more divided than ever, over feuds on Android vs. iOS, shutdowns vs. opening of the economy, masks vs. anti-masks and a lot more.
Coronavirus has infected over 70 million people around the world, and forced an economic shutdown eliminating jobs and shutting down businesses for good. While the global tech industry saw a ray of hope during the beginning of this year, its backlashes equally generated some intense chaos, riots and much more.
Here's a list of some of the biggest tech flops of 2020 that made headlines and affected lives, businesses and had all of us talking about it.
The spread of misinformation in social media platforms
In the beginning of lockdown and during the whole quarantine period, the spread of misinformation and hoaxes is worth mentioning. The borderline mass hysteria had cost businesses, communities and individuals go through unnecessary difficulties. But soon after the companies became cautious about this and responded by introducing new policies to combat these occurrences. But some of these hoaxes had gained so much traction that news portals had to 'debunk' them and only the trusted and verified sources were allowed to make such content. For a walk down memory lane, some of the misinformation included:
Bill Gates somehow being the person behind coronavirus or using the pandemic to implant microchips into people. This was particularly jarring because he has spent years supporting causes to fight diseases and helped develop a faster COVID-19 test.
5G being linked to the spread of coronavirus
Conspiracy theorists claiming coronavirus being an elaborate hoax itself Facebook, Twitter and YouTube sincerely tackled this and got more aggressive during the US election, flagging posts from anyone - including the US President Donald Trump - who reportedly tried to spread misinformation. Some drama!
Twitter's scary hack and 'racist' algorithms
With hackers being active this year more than ever, one of the biggest and scariest hacks of this year is undoubtedly the hack of high-profile Twitter accounts that snagged Bill Gates, Barack Obama, Elon Musk, Kanye West and other noteworthy tech executives, entertainers and politicians. The hackers reportedly perpetrated this massive hack to push a Bitcoin scam.
Twitter ended up locking down all verified accounts before getting a handle on the incident. While this attack was just about money, it raised the question of what would've happened had someone even more nefarious had taken control of either of the president's Twitter accounts. The company, for its part, announced stronger privacy and security policies later on.
On the other hand, the company also had to publicly apologize for its "racist" image cropping algorithm, after users discovered the feature was automatically focusing on white faces over black ones. Twitter has long automatically cropped images to prevent them taking up too much space on the main feed, and to allow multiple pictures to be shown in the same tweet. The company uses several algorithmic tools to try to focus on the most important parts of the picture, trying to ensure that faces and text remain in the cropped part of an image. But it was cropping out black faces while keeping the white ones in the photo only.
Microsoft's letdowns and Intel's fall
Microsoft made waves when it signed esports and streaming star Ninja to a $50 million exclusive deal to play on Mixer. The next time 'Mixer' was mentioned was when it was shut down in June, freeing Ninja and other high-profile streamers to go back to Twitch.
The heavily hyped Microsoft Surface Duo, a "foldable" phone made of two discrete displays that was years in the making and was set to potentially start a new mobile device trend had also let its followers down. The unique design was paired with ""lots of rough edges and unsatisfying experiences," according to tech reviewer Scott Stein.
According to CNBC, Intel shares dropped as much as 6% on the 18th of December after a Bloomberg report that Microsoft plans to design its own chips for its Surface laptops and desktops as well as servers. The report came after a month of Apple releasing their own M1 processor, instead of using Intel chips. Intel has had challenges with manufacturing its chips in recent years. Intel controls its own chip factories, called "fabs," as compared to other chip designers, which contract with companies in Asia to manufacture chips to client specifications.
The more transistors that a chipmaker can fit into the same space, the more efficient a chip is. Currently, Intel ships chips with 10-nanometer transistors, but dedicated foundries, like TSMC, are now making 5-nanometer chips, which are technically superior. With Microsoft and Apple moving on with their own processors, will Intel be able to gain back its momentum?
Apple's many moods
2020 was a big year for Apple as it had released macbooks with its own M1 processors and and a line of iPhone 12 phones.
But what has some consumers more worked up is the company's decision to omit a power adapter and EarPods in its line of iPhone 12 phones. Apple argued that it was about being environmentally friendly and that consumers already have older EarPods and power bricks lying around at home. But ironically, Apple was making its transition to a USB-C cable this year, meaning those older power bricks are useless.
Apple also made a big deal of all the advances that come from its M1-powered MacBooks, but it somehow missed out on upgrading the webcams that are the same old 720p resolution. In the new normal being all about Zoom, Google Meet and frequent video calls, having a front-facing camera on par with the iPhone would've been really helpful.
The latest iteration of Apple's MacOS, Big Sur, also uncovered that a security feature sent user's IP addresses to the iPhone maker each time they opened an app, effectively tying the user's location to data about their computer usage. Worse, the information was sent to Apple without encryption.
The discovery sparked an understandable furor, in part because VPNs couldn't be used to defeat the IP address collection. Apple subsequently said it would stop collecting IP addresses through the security feature and delete any that it had collected.
Next Generation Consoles
2020 was supposed to be a big year for gaming. With the arrival of the PlayStation 5 and Xbox Series X and Series S, and the long awaited release of Cyberpunk 2077, it is. But that doesn't mean the gaming world didn't see its share of flops. The next-generation consoles were poised to be hot items this holiday - but maybe too hot. The limited supplies might make gamers wait for a bit too long. The PS5 went on preorder without any notice, despite Sony saying it'd give ample warning. Moreover, the new standard price for next-generation games appears to be $10-$70 more than the previous generation. That too, in a world dealing with recession and massive unemployment. On the other hand, Microsoft's big launch title for the Series X, Halo Infinite, was delayed after initial gameplay was widely termed as 'unpolished and incomplete'.
Marquee AAA title Cyberpunk 2077 getting delayed was bad enough, but gamers were heated up enough to send death threats to the developers. Moreover, the game hasn't lived up to the hype it created for eight years, according to gamers and reviewers. There was light-hearted mockery of the respective designs of the new consoles as well. The PS5 is definitely a statement piece, while the Xbox Series X was content to make memes with.
The "Epic" battle with Apple and Google
Epic set up a direct payment system for its Fortnite users that cut out Apple and Google. This enraged Apple and Google and the giants responded by pulling the game from their respective app stores. According to CNET, this triggered a lawsuit and a campaign from Epic shedding light on the industry-standard practice of charging developers up to a 30% commission for being on the stores. Apple and Google reportedly argued that Epic had violated the guidelines put in place to ensure a safe app store experience.
Regardless of it all, the consumers had to suffer, with no new access to Fortnite. The trial likely won't happen until July 2021, according to California Judge Yvonne Gonzalez Rogers in an interview with CNBC.
Samsung's Neon AI
A Neon is an artificially intelligent digital avatar that was meant to mimic real human appearance and emotions. It's envisioned as a highly lifelike companion that has its own personality and can converse and behave like humans. Neons can also remember and learn.
Being one of the most buzzed-about names at CES 2020 - the extravagant trade show, that feels like a lifetime ago. Samsung partly funding this event along with its promise of ultra-realistic-looking computer-generated people helped people to remember and talk about this event.
The actual demo found them to be less realistic, and more creepy and janky, with the CG models offering stilted AI answers, according to a report published in CNET. So much for the hype of AI.