Mythbuster: Circulating accurate information regarding coronavirus through games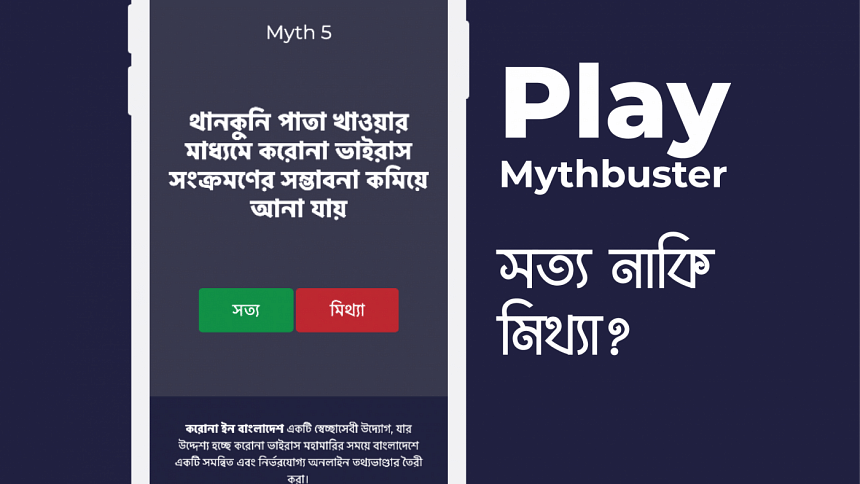 Misinformation is a way more complicated problem when it comes to dealing with any sort of crisis like the Corona pandemic that we are currently going through. When it comes to a country like ours where people still have a long way to go in terms of distinguishing between facts and myths, things can get even tougher. People focus more on chewing Thankuni leaves and less on hygiene and washing their hands frequently to prevent the disease.
The circulation of information has to be effective enough to make people aware of facts and myths. With this aim in mind, four undergraduate students came up with the idea of a web app, where people can play a quiz game to bust some myths regarding the Coronavirus and get to know the facts most interactively and effectively possible. Fahim Murshed, who is currently in his senior year studying Organisational Strategy and Leadership at Dhaka University along with Tasin Ishmam, Aftarul Islam Monmoy, and Aniruddha Ganguly, who are all students of Computer Science and Engineering at Bangladesh University of Science and Technology (BUET) has recently launched a web app named "Mythbuster" that aims to circulate correct information regarding the Coronavirus as opposed to myths through a very interactive quiz game. "Our initial idea was to build a platform both in Bangla and English which would serve information from those sources but in a more presentable, intuitive, and interactive manner. Hence, we decided to launch a website named "Corona in Bangladesh" to share important updates regarding Coronavirus regularly. After another brainstorming session, we came up with the idea of an interactive myth-buster game as a part of the website", said Fahim Murshed. 
This four-member team started the development of the web app early in the morning on March 20, and after a 38-hour marathon, they finally ran the platform on March 21.
This web app requires the user to go to coronainbangladesh.com/mythbuster through web browsers. One can also play the game directly from the Facebook web viewer. The link asks for the user's name and email ID, but providing the information is not mandatory.
After clicking on the start button, it shows either a myth or a fact. There are two buttons from which either True or False needs to be chosen. By matching the input with the actual answer, it shows where the user has been right or wrong. In either case, an explanation will be displayed along with the mention of the source. All the information is collected and verified from the websites of WHO, Johns Hopkins, Worldometer, and some of the top and most reliable Bangladeshi portals.
There are 15 questions in total and the result is displayed after completion of the entire set. There is an option for sharing it with Facebook friends. There is another option to replay the game as well.
When asked about the motivation behind the idea, Fahim Murshed said, "We predicted that everything will get locked down in no time. People will stay at home. The usage of the internet will spike. It happened worldwide to the countries that got affected before Bangladesh. And, during this time, people want to find and do something engaging to get rid of the boredom that they generate. And it worked. People are playing the game and sharing it with their friends and sharing their scores as well."
"We didn't think of any target audience in particular. We were focused on making it as intuitive as possible for any type of audience", he added.
The responses to this game have been massive so far. A total number of 6522 people played this game, and it was shared on Facebook at an estimated number of 2.6k as per the latest update. The numbers surely suggest that this game has been successful in terms of engaging people and simultaneously educating them about the ongoing Corona pandemic to a great extent.