Why hybrid should be the future of work (at least in Dhaka)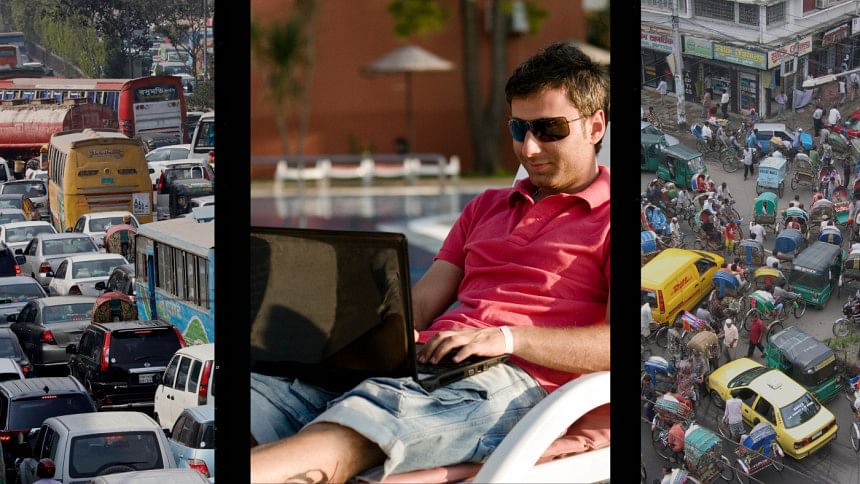 Post 2020, one thing has become undeniably clear: the landscape of our professional lives must evolve to fit our transformed world. The beacon leading this change is the hybrid work model, a synergistic blend of remote and in-office tasks. This is not just a passing trend but a vital adaptation, especially in metropolises like Dhaka where the daily commute can feel like an endless ordeal.
Recent surveys highlight that a significant majority of high-growth companies have adopted hybrid work models. A global survey highlighted that 63% of high-growth companies have adopted hybrid work models. In these transformative times, such strategies are not mere luxuries but necessities. But why, precisely, is this model gaining such traction?
At its heart, hybrid work offers unparalleled flexibility, heralding a new age of work-life harmony. By giving employees the liberty to divide their time between home and office, we're not just trimming their commute; we're gifting them hours, and with it, mental peace. In cities like Dhaka, where the relentless horn of traffic congestion is a persistent background score, such an approach doesn't just save time—it saves sanity. No longer must professionals forfeit precious productive hours to the rigmarole of traffic, a fact that offers both mental respite and physical relief.
Moreover, the environmental implications are profound. With fewer vehicles on the road, carbon emissions plummet, nudging us a step closer to a greener, more sustainable future.
It's not just about logistics and environment; it's also about emotions and job satisfaction. 65% of employees, as noted by FlexJobs' Career Pulse Survey, are keen to maintain remote or hybrid work schedules. When employees feel their needs are acknowledged and accommodated, they not only produce better results but also showcase enhanced loyalty—fewer reasons to bid adieu and more reasons to stay.
Geography, once a rigid barrier, now melts away in the face of hybrid working. Companies can scout, recruit, and retain talent from corners of the world previously deemed inaccessible. The result is a tapestry of diverse minds, backgrounds, and perspectives—a crucible for innovation and progress.
Interestingly, productivity doesn't take a hit; it soars. Distraction-free environments, coupled with the ability to fashion a personal workspace, often mean remote workers outpace their in-office peers. However, interspersing this with office days ensures that the camaraderie and collaborative spirit remain undimmed.
However, this model is not without its hurdles. It necessitates robust communication channels, collaboration platforms, and a foundational trust between employers and employees. Clear success metrics should be established and reviewed periodically by top leadership.
To navigate the hybrid work waters, companies need more than just tools; they need vision, strategy, and an unwavering commitment to adaptability. When these align, hybrid working ceases to be a mere model—it becomes the very blueprint for a flourishing professional future.