Why hybrid should be the future of work (at least in Dhaka)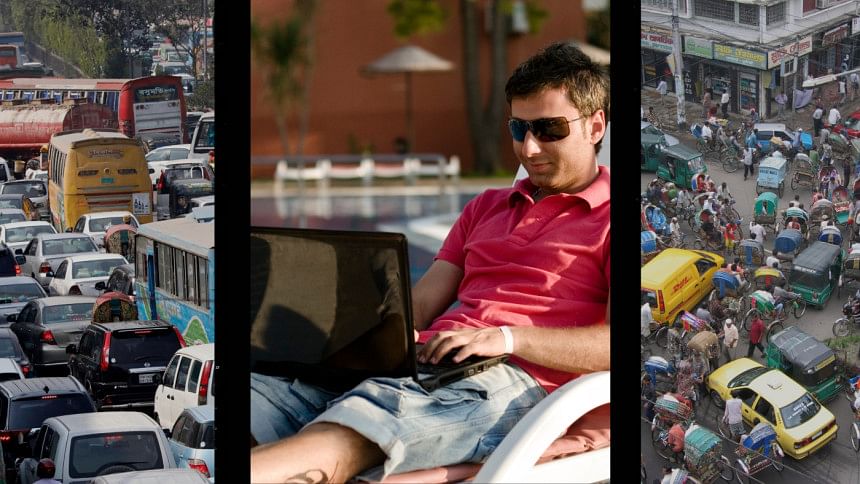 If the world has learned anything from the post-Covid-19 mayhem, it's that the way we work needs to adapt to a new reality. One solution that has gained popularity in recent months is hybrid working, a blend of remote and in-office work. And particularly in a traffic jam-packed city like Dhaka, hybrid working should be the future of work in 2023 for several reasons.
First and foremost, hybrid working allows for greater flexibility and work-life balance. Employees can choose to work from home on certain days, reducing their commuting time and the stress that comes with it. This is especially important in a city like Dhaka, where traffic congestion is a daily struggle. Precious productive hours are lost every day just by sitting in idle traffic, not to mention the mental and physical toll.
By cutting down on commuting, hybrid working also helps reduce carbon emissions and contribute to a more sustainable future.
Another benefit is increased employee satisfaction. Many employees value the flexibility that comes with remote work; this can lead to increased job satisfaction and employee retention, as employees are less likely to leave their job if they feel that they have a good work-life balance.
Hybrid working also allows for greater access to a diverse talent pool. With the ability to work remotely, companies can tap into a wider pool of skilled professionals who may not be able to relocate or may be located in areas with a lower cost of living. This can lead to a more diverse and inclusive workplace, as well as better retention rates for top talent.
Another advantage of hybrid working is increased productivity. Studies have shown that remote workers tend to be more productive than their in-office counterparts, thanks to a lack of distractions and the ability to create a more personalized workspace. By allowing employees to work from home a few days a week, companies can reap the benefits of remote work while still maintaining a sense of team cohesion and collaboration.
Of course, hybrid working isn't without its challenges. It requires strong communication and collaboration tools, as well as trust and accountability from both the employer and employee. But with the right infrastructure and policies in place, hybrid working can be a win-win for both companies and employees.