INFOCOM 2023 explores the future of technology and business
Under the theme "Leading With Purpose", this year's conference is being held in association with the SAARC Chamber of Commerce & Industry (SAARC CCI) and The Daily Star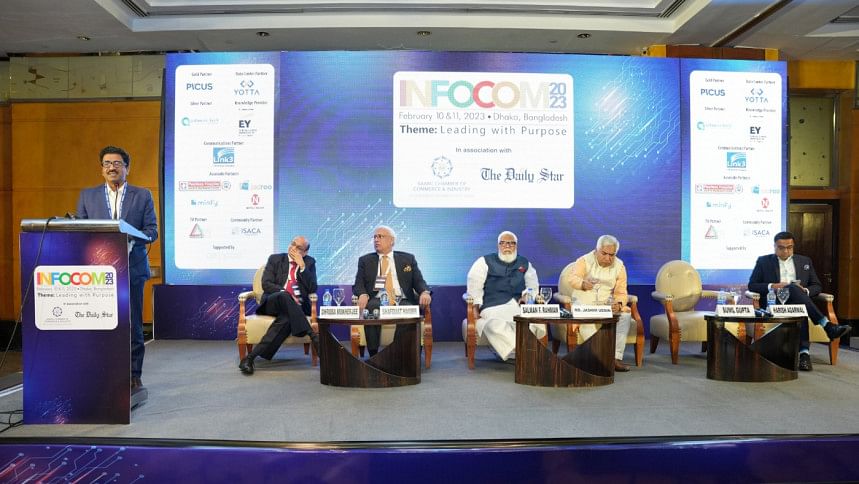 'Bangladesh is slowly moving from a labour-intensive economy to a talent-driven economy. And ICT Technology will be a key factor to leverage this leap'- this has resonated in most of the sessions and even in the inauguration of INFOCOM 2023.
INFOCOM is a leading regional Technology, Business and Leadership Conference. Under the theme "Leading With Purpose, this year's conference is being held in association with the SAARC Chamber of Commerce & Industry (SAARC CCI) and The Daily Star. 
'Despite COVID-19 and the lockdown, the economy was able to clock amazing growth. And this happened because Digital Bangladesh and the associated infrastructure was able to cater for the country and the community, said Salman F. Rahman, MP and Advisor to the Prime Minister on Private Industry and Investment, who attended the conference's inauguration as Chief Guest. 
The inauguration ceremony was addressed by figures in the business and technology industries, including Dhruba Mukherjee, CEO of ABP Pvt Ltd; Shafquat Haider, Chairman of the Council for Communication & IT, SAARC CCI; Harish Agarwal, Partner at EY LLP; Sunil Gupta, Co-Founder & CEO of Yotta Infrastructure. The special guest was Md. Jashim Uddin, President of FBCCI.
The first day of the event saw six sessions take place, including three keynote speeches, two-panel discussions, and one fireside chat.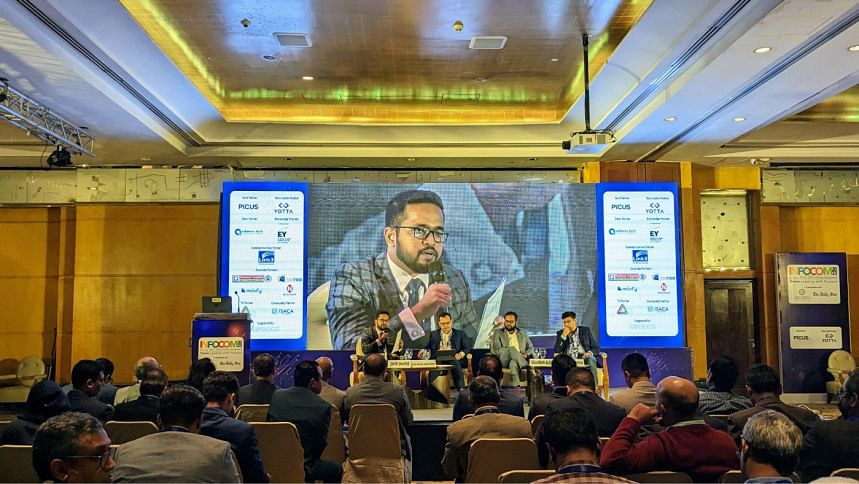 The first-panel discussion, "Technology on Purpose: Trust, Transparency & Resilience," was moderated by Tanjim Ferdous. It featured panellists, including Selim RF Hussain, MD and CEO of BRAC Bank Ltd.; Mominul Islam, Managing Director and CEO of IPDC; Osman Haidar, Director of Business, IT Consultants Limited (QCash); and Mohammad Aminul Haque, Executive Director of Nagad Limited. The discussion focused on the need for increased trust and transparency in technology to ensure its equitable usage for the benefit of all.
Sunil Gupta, Co-Founder & CEO of Yotta Infrastructure, presented a keynote session on "Run Digital Transformation at the Core." In this session, he emphasised the importance of digitalization and the potential outcomes of digital transformation.
The second-panel discussion, "5G services in Enterprises," was moderated by Zafir Shafiee, Director of Bondstein Technologies. It featured panellists Brigadier General Md Nasim Parvez, Director General (System & Services) at BTRC; Solaiman Alam, Chief Digital and Strategy Officer at Grameenphone; and Taimur Rahman, Chief Corporate & Regulatory Affairs Officer at Banglalink. The discussion highlighted how 5G technology will revolutionise industries and benefit the general public.
Harmeet Kalra, Regional Director of Picus Security, India & SAARC, conducted another keynote session on "Return on Existing Security Investments: Building Alignment of Purpose." The speaker discussed the importance of cybersecurity and ways to drive customer assurance in the modern world.
A fireside chat titled "Future of Edtech in Bangladesh" was facilitated by Md Sabur Khan, Chairman of Daffodil International University, in conversation with Samit Ray, Chairman & Chancellor of Adamas University, RICE Group. The session explored the importance of technology in education and the vast potential of EdTech.
The last session of Day-1 was a keynote titled "Unleash the Power of Your Mind (part-1)" by Harrish Sairaman, a life coach, hypnotherapist, and motivational speaker. The speaker discussed how experience helps individuals grow the power of their minds and how it can be helpful in today's world.
Altogether, INFOCOM 2023's first day brought together experts from various fields to exchange ideas and discuss the latest advancements in technology and their impact on society towards leading the future with purpose.