Perks of owning a brand new car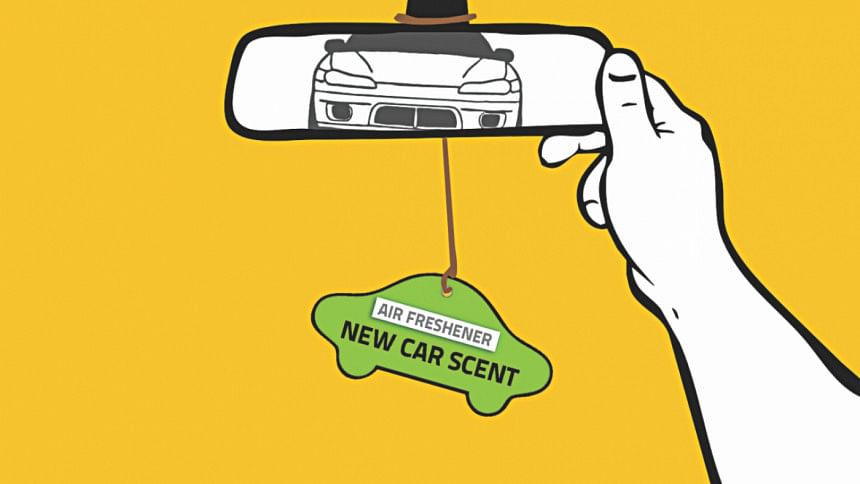 There is an obvious shift in automobile buying trend in our country. Instead of stalking through reconditioned grey imports, people are more inclined towards brand new vehicles from authorized dealers. "Kakrail" is no longer THE place to buy cars from. Contrary to popular belief, brand new cars DO have more benefits besides the fact that you as the first owner do not have to rub against a seat with sweat stains all over it. Sorry recon car owners; we know the seats are refurbished, but still. We dig into the apparent perks of owning a brand new vehicle.
We all love that plastic wrapped new car smell that lasts quite a while. Then there's the zero mileage factor - that intimate moment when you take it for the first ride. No matter how many dates you are out for or escapades you adventure on, you are less worried - because it's a new car, chances of things going wrong is less than that of a reconditioned unit. There is no need for a major break in routine of the engine like you have to do for a used or reconditioned vehicle that lay idle at the port for a very long time with 'dirty' fluids. Check on the vital fluids and stick to the dealer recommended routine maintenance, and you are all set.
The dealers provide you with various warranties for a decent period of time and mileage of use. Not only that, they also have the best trained engineers and technicians for the specified marquee to cater to your car's after sales service and routine maintenance. Even with post warrantee period repair work, the authorized service center ensures procurement of authentic parts, installation which relieves you of the stress of hunting down a reliable workshop or neighborhood mechanic that does more damage than good. In fact, a new car will start having issues much later than an average reconditioned car. So technically, new cars off dealerships keep you from spilling your wallet.
Please be aware of the various ways your warrantee might be void of. Major dealers in the country says NO to CNG conversion.This is primarily because none of these cars were designed from the factory for alternative fuel, and the damaging effects of a CNG conversion should be deterred. Also, fiddling around with electronics and swapping parts null out warranties too. Think before swapping out the sat nav for a cheap Chinese sound blaster unit. Although these do not change warrantee terms and condition, SHIFT advises you not to add extra steel bumpers. Setting aside the fact that they are completely useless in protecting your car, your eyes need to relish on that brand new car too, so let them.
Myth tells us brand new cars are pricey. Wrong. New cars are not THAT pricey anymore, especially if you are looking into the conventional economical segment, which most of the customers seek. An average refurbished Toyota Allion/ Premio goes for the same range a brand new Honda City or a Toyota Vios is tagged at. In fact, the cheapest car is the market is a brand new car (Tata Nano), which is cheaper than the most inexpensive reconditioned car in the grey market. However you do spend a hefty amount on the initial registration and insurance. But there is compensation scheme set by the government for your brand new car. Firstly, no tax for five years. Second, no fitness certification is required for the same period of time too. Getting your vehicle fitness certified usually means toiling the entire day at BRTA, haggling with brokers and lazy attendants; now NOT having to do that for five years is epic win. Hence, owning a new car is not only a wise financial investment, it is also less hectic.
One of the greatest concerns of being in a car is the safety features that's associated with it and the peace of mind it gives you. With a brand new vehicle, you do not have to rely on a subjective auction grade sheet that might not accurately verify and document a faulty airbag with deployment issues. When you buy brand new, your vehicle is tested and double tested at the manufacturing facility and quality checked and ensured it is delivery ready. Even with the slightest problems, authorized dealers in Bangladesh are ready to act instantaneously on international recalls, in case you are unaware. That is the proper global standard.
Despite the burgeoning inclination towards brand new car purchases, we ought to register that this is still a niche market. Besides the economy compact class, the usual consumer preference is towards SUVs such as Kia Sportage and Toyota RAV4 and people carriers such as Toyota Avanza. The multipurpose vehicles are of growing interest due to the seating capacity of and the tax bracket and price of a compact class. Governments and MNCs set good examples by procuring brand new cars such as Mitsubishi Lancer and Nissan Sunny for VIPs and senior executives. The government needs to come forward and work with the importers to ensure sustained growth in the market.
With so many benefits derived from brand new vehicles, why opt for a recon one?