FABULOUS GRACE
Fashion and film: a silver screen affair
It is a universally acknowledged fact that one's appearance speaks volumes even before words are spoken. Clothes are not just articles covering one's body, they tell a story, at times much more than we give them credit for.
Clothes maketh a man, they say and how! The need and the desire to feel attractive and beautiful is only human nature. Almost every person out there, even the biggest simpletons, have some sense of personal style, if not fashion. The subtle difference is well-understood.
The connection between fashion and the silver screen is enduring and steadfast. Films have been the greatest source of entertainment for the masses. It allows a certain level of escapism; a fantasy world where reality is non-existent and immaterial.
Glossy images projected on the big screen offer momentary respite from the gritty humdrum of life, making one forget the hurdles and the chores to be dealt with. And as the credits start to roll, traces of this fantastical journey stay with us.
On a subconscious level we want to make that fantasy into a reality. Fashion trends emerge on the silver screen in all their glory, and inspire street style tremendously, persistently. It is hard to defy the allure and glamour of the cinematic style.
Often referred to as Bengali cinema's first couple, Suchitra Sen and Uttam Kumar were undeniable icons for fashionistas here. Young girls experimented with however she put on her eyeliner around her evocative eyes, and she also helped social norms by portraying strong independent women in many of her roles. Uttam Kumar served as the similar icon to the young men of that time.
In Bangladesh, the next generation icons were the fan-favourite pair of Razzak and Kobori. Sujata and Azim were another pair, well-loved for their on-screen charisma, and thus emulated off screen with much fervour.
Legendary actor Razzak burst on to the movie scene in the early 60s, and took the world of Bangladeshi cinema by storm. His youthful style and charismatic personality was an instant hit with the youngsters of the time, who quickly adopted his way of dressing. Slim fit plaid trousers and shirts were the choicest styles of the time, and hair was sleek and pulled back.
The leading ladies of the time were a treat to the eyes, with their fabulously slim waists and doe eyes. The famous tightly-tucked sari and heavily winged eyeliners sported by Shabnam, Shuchanda, and Kobori were emulated by fashionable ladies everywhere, and they finished the look with beehive updos and oversized sunglasses.
Internationally, Indian film actors such as Sharmila Tagore, Hema Malini and Mumtaz sported short, tight kameezes with skinny churidar pants paired with high bouffant and long braids.
In every decade, fashion reflects the general mindset of that time, and the sixties were all about highlighting femininity and sensuality. A lot of us may have seen old pictures of our mothers in their younger selves flaunting such stylish outfits, their attires a testament to the style statements of their time.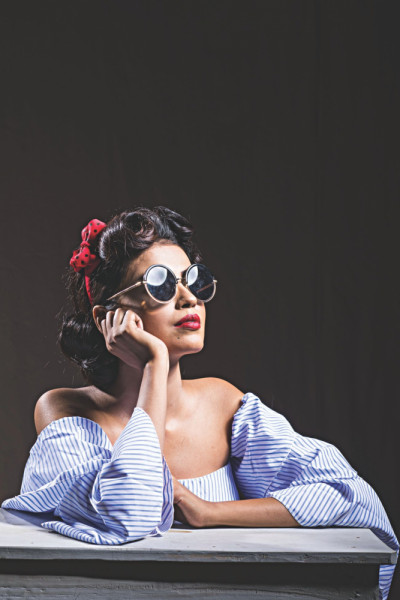 The seventies were a tumultuous decade for Bangladesh. Having just gained independence, the entire nation was focused on rebuilding and restructuring. A few years following the War, a young Bobita won the hearts of youth all over the country. Her youthful style and demure personality made her the nation's sweetheart and women everywhere wanted to copy her look. Millions of hearts skipped a beat when Bobita pirouetted in her colourful tunics and Sridevi pranced in ethereal chiffon saris on the Swiss Alps. Imitating an actor's style of dressing is the easiest way to bring a little bit of celluloid magic in real life, and people in every part of the world, from all walks of life, have been doing it for decades.
In Bangladesh, films have heavily influenced street style. In the past, there had always been a great culture of going to the theatre, which in turn had had an impact on the style statement of the general population.
Runa Laila, the glamorous songstress stepped into the Bangladeshi cultural scene and her voice, style and image created ripples across the country. Her glamorous makeup and sparkling jewels were all the rage.
Television as a medium of entertainment was quickly gaining momentum, and so were the actors working in it. Syed Ahsan Ali Sydney, among the most popular actors of his time, and the hit pair of Afzal Hossain and Suborna Mustafa were loved, admired and their styles copied widely. In the same vein, some advertisements have been well ahead of their times, or the trendsetters that shot models to new heights, like Jayashree Kabir in her Gold Spot advert, and her seductive avatar in films in both Bangladesh and West Bengal.
Internationally, Hollywood stars like Al Pacino and Robert Redford influenced local style quite a lot. Our fathers and their peers were all fans of fitted striped shirts, flared corduroy trousers and skinny ties sported by the stars.
Sean Connery in particular was extremely popular as James Bond. Men of that generation fondly reminisce channelling Connery's sleek and sophisticated look by sporting a bow tie as opposed to a regular tie with suits. The tuxedo also sparked curiosity among the youth. 
Sometime later, Amitabh Bachchan was all the rage and youngsters could not get enough of the 'angry young man,' his bell bottoms and acrylic aviators. People everywhere began to adopt his 'not give a damn' attitude by rolling up their sleeves and keeping the topmost buttons of their shirts open.    
Sridevi and Dimple Kapadia were the hottest young stars and their sensuous styles were very popular. Fashionable ladies would flock to tailoring shops in New Market and pester tailors to make sure their 'Bobby' blouse had the right dip at the front! It was the time of reinvention and effortlessness and Bangladeshis embraced it wholeheartedly.
Then came the exciting 80s. Following a decade of austerity and upheaval, everyone was ready to get out and paint the town red. Major technological breakthroughs made entertainment easily available and accessible, in turn heavily influencing fashion and street style. The advent of VCR made access to international media easy and there was a video rental shop in every area.
Many new faces appeared on the silver screen and their unique style sense inspired hundreds. Ilias Kanchon, Zafor Iqbal, Alamgir, and Sohel Rana were the most popular actors of the time.
Jeans suddenly became very stylish. Fitted at the bottom and loose on top it was considered the height of fashion when paired with a puffy, bright windbreaker! Bright white high-top sneakers were on every youngster's wish list. Almost every actor sported the mullet, and it was the hairstyle du jour for men back then.
Musicians such as Bryan Adams, George Michael and Michael Jackson were huge inspirations for the youth, both globally, and here as well. Band culture was slowly forming in Bangladesh. Renaissance, Feedback and Different Touch had young, vibrant men who everyone admired and aspired to become. There was a definite shift towards over the top, extravagant styles in the eighties.
Deety was a young new actress whose fancy style caught every girl's eye. Oversized hoops, bright leggings and colourful makeup was her signature look and it was wildly popular. 'Abujh Hridoy' starring sisters Bobita and Champa was a blockbuster hit and the dressy, youthful looks sported by the leading ladies caught on like wildfire among the fashionable ladies of the time.
In the West, more and more women were climbing up the corporate ladder, breaking the glass ceiling and defying gender norms. Loose-fitting dresses and skirts were ditched in favour of fitted silhouettes that did not get in the way of work. Locally, these trends were derived from TV shows like Dynasty, and Dallas, where upper-class American women wore opulent gowns and pantsuits to display their powerful positions.
As gowns and pantsuits were not exactly wardrobe staple for Bangladeshi women, traditional shalwar kameez underwent a transformation. There was a strange fusion incorporating western elements in a decidedly traditional style. Kameezes with puffed sleeves were very popular and shoulder pads were used to give it a western, suit-like vibe.
Bollywood actresses like Rekha, Sridevi and Madhuri Dixit influenced fashion tremendously.
Low-cut, sleeveless blouses made popular by Sridevi in Chandni were a favourite, as was chiffon and georgette saris worn in movies like Kabhi Kabhi, and Silsila. Oversized accessories, bold sunglasses and stilettoes were the hottest things to own and flaunt. Bold, bright eye makeup in frosted colours was the order of the day, as were shiny lip glosses and big hair made even bigger with hairspray. It was the age of excess and Bangladeshis did not shy away from it!
Along came the nineties. Following the excess of the preceding era, everything and everyone slowed down in films and likewise, in fashion. A major turning point in Bangladeshi film arena was when Keyamat Theke Keyamat released in 1993. It not only featured fresh new leads, but was ahead of its time in terms of styling, acting and overall performance.
Salman Shah set the screen on fire as the male lead, and young men everywhere went crazy over his charismatic personality and cool, modern style. Before him, actors would be clothed in garish, impractical outfits that had no basis in reality. However, Shah completely changed that perception with his sleek sunglasses, cool hats and stylish outfits.
Moushumi, his leading lady, was nothing less than spectacular. Dressed in sweet frock-style kameezes, she won the hearts of millions. Her style of dressing became hugely popular, and the pretty bows she wore in her hair matching her outfit were copied by everyone.
The rest of the nineties saw a rise of the models, both internationally as well as locally. Homegrown actors turned into supermodels. Bipasha Hayat, Mou, Afsana Mimi, and Shomi Kaiser acted on television and did not shy away from taking the challenge of becoming brand ambassadors.
Long kameezes with platform heels and shoulder bags were very stylish. Male models such as Nobel, Pollob, and Faisal had a major fan following. Musicians like Shakila Zafor, Shubhro Deb, and band singers such as Hameen, Shafeen from Miles, and Partho Barua also inspired the youth of the time.
Internationally, minimalism was the new mantra and designers like Calvin Klein, Ralph Lauren, and Giorgio Armani championed that cause. Bollywood movies also experienced a shift in styling with movies like Dil To Pagal Hai and Kuch Kuch Hota Hai.
Madhuri's double kameez became a closet staple for every fashionable woman and Karishma's athletic style inspired many. Natural beauty was highlighted with matte lipsticks and fresh, flawless skin made popular by Cindy Crawford. There was a definite move towards embracing one's true self.
As we entered the new millennium, change was evident everywhere. Technological advancements had a major impact on our lives in every aspect. Easy access to the Internet bombarded our lives with celebrities and their activities. It became very pervasive and suddenly nothing was private anymore.
Short, shirt-style kameez was the most enduring trend of this era, and everyone from the lower class to the upper class was seen sporting one. It was made popular by the movie Bunty aur Babli, and it was testament to the fact that Bollywood still remains the most powerful influence on local fashion.
Homegrown boutiques such as Mayasir, Aarong, Rang, and Anjon's promoted authentic Bangladeshi fabrics and designs and it created a major fan following, in spite of the heavy Indian influence.
In the West, bootcut jeans and crop tops were all the rage with sky-high platform sneakers and sling bags. Poker straight hair with blonde streaks was the most coveted hair style and curly-haired Bengali women ran to salons and spent big bucks to straighten their unruly locks! Multiple piercings were made popular by musicians such as Gwen Stefani, and Avril Lavigne, and teenaged girls begged their mothers to get their noses and ears pierced. It was definitely an age of experimentation, as everyone was coming to terms with the changing world.
Men were inspired by boy bands like N'Sync, Backstreet Boys, and Boyzone and short shirts and loose, baggy pants became insanely famous. Cellphones were quickly becoming accessible and it was the accessory to have and to hold! Local musicians such as Tahsan, Bassbaba Sumon, and Jon also influenced the youth.
It is difficult to trace the origin of a fashion trend. What truly is amazing are the ripples created along the way. Fashion is truly fluid and dynamic. What is stylish for one may not be the same for someone else. But culture plays a major role in shaping up the sartorial perception of a nation greatly.
Model: Mysha, Efa
Wardrobe: Personal