Prioritise hygiene in light of coronavirus pandemic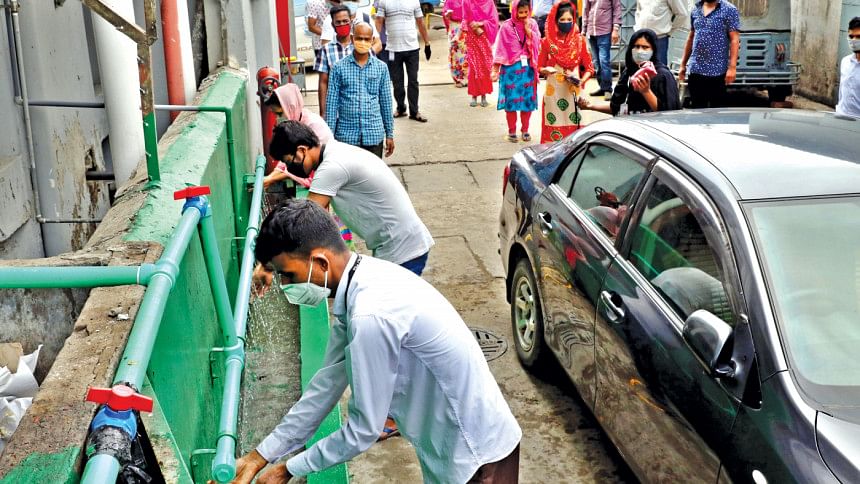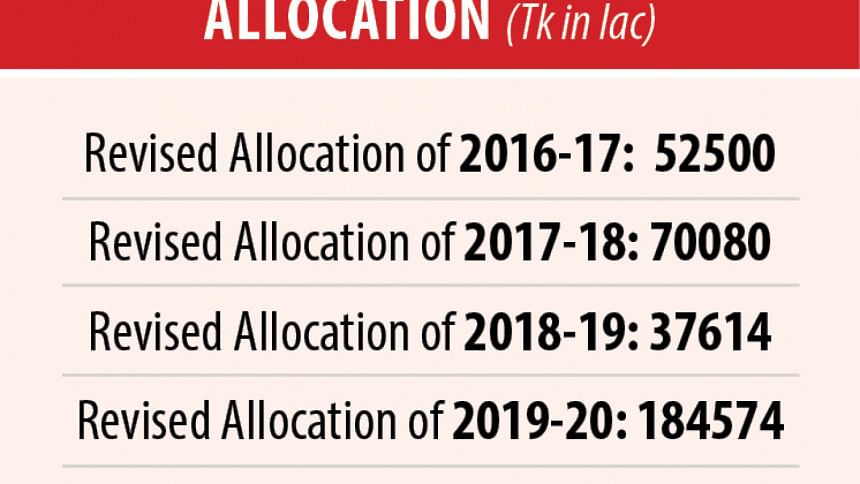 Md Sagor, 27, a bus conductor, has to go to work every day amid the COVID-19 pandemic to sustain his family of four people. Although at the beginning of the pandemic he was more aware and taking precautionary steps such as wearing a mask, washing and disinfecting his hands and feet regularly, with the passage of time, this awareness has only declined due to "pandemic fatigue", which occurs when people get tired of the pandemic measures and become less likely to follow precautionary hygiene practices.
Sagor adds, "It is annoying to prepare the disinfectant spray every day. Besides, as I have to stay outside the whole day and come into contact with a large number of commuters, it is extremely difficult to maintain maximum cleanliness all the time."
Tahmina Akter, a private service holder and a regular commuter by public transport, expressed a similar concern. "Many of us have been unable to maintain adequate precautions since normal operations have resumed after the shutdown without much precautionary measures in place," says Tahmina.
There are hardly any handwashing and hygiene facilities in crowded areas such as bus stops, markets and shopping malls, she adds.
 Although investment in hygiene is a crucial factor in the fight against COVID-19, less than five percent of the total WASH (Water, Sanitation and Hygiene) budget in FY2020-21 has been allocated to the hygiene subsector. The overall budgetary allocation for the WASH sector is also far less than adequate. 
A study titled "WASH budget scenario in proposed National Budget FY 2020-21" jointly produced by PPRC, WaterAid and UNICEF, published on June 28, shows that despite the upward trend over the last decade in WASH allocation, the sector has not been able to attract sufficient attention and remains at the bottom in terms of allocation, when compared with the growth of GDP and development budget.
There is also huge spatial inequality between the urban and rural areas in terms of WASH allocation. In a five-year period, 2016-17 to 2020-2021, there has been almost no change in the share of urban (80-83 percent) and rural (17-20 percent) WASH allocation, points out the study.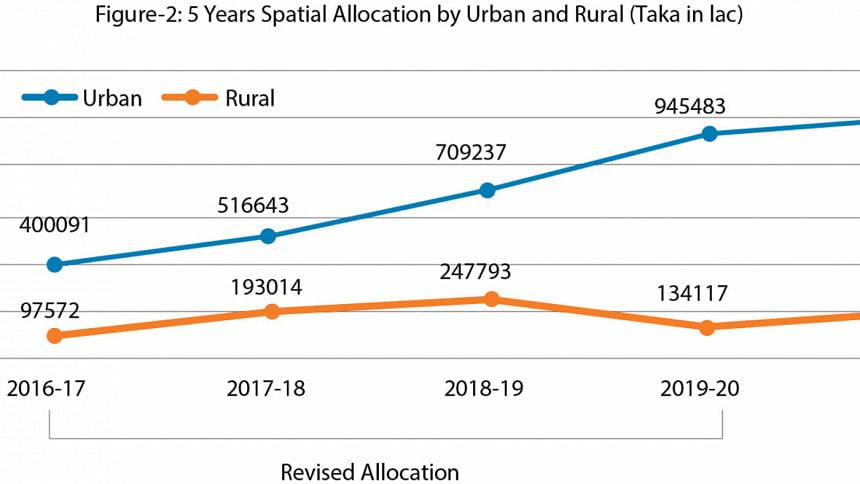 The study further reveals that among the WASH subsectors, hygiene remains the most neglected one.
Hossain Zillur Rahman, executive chairman of PPRC, says that in the proposed Budget, the hygiene agenda suffers both from lack of resources and the identification of specific activities. Terming the hygiene budget in both health and WASH sector as "extremely inadequate", he stresses on identifying the hygiene activities first.
"Bangladesh now needs to develop a hygiene agenda, in terms of specific activities, covering services and awareness programmes. For example, installing handwashing stations in slums is one idea but the hygiene agenda as a whole needs to be detailed out," he urges.
Hasin Jahan, country director of WaterAid, shares that there is no proper physical intervention related to hygiene as well as no national level campaign, through which life-saving messages of maintaining hygiene can be reminded repeatedly to public by the government.
"In the beginning, although everyone took issues of hand and respiratory hygiene seriously, over time, the importance is declining both at the people's and government's end," adds Jahan.
The PPRC-WaterAid-UNICEF study recommends prioritising hygiene as a vital tool of public health and epidemic preparedness; investing in large-scale nationwide hygiene campaigns; and installation of handwashing points with soap and water in public places, markets and bus stops.
Another significant aspect to consider is that although the educational institutions have been closed since March 17, the government must undertake measures to ensure adequate hygiene practices before reopening them.
According to Md Monirul Alam, WASH specialist, UNICEF, it will be challenging for the government to reopen the educational institutions with the current inadequate resources, since most schools have only one basin or tube well and the supplies of soap are inadequate.
"In accordance with the global guideline provided by World Health Organisation (WHO) and UNICEF, every student must wash their hands with soap before entering the schools, and there must be proper handwashing facilities so that they can wash their hands multiple times during school hours. The educational institutions must also impart hygiene education to develop healthy behaviours among students," he adds.
With no vaccine in sight and countries globally grappling with a second or third wave of pandemic, a country like Bangladesh can stay safe by maintaining hygiene at all levels.