HIGHER EDUCATION IN BANGLADESH
Coping with Covid-19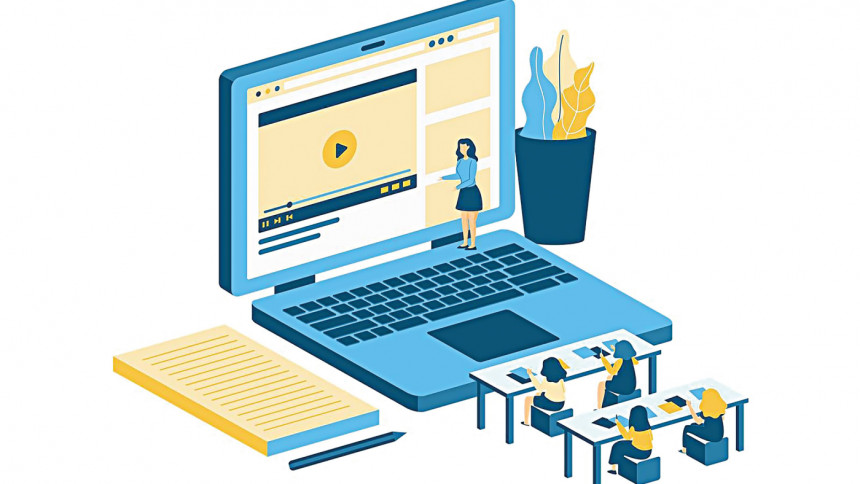 With Covid-19 pandemic putting an unprecedented impact on the country's higher education, universities are adopting a blended learning approach, combining online education and traditional face-to-face classroom teaching to bridge the learning gap.
The universities have also reduced the number of vacations and cut the duration of semesters and years, among others, in their efforts to recover from the losses incurred by the pandemic-induced closure for 17 months.
Educationists appreciated the measures taken by the higher educational institutions, but stressed that the universities should continue to strive and explore new approaches for delivering quality education in a changed scenario of digital transformation and keeping the future health emergencies into consideration.
Prof Kazi Shahidullah, chairman of University Grants Commission, said, "Now that we are going back to traditional classroom activities, we advise all universities to adopt a blended approach combining different media or instructional methods, including in-person and online learning."
Extra effort has to come from all – teachers, students and administrators – to tackle the issue of education loss, he opined.
The UGC chairman said many students went through mental pressure and these students should get the support to overcome it.
"I hope we will be able to overcome it all, but that requires some time," he said.
The highly infectious coronavirus has had a deep impact on the higher educational institutions including both public and private institutions globally. In Bangladesh, the government closed all educational institutions on March 17 last year, including the universities a week after the detection of the first Covid-19 case.
As a result, on-campus classes remained closed for more than a year and a half.
Private universities were quick to adopt online learning methods and the public ones followed soon after. But the crisis exposed the fact that many universities were not equipped to take online classes – a new reality for the country's education system.
A lack of infrastructure and unequal access to the internet and devices such as desktop computers, laptops, and smartphones for students in rural and poor urban areas are vital obstacles to virtual learning.
With time, however, universities came up with innovative ideas.
For example, Brac University created an online learning platform built on a world-class platform developed by MIT and Harvard – named "buX".
It enables the students to learn irrespective of where they are and the quality of their internet connection, and makes learning interactive and lively, said the authorities of one of the leading private universities.
"At the same time, we are supporting students with financial assistance for the fifth consecutive semester during the ongoing Covid-19 pandemic," said a top official of the university, wishing not to be named.
To guide and help students during the challenging Covid-19 situation, the university provided counselling support and other helpful instructions through a hotline number.
Students of North South University did not face much hurdle as they received online classes.
NSU Vice Chancellor Prof Atiqul Islam said, "We have taken around 3000 online classes in a week and the attendance rate was around 95 percent."
He said that NSU authorities will resume in-person classes for the students who have received a single dose of vaccine.
"Students who have not received vaccines are joining online classes in real time where they can also interact with their teacher and fellow classmates," he said.
Prof Shamsad Mortuza, Pro-VC of University of Liberal Arts Bangladesh, said that online classes are going on in full force.
"For the last two years, we have learned how active learning can be given online. Students realised that it was a new reality and they adopted it. It is a demonstration of our collective combined resilience," he said.
He said ULAB would go for in-person lab classes and hold final exams in person from January. However, online classes will continue for others, he said.
At Independent University, Bangladesh, all academic activities have been going on through online platforms in line with the government's directives.
During the time, IUB organised many seminars, workshops and conferences, all online.
"In order to ensure mental wellbeing of the students, all the clubs remained fully active during the lockdown. Students were engaged with career development and mental health sessions through online platforms," said Rajib Bhowmick, director, media and public relations of IUB.
"IUB also kept on introducing innovative ways, such as digital classrooms, to improve the online learning experience for the students," he said.
Public universities have also taken different steps to recover the educational loss of their students and reduce the possibility of session jam.
Dhaka University Vice Chancellor Prof Md Akhtaruzzaman said, as per their estimation, the university can experience session jam of seven to eight months.
"In light of the situation, we are cutting down on the durations of semester and academic year to cover academic loss. We have decided that a semester would end in four months instead of six months and the academic year in eight months instead of 12," he said.
Before the closure last year, DU authorities were not used to holding any class and exam on Saturdays. But now, many departments and institutes are taking classes on Saturdays if they want, said the VC.
Jahangirnagar University Treasurer Prof Rasheda Akter said they have taken online classes and exams of different subjects throughout the pandemic.
In some cases, many departments also held lab classes, she said.
About the session jam, Prof Shahidullah said public universities successfully overcame the session jam in the past. "So, there is no reason they can't do it now," he said.
Educationist Hossain Zillur Rahman said, "One of the impacts of the pandemic is the delay of graduates to step into the labour market."
"If there was a responsible attitude from authorities like completing final exams, it could have helped students to get certificates on time," said Zillur, also the chairman of Power and Participation Research Centre Executive.
On September 23, the UGC, the statutory apex body in the field of higher education, in a directive to all private universities said they can carry out on-campus educational activities if both teachers and students have received at least one dose of Covid-19 vaccine, or are registered to get the vaccines.
UGC Member Mohammed Alamgir emphasised on hybrid learning, saying that the method will be helpful in facilitating quality education not just in the pandemic, but in general as well.
"If a student is deprived of the opportunity of in-person classes, they will be able to recover the loss – availing recorded classes. They will also have access to multimedia content."
Alamgir said the UGC has suggested universities to cut down the duration of the academic year and vacations to make up for academic losses due to the pandemic.
The commission recommended that holidays like summer, winter and festival vacations can be reduced to complete the final examinations, class tests, assignments and quizzes for all subjects, including practical classes.
Preparatory leave before final exams, the gap between exams of two subjects, and the gap between the year and semester can be reduced, it said.
There are 108 private universities in the country, 98 of which are currently operational with around 3.5 lakh students, according to the latest UGC annual report. The 10 other universities, approved by the UGC recently, are yet to start academic activities.
On the other hand, around 2.98 lakh students are studying at 41 public universities excluding National University, Open University, Islamic Arabic University and medical universities.ax