My Fuel Pump: delivering on-demand fuel to your doorstep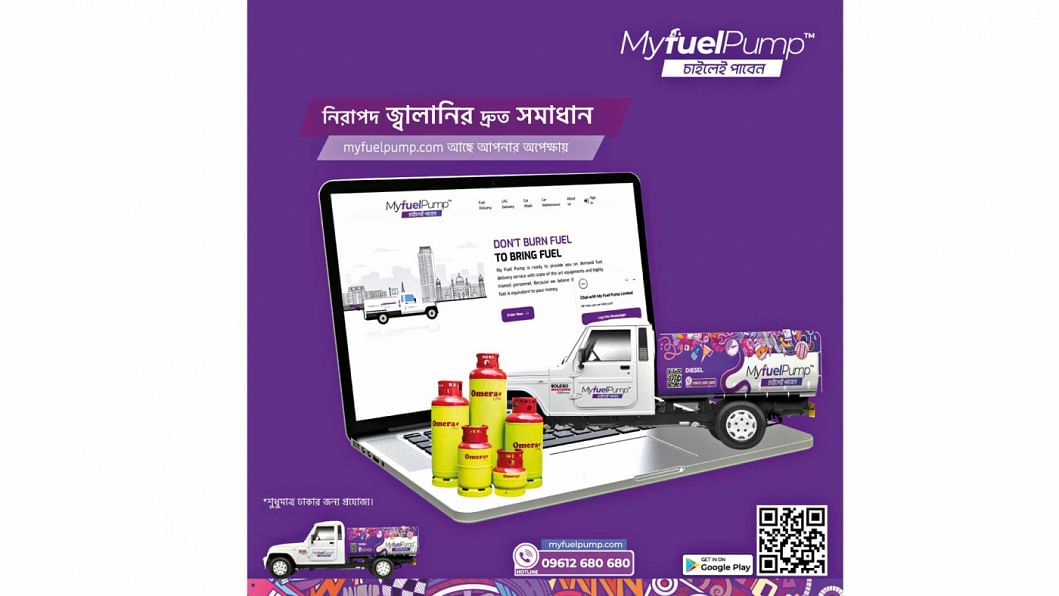 Imagine that you're on the highway and your car is running out of fuel. To make things worse, the fuel station near you doesn't have enough fuel reserves to fill up your fuel tank. How do you deal with an ordeal like this?
Enter My Fuel Pump app, the first IoT-enabled on-demand fuel delivery platform in Bangladesh. My Fuel Pump will deliver fuel to your desired location with the help of its state-of-the-art application. Intending to automate the supply chain system of the fuel sector in the country, My Fuel Pump started its journey in 2021.
My Fuel Pump is a fuel delivery start-up business that operates through an app. We bring fuel to your doorstep at the same price as a regular petrol pump does. We have a fleet of specialised tanker trucks perfect for getting to places with limited space and challenging terrain. We have access to remote locations, especially those accessible by bridges and highways with weight restrictions.
My Fuel Pump provides diesel directly to every establishment, from schools, hospitals, flats, and commercial settings that are running diesel generators, fleets, construction machinery and autos, starting from 50 litres. The on-demand doorstep delivery app can handle your gasoline needs, so you can focus on your business.
My Fuel Pump delivers Omera LPG cylinders to the doorstep of its customers.
My Fuel Pump application is quite simple, secure and free to use. The interface of the app is user-friendly and occupies very little space for the services it provides. The customers can register quite easily and log in to place their orders from anywhere. Currently, the app is available for download from the Google Play Store.
My Fuel Pump app enables users to save their precious productive hours, as ordering through My Fuel Pump app will save them plenty of time to concentrate on their daily tasks. They will also get their money's worth by ordering from My Fuel Pump app's top-notch service which will bring the fuel delivery to their doorsteps and save their time.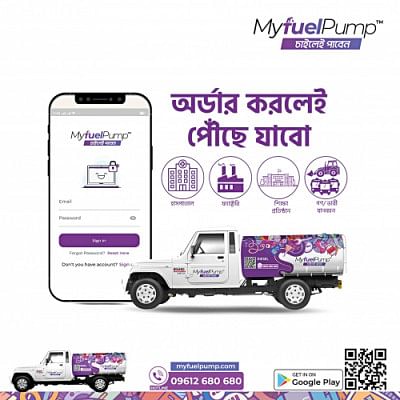 Moreover, My Fuel Pump ensures a zero-spilling fuel delivery service as it believes that every single drop is precious. Our user dashboard will give our users the scope to know their regular usage so that they know how much they are spending.
Furthermore, for refuelling any commercial, industrial or household generator, the customers can place an order on the on-demand fuel delivery platform. My Fuel Pump's payment system includes cash on delivery, card payment and bKash. The automated payment options can be easily availed through the app to save time.
For the first time in Bangladesh, My Fuel Pump has brought theft-free and hassle-free service for car or vehicle users. All you have to do is order your requirement through My Fuel Pump app and send your vehicle to your nearest My Fuel Pump Verified petrol pump. Your driver will show the OTP number sent to them and get refuelled by the pump. Additionally, you will get an email and a picture in the app and be able to check it on the order history page to have a verified refuelling.
Apart from fuel, My Fuel Pump is planning to introduce an electric vehicle charging station. For this instance, an Electric Vehicle Charging station can be planted anywhere in Bangladesh through its platform.
Corporate B2B clients can order in one single platform to order fuel monthly. They can go to any My Fuel Pump verified petrol pump in the country and collect fuel on the way to their destination.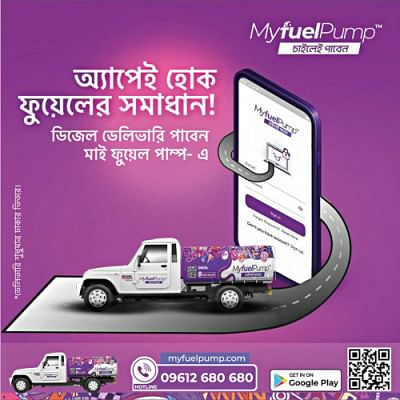 My Fuel Pump app saves time and rescues its clients from the chore of the petrol station – at no extra cost. The on-demand fuel delivery app also positively impacts the communities it serves to help build better lives and better futures. It is also deeply committed to protecting and improving the environment, setting ambitious sustainability goals and actively measuring and improving its performance as it strives to achieve them.
My Fuel Pump commenced its journey by prioritising ethics, operational excellence, and innovation to ensure great customer satisfaction. With its ability to curate path-breaking yet cost-effective solutions, My Fuel Pump plans to expand its services across the country in the next few years. All in all, My Fuel Pump is doing what it can to build a better world by working together to make life on the road simpler, smarter and safer – while giving its customers the time to do the things that they love.
Partha Pratim Choudhury, Co-Founder & ceo,
my fuel pump limited