Forging the new Bangladeshi digital ecosystem with imo Channel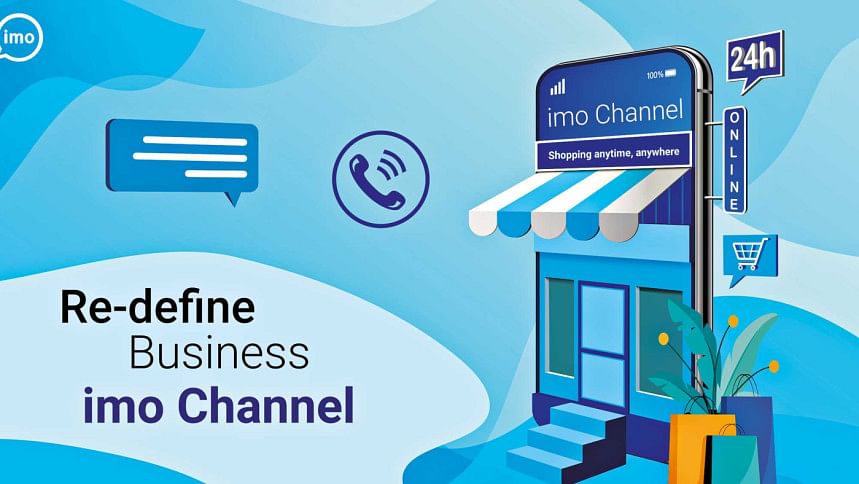 With its eyes set on the future, Bangladesh is eager to establish itself as a major global digital economy in the age of the fourth industrial revolution. The country's digital business ecosystem is rapidly expanding; consistent economic growth, rising internet, and mobile phone penetration have all contributed to an expanding consumer market–a rapidly maturing support system for digital entrepreneurs, as well as a young population eager to learn about technology.
For businesses, small and large alike, digital ecosystems provide access to a centralised set of content, datasets, applications, analytics, and other tools that help propel their success. In other words, digital ecosystems can provide every company, regardless of vertical or size, with the tools it needs to thrive.
Furthermore, through shared knowledge, shared goals, and other means, digital ecosystems are uniquely positioned to help initiate a sense of empowerment. They have the ability to provide strategic frameworks that aid in the identification of priority areas for action, the establishment of sustainability, and the connection of companies with partners and technology providers in the development of appropriate solutions.
At the onset of the fourth industrial revolution and Bangladesh's subsequent venture into this new dawn, businesses in the country will need to develop digitisation capabilities to adapt to the new reality and provide a positive customer experience. Consumers' unique buying and spending habits are changing and evolving in tandem with the growth of the economy and global technological advancements. And therefore, businesses that want to succeed in the long run must utilise and use the right strategies to keep up with changing consumer demands.
To support this spurting growth of Bangladesh's digital ecosystem', tech platforms are investing heavily in tools to support the local ecosystem. For instance, popular instant messaging platform imo has recently launched a new feature on its platform: imo Channel–a free broadcast platform for service and information that enables publishers to offer public service, achieve customer acquisition, operate an online business, and share information with people.
imo Channel is an "All-in-One" platform where various business needs could be met, including one-to-many broadcast and one-to-one engagement, which can be achieved in one super app, imo.
Bangladesh's internet users mostly are connected through smartphones rather than computers, that's why imo Channel could help businesses to reach and engage with their targeted customers more easily and efficiently.
Meanwhile, imo Channel will help individual content producers broadcast their information to like-minded audiences widely, contributing to the flow of information, experience, and knowledge.
For one-to-many broadcast, the posts could reach unlimited subscribers, at the current stage, verified organisations by imo, and popular service providers will get the opportunity to be recommended to all imo users through public traffic or be recommended in the first place when imo users search-related services. As an add-on function, both imo Channel and separate posts are enabled to reach potential customers or interested audiences.
Another advantage of imo Channel is its strong one-to-one engagement capability. A specific subscriber not only could review any post's content and menu's content integrated on a imo Channel, including products, services, and information, but also could visit any external digital linkage, share to external platforms, and directly contact the publisher through calling and have personalised dialogue or consultation with the publisher.
This feature could benefit a wide range of organisations, businesses of all sizes, and even individuals, with applications ranging from providing public service to acquiring customers, running an online business, and sharing information with tens of millions of people.
For large businesses that aim to reach the people at the national level, imo Channel can provide direct access to its vast national-level user base in Bangladesh who are its loyal consumers, including ex-pats living outside the country. 
As a result of technological advancement and digital connectivity, business models will be redefined and people's lifestyles will be reshaped. As omni-channel marketing becomes a reality, many public services, commercial offerings, and information sharing will no longer be constrained by physical barriers, allowing Bangladeshis to live a more connected and convenient lifestyle.
Organisations will be able to broadcast their information and services to the public to the full extent possible with imo Channel, increasing the visibility and efficiency of public services.
Small-scale businesses will be able to broadcast their commercial services online to their customers in an innovative digital way, leveraging the full power of omni-channel marketing.
For example, imo Channel is linked to other online platforms and offline data, allowing commercial service providers to market their products and services at any time and from any location. They can increase revenue and brand value by acquiring new customers and increasing the loyalty of existing customers.
Individually, imo Channel will assist users in broadcasting their information to like-minded audiences, contributing to the flow of information, experience, and knowledge, and enlarging the influence of opinion leaders in various fields, all of which will be beneficial in the development of a personal brand. imo Channel can provide more services to the general public. As more people use this convenience to meet their various life needs, a new lifestyle will emerge that is more connected and convenient thanks to a digital application.
The digital ecosystem allows businesses to interact with their customers in new ways. And the ability to foresee and exploit the power of digital ecosystems is what distinguishes successful businesses. There is no doubt that establishing a healthy and robust digital ecosystem benefits the company's bottom line while also providing a better overall experience for consumers.
Bangladesh's technological development has a unique history that sets it apart from many other countries. Bangladesh's consumer technology industry, in particular, has largely been defined by mobile and mobile-enabled innovations. imo Channel capitalises on this trend and aims to pose itself as an omni-channel digital boon to corporations and SMEs alike who want to connect at a deeper, more personal level with their consumers.
The incorporation of technological innovations has opened up doors of possibilities and convenience for customers in Bangladesh. For businesses that want to take the next step in this digital economy with a consumer-first mindset, there's no alternative to adapting to digital tools like imo Channel.
Interested enterprises or partners could contact imo via [email protected]