Taptap Send: The two-tap remittance app for NRBs
Bangladeshis living abroad often face difficulties sending money back home. While there are several remittance apps available worldwide, the global rise of inflation and increasing rates of the US dollar has made international money transfer a risky investment unless done right. Thus enters Taptap Send, the easy-to-use remittance app catered to making lives easier for expatriate Bangladeshis in sending money to their family and relatives in Bangladesh.
What is Taptap Send?
Taptap Send is a money transfer app with which users can send money at a greater rate from the US, UK, EU nations and Canada to countries in Africa, Asia and the Caribbeans, such as Bangladesh, Pakistan, Ghana, Madagascar, Vietnam, Nepal, etc.
It helps diasporic communities abroad send money back home, with the platform providing a self-set rate that is generally higher than other remittance platforms as well as the international standard. The higher rate is possible because the company buys in bulk from Bangladeshi banks and gets good rates at higher margins, enabling people to skip out on fees and additional charges during international transactions.
Taptap Send has partnered with not only Bangladeshi banks but also local instant cash services like bKash. Because of the instantaneous nature in which the money transfer is made possible, Bangladeshis living abroad can overcome the significant international barrier of foreign remittance in, as the name implies, a few taps.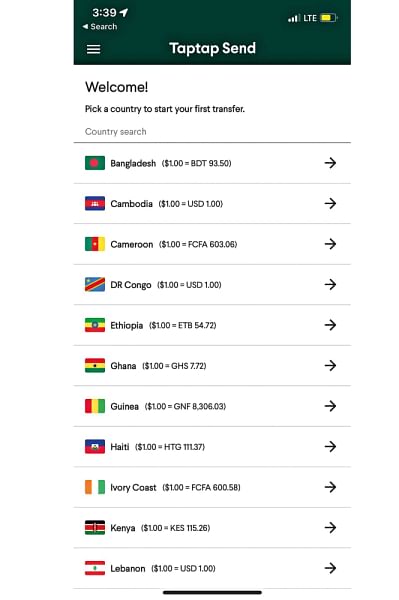 How it works
The first time you open the app, you will be prompted to sign up and provide information such as your name, bank details, verification of yourself in the form of a recent photograph and current address. The information enables the system to recognise that you are currently living in the US, UK, EU and/or Canada.
After the verification, which takes only a few seconds, the main menu opens up, where you can input how much you want to send to a bank account in another country. If you have selected to send from the US to Bangladesh, the app will automatically convert your selected US$ to Bangladeshi taka.
The next screen will ask who you want to send it to and verify the information. After you hit send, a loading screen will pop up, alongside a confirmation code verifying that your money has been sent. The entire process takes a few seconds and can be performed in a maximum of two taps - hence, tap tap send.
Taptap Send has no minimum or maximum limit on how much money can be sent. The receiver also doesn't need to have the app installed on their phone to receive the money. As long as the correct bank account or bKash number information was provided by the sender, the receiver will receive the money instantly, along with a verification message notifying the transfer. Taptap Send is free to download and use in both the Google and Android app stores, though currently, it doesn't support sending money outside the US, UK, EU and Canada.
Best features
The best features of Taptap Send can be summarised into two main points: its great remittance rate and its free service cost. The internal team of Taptap Send manually selects the best conversation rate for a given day and offers the most competitive prices to their users. For example, earlier last month, the rate of the US$ was 87 taka. However, Taptap Send offered 93 taka per US$, so anyone sending money from the US to Bangladesh would be sending more than the international rate thanks to the incentivised rate of the app. This rate is decided after a cost comparison analysis by the Taptap Send team, offering better rates than competitors such as Western Union and Sendwave.
In addition to that, there are no hidden charges or fees involved when sending money via Taptap Send. While other remittance apps will include conditional fees such as additional charges in transfers over 50$, Taptap Send emphasises giving money back to the users by adding no extra cost. If you are sending 50$, you are sending the exact amount of taka that the 50$ would be worth: that too, at a generally higher exchange rate.
Taptap Send also features a secure transaction system, with in-built fraud protection and a money-back guarantee in case of accidental transfers. The information of both the sender and the receiver is stored exclusively in the app's database and not shared with any other parties. The customer care service is also quite prompt at answering requests.
About Taptap Send
Launched in the summer of 2018, Taptap Send is currently serving over 500,000 users worldwide. The company was founded by two Harvard alumni and currently has head offices in London and New York City. It is also known for hosting community projects across the regions. Many of these events cater exclusively to Bangladeshis living in the US, with the latest one called Eid Bazaar held in New Jersey on the occasion of the upcoming Eid-ul-Adha. With lucrative rates and no additional charge, Taptap Send is on its way to becoming the go-to remittance choice among foreign Bangladeshi nationals.