Creating tech-savvy travellers with ShareTrip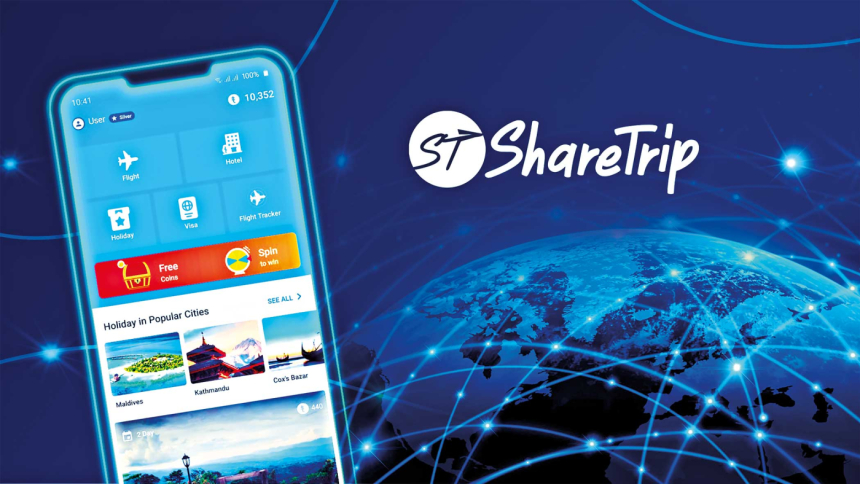 In the ever-evolving Digital Bangladesh landscape, travel is all set to be the next frontier to embrace digital devolution. As Bangladeshi travellers become more tech-savvy, taking the mantle of decision-making into their own hands and gradually moving away from the traditional travel agent models, digital platforms like ShareTrip are leading the way in empowering local travellers to get the best out of travel technology.
As brick-and-mortar stores lose their edge in the ecosystem, consumers, especially modern travellers, are increasingly leaning towards online travel agencies. Their most trusted tool? The mobile phone in their pockets. Apps like ShareTrip are leading the way when it comes to local travel platforms.
Previously travellers had to rely on either brick-and-mortar travel agencies to plan their holidays or look to foreign online travel platforms like Skyscanner, Trip.com, Agoda, Booking.com etc to look for the best possible deals. As a result, the power of decision-making and accountability seldom lay in the travellers' hands. Even in India, platforms like MakeMyTrip were slowly introducing a digital revolution and have penetrated the market with a strong footprint, not only on the B2C segment but also on the B2B base.
ShareTrip came to the rescue with the first ever locally developed Bangladeshi travel app that revolutionised the way people planned their holidays, local or abroad, with the help of their in-house tech team. With over 2.7 million international hotels and more than 1500+ domestic hotels and hundreds of combinations of flights to every country at their fingertips, ShareTrip gives its users unmatched flexibility when selecting their vacations by utilising the largest tour operators, hotel distributors, and flight distribution systems in the world. Their extensive involvement in the travel sector guarantees their clients a smooth, consistent, and wide range of travel options.
The magnum opus of ShareTrip, however, is their mobile app, available on both iOS and Android operating systems. They unveiled the cutting-edge app and website with an end-to-end travel solution after receiving funding and rebranding, giving travellers a more comprehensive experience. The flagship app, also called ShareTrip, is a streamlined, easy-to-use application that makes travel planning a no-brainer.
From flights to hotels and everything in between, a user can find all the features conveniently located within the user interface, in what can only be termed as a UX utopia.
The user-centric design of course paid off. Within a year of its release, the app was able to win over more than 400,000 users' trust, rating itself at the top in both Play Store and App Store. Right now, about 70% of their traffic comes through the mobile app. More than 600,000 people follows the updates, deals, and travel trends on their Facebook page and other digital media presence.
One of the most exciting features of the app that stands as an exemplification of thought-provoking user experience design is the gamification feature, which ShareTrip successfully executed since its initiation in the B2C market. Gamification is still very new to Bangladesh, especially for service-related platforms and ShareTrip revolutionised the service industry through these initiatives. To keep bringing back people into the app and to keep them engaged, ShareTrip introduced Trip Coins, a reward point, part of the Travel Loyalty Program. This travel reward point can be earned by playing the "Spin to Win" game. Trip Coin is also accumulated when you buy services from ShareTrip. Later, Trip Coins can be redeemed to receive discounts on bookings for travel, stays, and more.
Through the app, users can also book a travel package using the EMI facility. Equated Monthly Instalment, or EMI, is a system that makes it possible for people to access goods without having to pay for them all at once. Customers thus have access to goods and services that they otherwise would not be able to obtain.
Other exciting features of the app include a flight tracker that users can use on the ShareTrip app and website to monitor the progress of any flight. There's a visa tracker that allows users to track the application status of their visas when applied through ShareTrip. There's also a handy blog feature tagged with Travel Advisory services that travellers can consult before or while planning their trips, containing information about particular destinations that may come in handy for first-time travellers.
Through the app, users can also book complete holiday packages, both abroad and inside the country and the ShareTrip team has also introduced a travel loyalty program – Silver, Gold and Platinum – where returning users are rewarded for their in-app activity and purchases.
In the coming days, ShareTrip is also looking to introduce many other value additions to the core service areas that will make the booking experience of the users more seamless. Flight cancellation and refund features within the app are such upcoming introductions which would allow a traveller to take care of their complete itinerary management from the app itself.
ShareTrip is not only serving users but it is set to build a holistic ecosystem with its growing venture into the B2B model. During the COVID-19 pandemic, there were thousands of offline agents whose sustainability was at risk due to the core dependency on traditional offline agents.  ShareTrip has developed a separate app and website for these agents and now has over 5,000 offline travel agencies that use the ShareTrip platform for booking. These are also part of the company's expanding B2B business. ShareTrip has been working hard to develop its local business with domestic travel packages for mass travellers.
Bangladesh's tourism and hospitality industry is growing, but it still has miles to go. In addition to a growing number of Bangladeshis expressing a serious interest in travel, Bangladesh is also rising in popularity as a travel destination worldwide. With the increased opportunity for continuous digital integration, apps like ShareTrip are forging the new frontier in making inbound and outbound travel streamlined and tech-savvy.