Satyajit Roy's memorable speech at Dhaka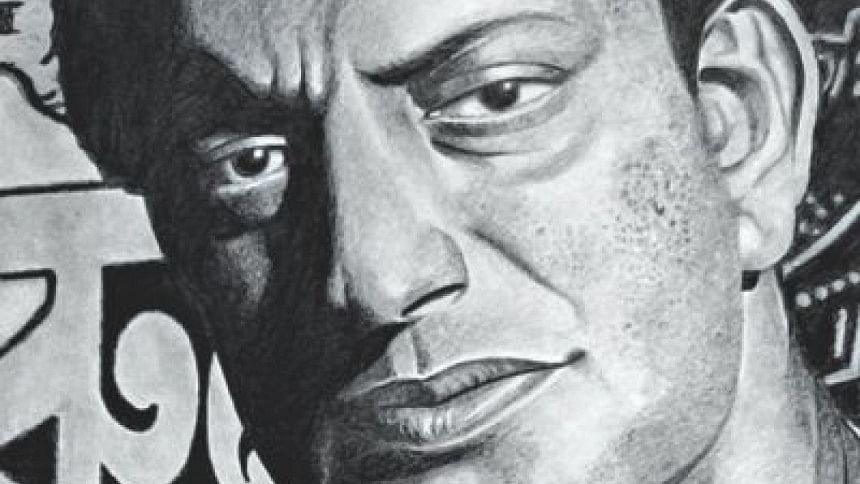 I have been hearing about "Shaheed Dibosh" for a long time, about February 21. But if I had not come here and seen it for myself, I couldn't have understood how much you love the Bangla language. I realised how much you respect those, who laid down their lives to save Bangla when it faced great danger.
We who live in West Bengal also love the Bangla language. It's true that the culture of West Bengal has got a mixed form as it has been influenced by a number of other cultures. We haven't been able to get rid of the English influence as yet. Perhaps one of the reasons for this is that West Bengal is just one province of India. But that doesn't mean that we don't love Bangla. Bangla literature songs, Bangla films, theatre -- all these are still alive in West Bengal. We still love Rabindranath, Nazrul, Bankim Chandra, and Sarat Chandra.
Personally, I have been making Bangla films for twenty years now. During this time I got many requests from many places to leave Bangla and make films in other languages in other countries. But I have rejected those offers over and over again. I know that the language which runs in my blood is the Bangla language. I know that if I leave this language and try to do something in any other, then I will have no ground under my feet I will not find any base as an artist; I will lose all my spirit and energy.
I have heard from my childhood that East Bengal is my home. Perhaps some of you have heard about my grandfather, Upendra Kishore Roy-- I did not have the good fortune of meeting him, but I read his children's story books about "Tun Tuni" and loved them. Songs written by him gave me a taste of eastern Bangla folk songs. I had never been to this country, never been to my home, and never been here permanently: but whenever I heard these songs and fairy tales, I felt a deep connection with this country. I came to Dhaka once when I was five or six years old. I stayed here for only 2-3 days. My uncle lived in Wari, Rankin Street-- I don't know if that house and that street still exists or not. I don't remember that house. I only remember that there were a lot of monkeys-- don't know if they still exist. I remember travelling on a steamer through the Padma. As I awoke early in the morning, my Ma pointed out the sun rising over the Padma. She also showed me how the two colours of Padma and Jamuna were different and could be seen easily when they mingled. From then on, I had thought many times that it would be great to visit my home. But that hope kept receding particularly after the partition. Suddenly, the wheels of history seemed to turn, the door of my home opened and today, on the "Shaheed Dibosh", standing in front of you all, my dream is being partly fulfilled. I have come here leaving many important things. That's why! I cannot stay for long. But I still hope that I will come back here in the future. I will observe this country closely. I want to meet the people not in a public meeting but face-to-face and I still hope for that. I don't want to say anything more. There will be songs. I already know that you know about my work and want to know more. A few years ago my film Mahanagar was shown here. The interest of the people, their curiosity and the result of these -- when I first heard, I did not believe them. But then, many known and unknown friends wrote to me, sent me paper-cuttings about the incidents to make me believe them. Then, I believed them and was stunned by all those happenings. I couldn't imagine that this could happen. For an artist, a greater honour or a greater pride cannot be imagined.
In the last twenty years, I have been honoured by many people in many countries. But today, standing in the holy hour of Shaheed Dibosh, I can confidently say that the respect and honour given to me today, has surpassed all the others of the past. I have never received a greater honour and I don't think that I will ever receive any -- Joy Bangla!
(On February 21, 1972, the first Shaheed Dibosh of Bangladesh, Chhatra League arranged a public meeting at Paltan maidan. Famous singer Shamyal Mitra rendered the opening song. Renowned film maker Satyajit Roy addressed the meeting as the chief guest. I recorded that in my small tape recorder. Later on I presented a copy of the recorded cassette to Satyajit Roy at his Kolkata residence. I am delighted to publish after 43 years English version of that speech for the readers of The Daily Star. It has been translated by Professor Tahmina Ahmed to Dhaka University.)

The writer is President, Natyajan Drama Group, Actor & Director