Combatting Covid-19: Mission Save Bangladesh stands beside underprivileged communities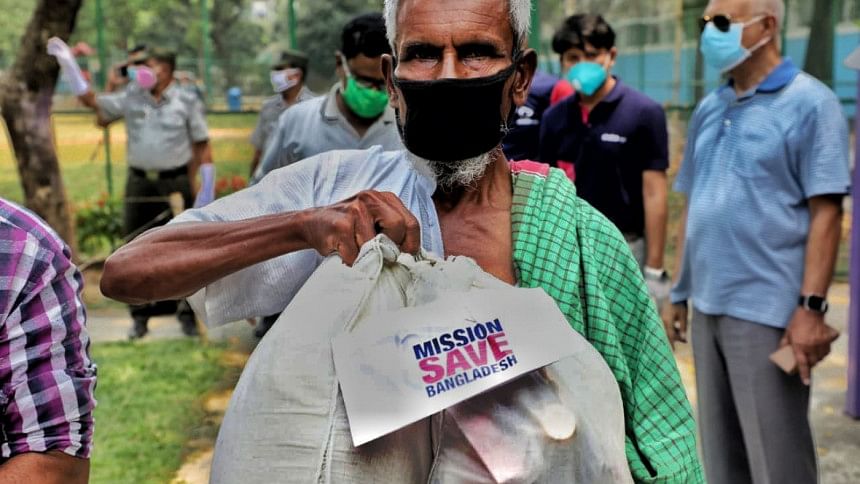 As Bangladesh copes with the coronavirus pandemic with a shutdown, a large number of daily wage earners have lost their earning sources. These marginalised and underserved groups are barely getting by. Rikshaw pullers, technicians, plumbers, street vendors, and street food sellers among others are at vulnerable positions at the moment.  Mission Save Bangladesh, in association with The Daily Star, Sheba XYZ and The Daily Samakal, took a commendable step to support these people.  
Tajdin Hassan, Head of Marketing, The Daily Star, shared how the initiative came about. "As soon as the shutdown period began, we were discussing about the issues at home. My wife told me that she wants to donate a portion of her salary to the underprivileged community, as their survival is a major concern," says Tajdin. "As a national daily newspaper, The Daily Star is committed to its social duties, besides responsible journalism. After the coronavirus hit Bangladesh, we were thinking of standing beside the marginalised and affected communities. Subsequently, we collaborated with Sheba.xyz and The Daily Samakal to start Mission Save Bangladesh."
"Sheba.xyz deals with a lot of small businesses. Many of our service providers are day-to-day workers. The shutdown and the panic across the nation affected the businesses," adds Adnan Imtiaz Halim, Co-Founder, Sheba.xyz. "Subsequently, we were thinking of doing something for them and for the affected citizens. That is how we started working on this project."
In just a few days, many renowned organisations and individuals came forward to fight against the economic impacts caused by the pandemic. Together, they have collected nearly BDT 50 lakhs, according to Tajdin. In four days, they have distributed groceries to 1,500 families. 
 "Mission Save Bangladesh was formed from a sense of mutual responsibility," shares Imran Kadir, Head, Business Developments, Brand & Events, The Daily Samakal. "We all want to protect ourselves and our loved ones. But as a key stakeholder, it is also part of our responsibility to address the crisis and stand by the people in need. We must learn to live responsibly on our planet and dedicate ourselves to the well-being of all communities."
In addition to providing groceries to underprivileged communities, Mission Save Bangladesh is providing financial support for small businesses. "Initially, we found out that there are 1,300 registered rikshaw pullers in the community around Mohakhali, Gulshan, Banani and Baridhara DOHS. We raised some funds and bought a grocery package for BDT 1,000 for them, which includes 10 kg rice, 5 kg potatoes, 1 litre oil, 5 kg lentils, chira, and salt. Unimart gave us this food package, which is enough for ten days for a family of four," shares Tajdin.
At the same time, they are also doing community-based activities, such as disinfecting common places and houses, in collaboration with the City Corporation of North Dhaka. They are also providing coronavirus preventive materials. They plan to distribute PPE suits to hospitals by next week.
The Shakib Al Hasan Foundation, an initiative of Shakib Al Hasan, one of the greatest all-rounders of all time, joined Mission Save Bangladesh recently. He will donate to this mission.
Mission Save Bangladesh is backed with strategic and financial support by IPDC Finance Ltd, Unimart, Arla, Nijer Bolar Moto Ekta Golpo, ADA, Shwapno, PFDA, Charity Right Bangladesh, Mind Mapper, Torun, Dabur, Pathao, SSL Commerz, Kormo, Windmill Advertising Ltd, Just Storys, Safe Hands, Eduhive, Devotech Technology Park, Truck Lagbe, Lecture Publication, E-Courier, Vroom, High Voltage Ltd, Shahajjo Foundation, Bongo, JCI Dhaka North, JCI Dhaka South, Earthmoving Solutions Ltd, Shasha Denims, Ltd, Olympic Industries, Pop of Colour, Chologhuri, Truck Kothay, GSK, Mumtaz Herbal Products, Mentors, Reckitt Benckiser, Grow and Excel, Summit Communications Ltd, M/S Ashim Enterprise, Masthead PR  and a number of other brands.
 Tajdin also noted that retailers, small business owners, travel agents, insurance agents, flower shopkeepers and street food vendors will face many difficulties in the long run. Additionally, these people will not be comfortable to ask for help. "We are planning to expand the scope of our activities and have added two other objectives. We want to provide them with funds so that they can overcome the economic crisis caused by the pandemic," Tajdin adds.
Mission Save Bangladesh has served around 2,500 families in Dhaka and further plans to serve families beyond the capital, through volunteers. They intend to help 500 families in Madaripur, 500 in Tangail, 500 in Kishoreganj, 1,000 in Sylhet, 500 in Dinajpur, 500 in Nilphamari and 1,000 families in Cox's Bazar.