Mani Nano and Us - A Cat Love Story
Of falling in love, fearing loss, and the elasticity of time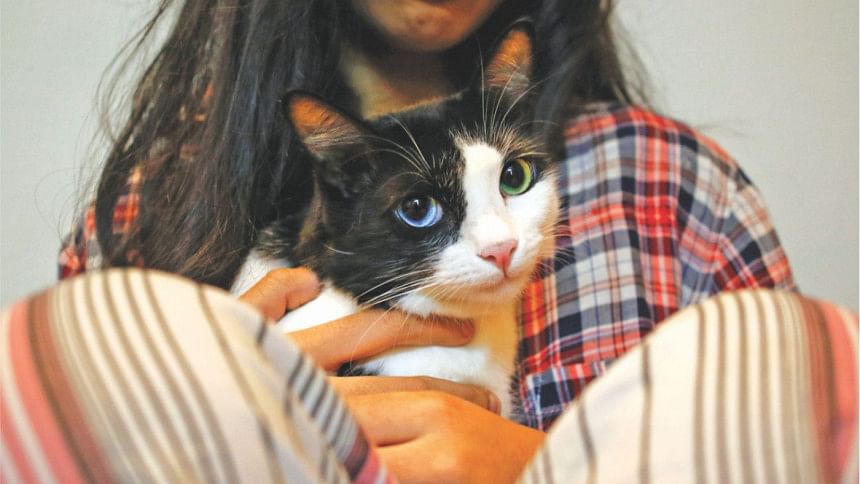 As we all filed back to work the week after Eid holidays, my mind, unfortunately, was not-so-full of story ideas; rather it was in a post-holiday lull, full of not-taken vacations and the bad TV series that I binge-watched through the break. So, it was a moment of sheer panic, as I stood in front of my editor, pitching the first thought for a story that came to my mind: Cats? How much I love them?
I do think of my cats, all the time, painstakingly so, because I am the embodiment of the cat-mommy that the internet has made famous lately. So, the choice was obvious. But I was not always this person, you know. I was one filled with distaste and disgruntlement at the thought of furry creatures.
On a bleak summer day, some three years ago, the transformation began. I would not have known it then. As I yawned and rubbed my eyes, ready to tackle another day, I noticed the house was in a frenzy. Knowing my deep distaste for furry, cute creatures, my little sister and mother who rescued him, tried to hide what was lying in wait in the big discarded carton that previously hosted our microwave oven. There he was, a scrawny, mostly black, little kitten with patches of white on his chest, meowing from the depths of his new house—the carton. It was not love-at-first-sight, I am afraid. Here was an animal that has captivated the human psyche throughout history; that apparently domesticated itself and has earned mentions in historical texts from the Mahabarata to more modern literature such as Alice in Wonderland. The wisdom of author Ellen Perry Berkeley rang warning bells in my mind: "As every cat owner knows, nobody owns a cat". Would I so easily submit myself to its whims and wishes? No, Thank You!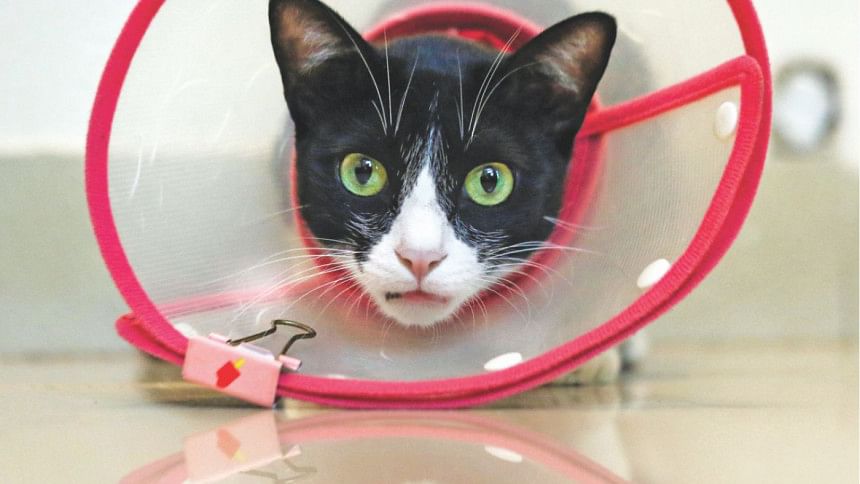 As the electric-blue-eyed kitten, only a few days old, set about making himself comfortable in our house, Ayesha (the middle-born) and I, found ourselves stealing woeful glances at it. 'Cat' as we initially took to calling him, because how can we name a cat if we planned on putting it up for adoption, had no cat-like instinct. He hugged his torn teddy-bear and purred himself to sleep for the first week. Because we were too scared to take him into our rooms, we ended up leaving him in the dining space in his carton. In the mean-time, we looked for homes, desperately, and dedicatedly rejected most of the adoption offers citing one issue or the other. Someone's house, Ma found, did not get enough sunlight, another was rejected because he seemed too curt. And so, the search for the perfect home continued. All this while he acquainted himself with the box, slowly learning how to climb in and out of it. As we continued to deceive ourselves of faraway plans of giving up this kitten, an accident befell "Cat."
"Cat", then a month old, fell under a heavy object, the weight of which his body could barely take. I am going to spare the details here, mostly because, it is a memory I do not want to relive. The fall made his breathing shallow, he was closing his eyes, and we were all gripped in a moment of complete helplessness. Somehow, we managed to find a vet at that hour (it was 10 pm) and he promised to stay back listening to our desperate cries. Bundling the kitten in a towel and whispering 'sorrys' into his ear, we rushed to the vet. It was a moment, where I found myself hoping against hope, that the kitten was not grievously injured and the medicines could fix him!
To our relief, Mani, which is what we ended up naming him, managed to make a full recovery, after giving us a massive scare, of course. Mani is named after a Tibetan hymn, "Om Mani Padme Hum" which means jewel of the mountain.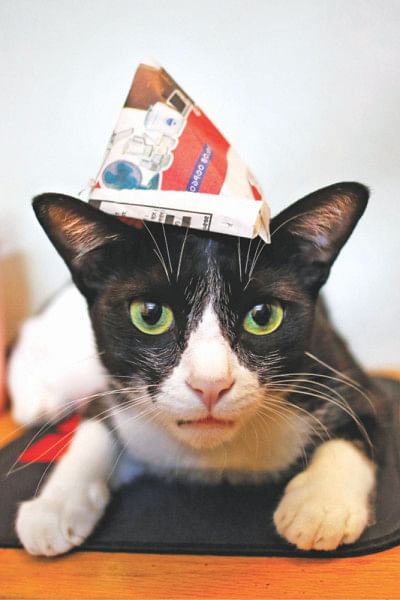 As that summer gave way to winter and another summer rolled by, our kitten became a cat. In cat to human years, he was as mature as a teenage human child by his second summer. In another year, our ages would cross, and Mani would make the leap to adulthood and old-age, faster than I could grasp. But in that one year, he gripped us all in the frenzy. He gave birth to artists and writers in the house—some penned pieces on him, some made him beaded neckpieces, and some painted him. He also showed us the elasticity of time, how hours seemed to stretch into an endless loop, after an anesthesia for a surgical process—he was neutered—knocked him out for a few; or how it flew by when he decided to be playful.
Mani, my companion, without really giving me much company, also stirred in me a deep fear of loss. For, with my cat, fewer than 10 summers is a lifetime (15 if we were lucky) and each new accelerating summer marks my slower life, too. I wanted to make the most of my time with him. If he chose to coil up and sit on my lap, I would sit for hours in that position and launch into a daydream of writing, because, after all, didn't Joyce Carol Oates say that she wrote so much because her cat sat on her lap and the purring calmed her?
Our first cat also proved Hemingway right: One cat did lead to another. My little sister rescued Nano just a year after we got Mani. We were quick to name her and there was no more deceptive thoughts of giving the cat up for adoption. Nano was a sharp contrast to Mani. She was goofy compared to his brooding nature. She was the perfect marriage of dog meets cat. So much so, she played fetch. While Mani, now the older cat by all means, sat in his majestic throne above the fridge, Nano with her heterochromatic eyes and antics perfectly honed for treats, wooed visitors.
They both shared one common trait though, enormous stares, reminding, me of John Berger saying, "With their parallel lives, animals offer men a companionship different from any other human exchange. Different because it is a companionship offered to the loneliness of man as a species."