Minimum Wage for RMG Workers
Betrayed Again?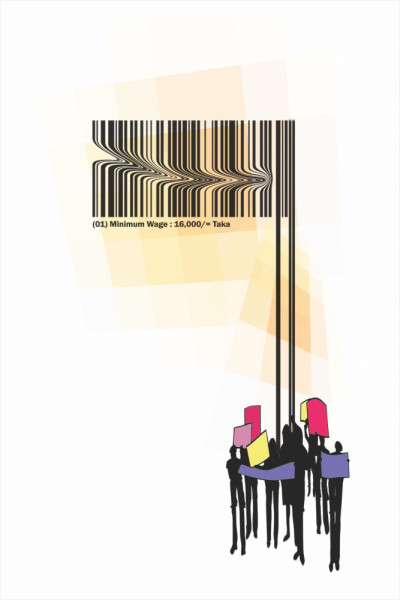 "When I went to the market yesterday, grocers told me that the price of commodities would be increased after Eid-Ul-Adha so I must clear all my dues within August 15," says Khorsheda Begum, an assistant machine operator of a readymade garment (RMG) factory located in Tongi, Gazipur. Khorsheda, who earns only Tk 5,300 per month, was shocked by this unexpected notice. When she sought an explanation for this sudden hike, the grocer reply, "Apa, your salary will increase. Why won't you pay us more?" Not only the price of food items and other commodities, but also house rent, transport fares, and doctors' fee are likely to increase in areas like Tongi, Savar, and Narayanganj, where a large number of RMG workers work and live.
While vendors and landlords continue to increase the costs of their goods and housing, RMG workers' demand for a minimum wage that would allow them to live in dignity has, once again, been ignored. On July 16, 2018 during a meeting of the Minimum Wage Board for the RMG industry, the factory owners proposed to raise the minimum wage to only Tk 6,360 per month from Tk 5,300; the proposal from the worker's representative —from a union affiliated with the ruling party—was Tk 12,020, even though workers have long been demanding Tk 16,000. After reviewing these proposals, the wage board will soon recommend a revised minimum salary for RMG workers.
Both of these proposals have been rejected by the RMG workers and labour organisations. Taslima Akhter, President, Bangladesh Garment Sramik Samhati, says, "We have rejected both the proposals. What the factory owners offered as minimum salary is absolutely absurd.  The workers will not be able to survive on Tk 6,360 monthly wage. What the workers' representative Shamsunnahar proposed is also unacceptable. She is not at all acting like a representative of RMG workers. She was well informed about our demand. Even her party, Jatiya Sramik League demanded Tk 16,000 as minimum wage for RMG workers. I don't know under what kind of pressure she proposed Tk 12,020."  Akhter is referring to Shamsunnahar Bhuiyan, the workers-nominated representative in the wage board who is also the Women Affairs Secretary of Jatiya Sramik League, a national trade union federation affiliated to the ruling party Awami League. 
Bhuiyan admits that her proposition of Tk 12,020 as minimum wage is not at all adequate. She says, "There is no doubt that Tk 12,020 would be enough if we consider the current market condition, but the factory owners are very stubborn and organised. They were extremely reluctant to sit with us to discuss about wage reformation. Our meetings had to be postponed several times as the factory owners could not manage time. We could arrange only three meetings and in the third meeting we had to submit our proposals. Considering this reality, I had to demand something achievable."
When asked whether her proposal, which is considerably lower than the demand of the workers, will reduce the bargaining power of the workers, Shamsunnahar replies, "I have been appointed due to my political affiliation with a party which is now in power. While submitting my proposal, I had to consider whether our economy is capable of implementing this proposal. I cannot propose anything which might harm the state economy and tarnish the party's political image."
On the other hand, BGMEA officials claim that they have considered the inflation rate while proposing the minimum wage. Md Shahidul Haque Mukul, Director, BGMEA says, "The minimum wage is only for entry level workers." He further claims that these entry-level workers constitute of only seven to eight percent of the total workforce.
"After six months to one year of training, these entry level workers get promoted to upper grades and get better salaries. And, most of the entry level workers are unskilled teenagers who are not married. They don't need more than Tk 6,360 per month," he argues.
However, according to a 2013 research by Centre for Policy Dialogue, most unmarried RMG workers have to maintain extended families with their incomes. The study further reveals that approximately 60 percent of the workers are concentrated in lower grades—in contradiction to the claims of the BGMEA Director.
In fact, Bangladeshi RMG workers' demand for a rational wage is hardly a new one.  After the collapse of Rana Plaza in April 2013, the safety issues and living conditions of Bangladesh's RMG workers became an issue of global debate. Following the disaster, the sector was rocked by protests by RMG workers demanding a minimum wage of Tk 8,000 per month. At that time, monthly salary of an entry level worker was as little as Tk 2,500-3,000. These incidents prompted the Bangladesh government to form a wage board to determine the minimum salary in the country's RMG sector, which employs around four million workers.
Sirajul Islam Rony, President, Bangladesh National Garment Workers Employees League, represented RMG workers in that wage board. He says, "In three months, we organised no less than eight meetings to fix the minimum wage and a salary structure for the workers. We sat with the experts of ILO and consulted with the economists from Dhaka University. We also visited Cambodia and Vietnam to learn how they determine the minimum wage of RMG workers. Finally, we proposed Tk 5,300 per month."
However, this proposed amount, which is still the lowest among major RMG-producing nations, was met with fierce resistance from RMG factory owners. According to Rony, the factory owners refused to pay a penny more than Tk 4,500 as minimum wage—a decision which sparked countrywide protests and demonstrations by the aggrieved RMG workers who demanded Tk 8,000. "After much discussion and after the intervention of the Prime Minister herself, the RMG factory owners agreed to offer Tk 5,300 as minimum wage," says Rony.
However, the wage increase did little to help the RMG workers, as the price of essential commodities escalated several times in 2015 and 2016, which severely affected their living conditions.
An international network of labour unions called The Asia Floor Wage Alliance did a calculation of what the 'living wage' of Bangladesh is—and by that they mean, wages sufficient to afford a decent standard of living for the worker and her or his family. The estimate, done in 2017, was Tk 37,661—a whopping 83 percent more than what BGMEA is proposing.
Khorsheda reveals how desperate the situation is. "I have to spend more than half of my salary for house rent. I have to support my parents and three younger siblings who live in Rangpur. The price of rice and vegetables has doubled in the last couple of years. I have to buy one kilogram of coarse rice at the cost of Tk 55-60. Every month, I have to borrow commodities from grocers as I don't have any money left at the end of the month. You won't believe how we are struggling with this meagre salary."
The RMG workers that fuel Bangladesh's economy are offered only 20 percent raise at a time when the country's inflation rate is 5.96 percent—and rising. In comparison, last year the Bangladesh government bumped up the salaries of government workers across all pay grades by 91 to 101 percent! This was done taking into consideration the economy's inflation.
Still, Bangladesh offers the lowest minimum wage to its RMG workers compared to its neighbours and competitors. Whereas Pakistan offers its RMG workers a minimum wage of USD 99, Vietnam gives USD 113, India USD 79, China USD 155 and Cambodia USD 153,  Bangladesh currently offers only USD 69.
Bangladesh's government and factory owners should realise that paying a fair salary to RMG workers is nothing but a form of investment. If the workers are paid fairly, their dedication to the workplace and quality of performance will also improve, and the industry will thrive.
The writer can be contacted at shahnawaz.khan@thedailystar.net