this just in
THE WEEK IN RE(AR)VIEW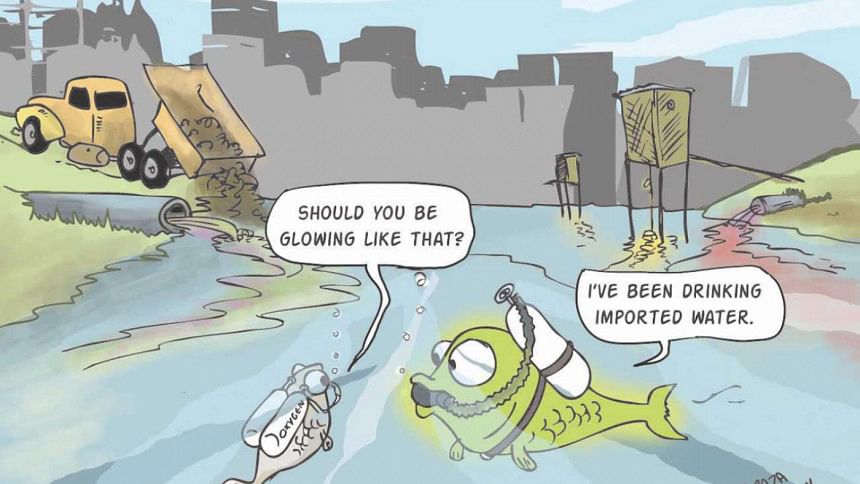 There's a popular saying among different species that hold very opposite meanings: 'When it rains, it pours and when it pours it floods.' Humans say it when things have gone terribly wet and soggy. Mosquitoes say it when they are abuzz with joy. 
Our city drains are like reservoirs. It stores water to help mosquitoes breed and bring about the dengue apocalypse again. At least 126 people were infected between January 1 and April 19, a number highest since 2000 for the same period. Here's a public service messages: do not let water sit around outside in open containers, old tires, clogged drains or the open mouth of sleeping in-laws. 
Glowing fish

Speaking of water, hundreds of fish and fowl have met a fowl end in the Sylhet regions Sunamganj and also other hoar areas further down in Moulvibazar. People suspected this to be the result of India's exposing open pits of uranium to a river system. On April 24, Bangladesh Atomic Energy Commission (BAEC) confirmed radiation levels in the samples of water, dead fish and ducks collected from the flashflood-hit haor region were within the permissible limits. This is not alarming as nothing is yet glowing green. So what is killing the fish and the annoying ducks? 
India's predominantly Khasi communities living in Ranikor River basins, just across the Indo-Bangla border near Sunamganj's Tanguar Haor, have also experienced river fish giving up on life. Could be because the fish just watched Fifty Shades of Gray and the sequel, winners of 2016 Razzies (award for worst movie ever made). Which incidentally is also a shade the river looks like now. 
Revolving door of justice

While still discussing fishy matters, cabinet division endorsed a draft law proposing maximum two years of jail and Tk 5 lakh fine, or both, for selling banned or tainted fish. You can't import, preserve, sell, market, produce or be friends on Facebook with banned fish or contaminated fish. It is a bail-able offense so expect the criminals to make good use of the revolving door system where they go in, come out and repeat. The only thing that sounds fishier is a school of fish discussing the Finding Dory movie which we support wholeheartedly. 
Rana plaza aftermath

This April 24 marked the fourth year of the nine-storied Rana Plaza collapse. Housing several readymade garment factories, the collapse killed over 1,130 people while injuring thousands. Two cases were filed in connection with the incident. Both cases are like Axe body spray: Nothing really happens. 
The aftermath of the disaster now leaves 42 percent of survivors still unemployed, according to Actionaid. Of the unemployed, 48.1 percent cited being physically weak and 33.4 percent not having the mental strength as the main reason for being out of work.
To test if the remaining are finally fit, police charged them with a water cannon as they showed up to the site to place floral wreaths. Local lawmaker Md Enamur Rahaman had given them permission on Sunday. But the police were not having any of that since, apparently, they had not seen a stage anywhere in sight. A rally without a stage is just madness. When asked as to the reason for a water cannon, Savar's Senior Assistant Superintendent of Police Mahbubur Rahman considered it regular deployment. Good to know in this summer, we can call upon the police to provide us with water. Maybe turn down the pressure a bit?  
Replace humans for benefit of humans

While we drown in our sorrows and in torrential and water cannon rain, the rest of the world seems hellbent on replacing humans for the benefit of humans. Apple was granted a permit to test self-driving cars on April 14 by the California Department of Motor Vehicles. Which is all great but the entire project is shrouded in secrecy. Is Apple planning to provide automated foot massages for the passengers of their driverless cars? 
4G promises

On our technology front, we have a promising future full of, that's right….promises. 4G has come out in 2010 and our neighbours in India have been ogling Rakhi Sawant in real time on their 4G phones since 2012. We settle for hope. 4G auction is to take place after announcement of national budget for next fiscal year, so says our venerable Finance Minister AMA Muhith, famous memelord for implementing taxation on education.
Goodbye Lucky

On a tragic note, Lucky Akhand, one of the most gifted singer-composers Bangladesh has ever produced, passed away on 21 April 2017. He was battling with cancer.