Muktodhara Prokashoni
The Pioneer Behind Ekushey Book Fair
Muktodhara Prokashoni is the very first reason for us to be able to take part in and celebrate today's Ekushey Boi Mela. On 21st February, 1972, Chittaranjan Saha, an avid lover of books and a graduate from Chaumohani College, laid a mat under a mango tree of the Bangla Academy and put on display 33 publications of his publishing house called Muktodhara Prokashoni to pay homage to the 1952 Language movement martyrs. Needless to say, the rest is history.

But the journey has not been an easy one.

"Chittaranjan Saha was born in 1927 in the Noakhali district. Although his family business revolved around trading of clothing materials, Chittaranjan had other aspirations," says Jahar Lal Saha, the current director of Muktodhara Prokashoni and brother-in-law of Chittaranjan Saha.

Initially, a publishing house named Punthighar Prokashoni was established by Chittaranjan in his home district which became popular for printing notebooks and test papers. Later in the year 1956, he moved to Dhaka along with his business. The publication house was first setup in Patuatuli and later in Banglabazar. In 1967, Punthighar Private Ltd. was established which sold textbooks, notebooks and reference books as well.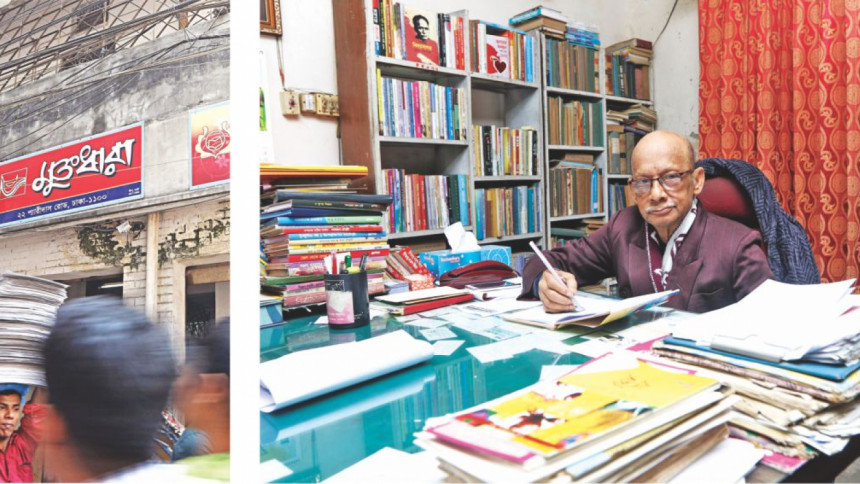 "When the war started in 1971, the publishing house was completely burnt down," says Jahar Lal Saha. After 26th of March, Chittaranjan Saha left Dhaka and initially took shelter in Agartala and later crossed over to Calcutta. On 28th May, 1971, Chittaranjan arranged a meeting with the top literature heads residing in Calcutta. They decided on writing and publishing about the injustice and war that was raging in East Pakistan (now Bangladesh). And that was the birth of Muktodhara Prokashoni. The very first book published under this publishing house was Roktakto Bangla which included writings by various writers such as Late Jahir Raihan, Late Ahmed Sofa and more and was edited by Anisuzzaman.
"After the war ended, all the publications under Muktodhara Prokashoni were brought to Dhaka and put on display on 21st February, 1972," says Jahar Lal Saha. "There were 33 in total."

In 1974, books were no more displayed over mats. Rather, the very first stall was established by Muktodhara, which measured 8 by 8 feet. "In 1975, four to five stalls were built by different publishers and books were being sold, although unofficially. The number of book lovers visiting these stalls was growing gradually year by year," added Jahar Lal Saha. In 1979, with the collaboration of Bangladesh Pustok Porokasok O Bikreta Somiti and the Bangla Academy authority in the Bangla academy courtyard, a book fair was held. In the year 1984, a guideline was made and the first ever Amar Ekushe Grantha Mela was held. "This one time, Maitreyi Devi had come and visited our stall and even praised us for our work," expressed the smiling Jahar Lal Saha.

Chittaranjan Saha is recognised nationally for his initiative and has even been awarded with the Ekushey Padak and the Vidyasagar Puraskar in 2005, a gold medal for being the best publisher in 1997 and also with the Natyasabha Puraskar in 1988.

Jahar Lal Saha expressed the need of building an adequate library and a research center accompanied by food stalls or a cafeteria near the Bangla Academy premise. "It would help enhance people's love and experience of reading books," he says.
Till this date, Muktodhara Prokashoni has published over 2,000 books. They have even taken an initiative to publish books written especially for young minds and have succeeded in publishing 300 of the like. By arranging book fairs throughout the country, Muktodhara Prokashoni has taken a healthy initiative of encouraging children and youth into developing the habit of reading. It also encourages authorities to establish libraries throughout the country. Since 1974, the publishing house exports books overseas as well.