A Foreigner's Guide to Dhaka
This week, as a special treat to the foreigner-loving Bangladeshis, this column will be written by Billy Steve Sam, reflecting on his first visit to Dhaka, Bangladesh.
The picturesque beauty that is Dhaka cannot be summed up in words, if you can ignore the murdering extremists on every corner. The dilapidated roads surrounded by the many ramshackle buildings may at first paint a picture of extreme poverty and an obvious cry for help. But that's not Dhaka at all. Dhaka and Bangladesh as a whole is made up by its people. OH IT'S BEAUTIFUL PEOPLE. There are so many of them and they help anyone forget all the problems plaguing this basket case of a nation thanks to their minds not being as elevated as ours.
Walking down the dirty, dusty, old, broken, nasty, poverty-ridden but exotic streets of Dhaka, you can always almost sense the fear; the people here seem always prepared for a disaster. Floods are a concern always and by God the Earthquakes made me shiver more than once. The crime rate is high (Not as high as New York but pretty damn high, like third world crime high which is three times as bad.)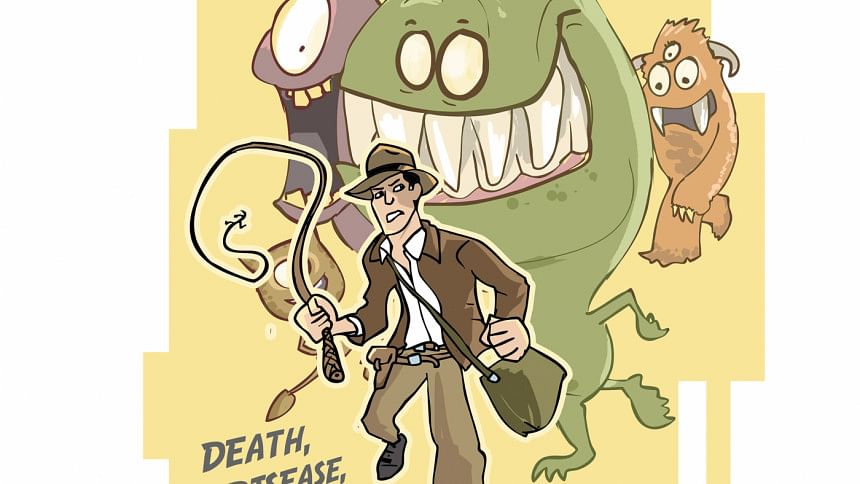 Finally, there are the lightings. 38 people died this past month due to lightning and at any moment, I could have become the 39th and that was a scary thought for me. I am so scared at this moment. But Bangladesh is a beautiful country full of lovely people and a beautiful, heart-warming, soul-refreshing culture. OH THE CULTURE!
The starving but a smile-on-their-face-always people live very close to each other and their proximity is a sure sign of an impending outbreak of a disease with a potential of wiping all of them out. But the closeness people share; AH THE CLOSENESS. People here are very close to each other and the entire neighbourhood knows each other's names. They are a very kind and docile people, ripe for farming and are ready to be saved by us, the creators of the God complex.
Dhaka isn't all gloom and doom like most foreign media and the generous helpings of semi-educated people on Facebook would like you to believe. Apart from the people there, the food is also very nice. Do partake in the street food if your stomach can handle their dirty hands making the most germ-infected food. LOL I have developed an iron stomach staying here the past two days but it isn't easy at first. The spices will burn your tongue. But who needs a tongue when our hearts are so pure, so generous and tolerant? I didn't come to Dhaka to really see the sights. I came here to soak up the culture. Be one of them. Be a Bangalee. If only I could stick to normal tourist things but the strings of my heart tug me to make a difference. These people deserve it so!
Bangladesh or Dhaka, since that's pretty much all I have seen, guided by my well-wishers, may seem like a wild, unruly, savage, crazy, uneducated place but beneath the layers and layers and layers of these negativities, it truly offers an amazing experience. Something that can truly help with your college essays and add a dimension of "international" to your persona. In fact, a successful visit to Dhaka is testament to whether you can actually rough it out. It also offers healthy chances of going slumming. So pack your bags, let the cops of your country know what you are doing, send a telegram to your mission here so that they know you are coming and get ready for a thrilling and adventurous time. You cannot go wrong in Dhaka. But you can die! Cheers!