The Beef with the Budget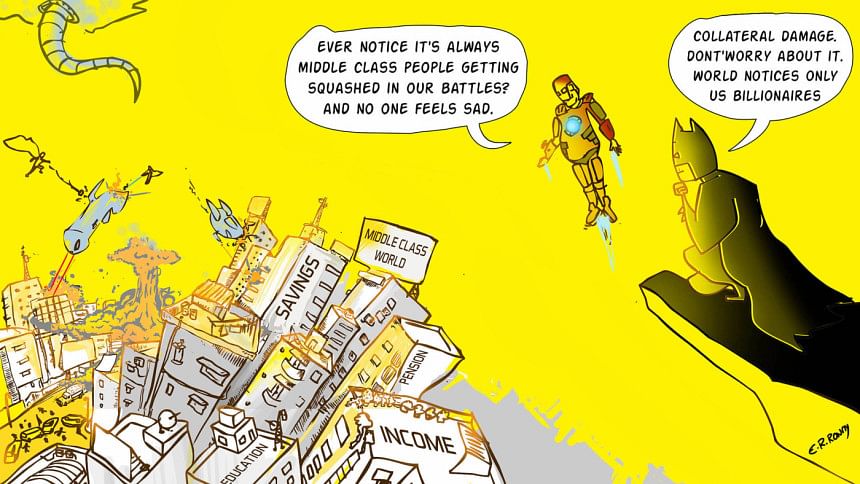 The biggest news to come out this week was the presentation of the latest budget. In the off-chance people forget what the big deal about this budget was, MPs were seen holding up 10 fingers to symbolize that this was the 10th budget presented by our esteemed and highly-amazing Finance Minister; La Décima, as Real Madrid fans used to say last year during every sentence they would conceive. Newspapers and general people, true to form, exhausted synonyms of the word 'huge' to describe the latest budget, using words like "mega", "giant", "ginormous", "like my manhood" and so on. The Centre for Policy Dialogue on the other-hand opted for a backhanded smack-down by reminding everyone that this 3.4 trillion taka budget was again confined to the 14 percent of the overall economy, according to a bdnews24 report. In reality, the new budget, the greatest budget ever seen if reporters are to be believed, is 17.37 percent of the economy, while the current budget stood at 17.2 percent of the GDP. So, no, it isn't really all that 'mega'. What is mega about though, is how ambitious it is, which also isn't all that ambitious. Build a few bridges, spend more money on projects that have been delayed as per the norm and of course pour it all in the coffers of your FnFs. That's what democracy is all about; looking out for ALL your friends instead of a few.
But let's get to the meat of the matter. No one really cares about the budget because it is so hard to understand. For instance, according to Janes, 'the 2016-17 military expenditure includes BDT212.48 billion for "non-development" costs, which includes military salaries, maintenance costs, and operations and BDT4.06 billion for "development" costs including defence procurement,". Now, many of us were under the impression that military costs should be greater for procurement and less for salaries and what not, but turns out we will be spending 7% more on that this year and 5% less on irrelevant things like procurement because we need a 100 more cantonments with deer, right? On the plus side though, we already boast 11 helicopters and two submarines or something, so bring it on, whoever. The point is, we care about how the budget will help us and so far it doesn't seem to be helping us in anyway. More spending on healthcare and education is welcome of course, but I wonder if our Ministers have actually been to a government hospital as usually they are flying off to Singapore for even just a flu treatment. Those in charge of policies remain unaffected by them and this is perhaps why many of us are hesitant at their proposals. It's the US-funded agencies gimmick of providing laptops and internet to solve all of our flood and poverty-related problems; it doesn't work and that bothers us.
Of the 3.41 million taka, an estimated 2.43 million is expected to arrive from revenue from taxes. At this juncture we have the BGMEA, perched upon their illegally built structure, yelling how unfair it is to charge them like a whole 1 percent more in tax as that would totally mean the industry, as a whole, would shut down. For an industry that sees more cases of unpaid workers striking, to claim they aren't making money and lamenting their dire poverty while driving around in the latest cars is a little concerning. The second group of haters is of course the rich who believe that paying higher taxes would mean they would literally starve. Thank God for offshore accounts, right rich guys? Then we have the 'non-existent' political party, according to our honourable Finance Minister, whose leader hasn't even biometrically registered her sim, so what on Earth are they complaining about?
The only people allowed to complain are the VAT payers. Forget the tax payers; of a 160 million only 1.2 million pay taxes, so clearly the revenue won't be coming from there. It will come via more expensive goods, higher call rates, more electricity bills, more money for breakfast, higher prices of biscuits and so on. Notice the lack of noise from the middle to lower income group. We are probably ok with the budget. We just ask that when you build a bridge for 100 crore in 4 years, do not take 8 years, hire incompetent builders and then tell us you need 500 crore for the same project. We also ask that when someone tells you they have around seven billion takas in offshore accounts, you don't just shrug and let them go. We plead that the way you hound us for failing to pay our credit card bills every month is the same way you hound those who have defaulted on 300 crore takas or so of loans and then gone on to make a bank just to rub it in our face. We also ask you to restructure the government banks so they stop stealing money. We further ask that you start collecting taxes, stop with the VAT nonsense all the time and actually turn words to actions. The Bangladeshi people are tired and weary. Mega budget or stringy budget, please make a budget that allows us to not worry every time we go out to shop or turn on the air cooler, wondering how we will make up for this money spent.

Cartoon: Ehsanur Raza Ronny