VAT on English-medium schools - A discriminatory proposal?
Discrimination. This is the word being tossed around to describe the recent decision to institute a VAT of 15 percent on English-medium schools.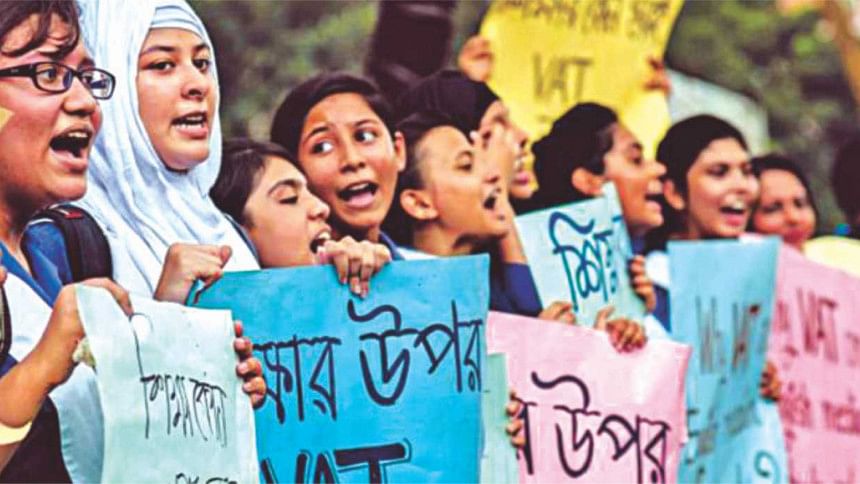 Discrimination. This is the word being tossed around to describe the recent decision to institute a VAT of 15 percent on English-medium schools. Many question why English-medium students are being targeted. Others demand to know why any form of education should be taxed; after all, education is a basic right. However, given a prevailing public perception that English-medium schools are superior to Bangla-medium ones, this form of education has unfortunately morphed into a consumer good. Additionally, English-medium schools on average are also more expensive. Owing to these, the government's stance on education is that it can be taxed. But this is a simplistic generalisation, which refuses to take into consideration the nature of education as a public good. This also disregards the many factors that often compel parents to opt for this form of schooling, not limited to better teacher attendance, better admission policies and more. 
English-medium schools are indeed known for being expensive. In fact, schools are more often seen as a viable and highly lucrative business model as opposed to functioning for the betterment of society. Brand name schools in Dhaka charge between BDT 10,000-20,000 in monthly fees alone, whereas admission fee charges can get as high as BDT 1 lakh. 
For some, this is a lot of money and the reasoning could be that the schools can afford to absorb this VAT. However, VAT by its very nature is a tax on consumption. The net economic burden of this tool works like that of retail tax. Therefore, whether schools hike up their fees or not, the VAT will still be charged on the full amount of fees and will have to be borne by the consumers, i.e. the parents and the students. 
When asked about the matter, Waqar Ahmed, principal of Adroit School says, "We do not charge our students VAT. Even last year when this same debate came up, we paid the VAT ourselves although most schools do not. Now there is an order which strictly forbids us from collecting such VAT."
If the government's agenda was to come down on schools making too much money, guidelines could have been set instead because not all English medium schools charge the same amount. The addition of VAT does not take them into consideration. 
"While certain schools were charging very high fees, the majority of the schools were not. But the new VAT would mean even these schools would become more expensive than before," adds Ahmed. 
For parents, the additional VAT would indeed mean a lot more stress than before. This is especially true when one considers that, contrary to popular belief, not all parents who send their children to English-medium schools are well-off. "I promised my son that after class five, I would enrol him in an English-medium school," says Babul Ahmed, a resident of Mirpur and a chauffeur by profession. Next year, his son enters the sixth grade. Unfortunately, Babul can longer keep true to his word. "A 15 percent VAT on education will out-price many people from affording quality education because the truth is that public schools are not up to the mark and I do not have confidence in them," he adds. 
Babul's fate is similar to many others and he too is a victim of the government's new and increasingly ambitious budget. However, more worrying than the ambition is the means of achieving it. For an economy striving for middle-income status, any negative impact on the education sector, such as levying a high rate of tax, can have serious consequences.  
More bad news keeps trickling in with whispers of many schools already mulling charging the extra 15 percent from the new July sessions despite the Supreme Court ruling in February to the effect that the government cannot collect VAT. "The court order prohibits collection of this VAT. This is against the law and so it cannot be collected from the students," argues AM Aminuddin, the lawyer who moved a writ petition on the issue in 2015. "Education is a basic right. It is not a commodity and so should not be taxed like that. Also, why are only English-mediums being charged? That is discriminatory," he adds.
Moreover, there are concerns about how the money collected through VAT would be allocated. As AAMS Arefin Siddique, Vice-Chancellor of Dhaka University, remarks, "We do not expect VAT on education as it adds an additional burden on parents. However, it must be noted that our education sector does need investment, especially at primary levels. So, if VAT is being charged, it should be clarified in the budget where this money is being invested." The current budget, however, does not dwell on these specifics — a key point that stakeholders should demand a discussion on. If the money goes towards improving the education sector, then the presence of VAT has some merit. But even then, such an issue requires thorough planning, something the current budget glosses over. 
While parents, teachers and students wonder what the future holds, at this point we must wonder why such a VAT is levied solely on English-medium schools. Are we punishing parents for opting for a choice of education that many deem can provide a better future? Or is this yet another attempt to exacerbate a form of segregation we could do without? For people to even begin to contemplate their support for VAT on education, the government should at least explain that the money will go back into education and strengthen it. Until then, the cries for 'No VAT on Education' will continue and rightfully so. 
Osama Rahman is a sub-editor at The Daily Star.