education
The school across the river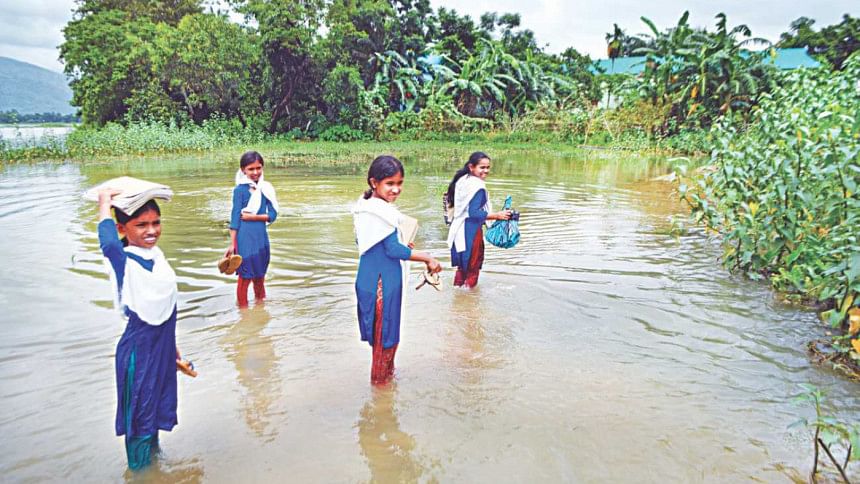 Taslima, the eighth-grader, may not be one much longer and it has nothing to do with getting promoted to the next class. 
"I'm going to get her married, I can't afford the boat fare she needs to go to school," says her mother, a weather-beaten woman who is all skin and bones. Taslima's goes to Haji MA Jahan High School which lies across a floodplain. "For six months a year, there is no water and I can just walk across," says Taslima. The rest of the year she has to wait for a boat to appear. 
Her eldest sister was married at 13 when she finished eighth grade and could no longer afford to take a boat to school. School for her was a bit further away. She had her first child at the age of 15, and got pregnant with her second when she was 17.
As is the norm with underage mothers who drop out of school early, she too had little knowledge on what is required for a healthy pregnancy. "I delivered my babies at home because nobody advised me to go to the hospital," says the sister, Moushumi Akhter. She had only one pre-natal check-up done when she tripped and fell in the water. Even when she was pregnant at 15, nobody saw it as a risk and took her to a hospital.
The link between accessibility to education and early marriage is undeniable but is best illustrated by the fact that Taslima and Moushumi's family would much rather have kept their girls in school. 
Their 17-year-old middle sister Murshida, for example, passed her SSC exams and is now going to 11th grade at a college further inland just out of sheer will. "I needed to reserve an entire boat for Tk 100 to take me to school yesterday because there were no ferry-boats in sight. My father barely earns that in a whole day, and I just wasted it going to school," laments the girl. 
So strong is her desire to keep her daughters in school that her mother Honufa Begum had crossed the village to seek out this correspondent when she heard that a journalist was going around asking questions about child marriage. While other women hid their underage daughter-in-laws out of sight of the cameras, Honufa Begum just had one wish—to find a way to pay for Taslima's ferry-fare.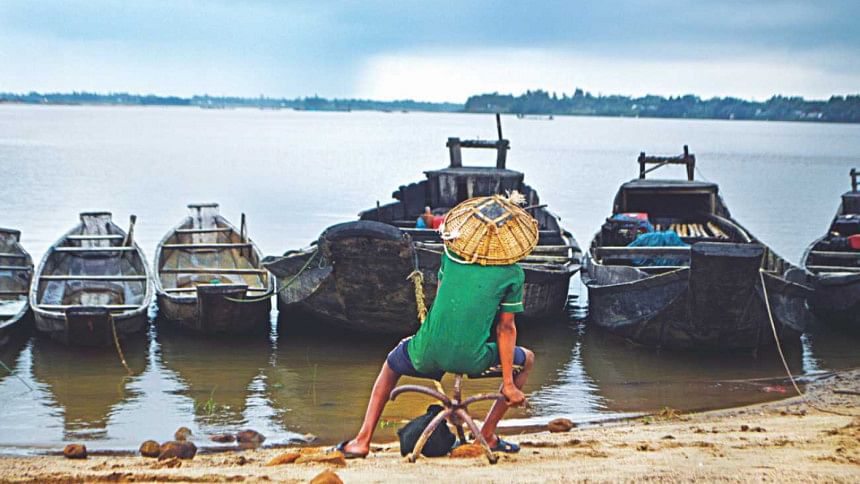 The plight of the sisters is not uncommon in this area, according to a survey done by BRAC in 2014. This is a place in the country where only 0.8 percent of the population—that is less than one percent of the people—finished high school. Even among that tiny population, women are less prone to complete secondary education compared to men, according to the study. 
The sisters live in a village called Matikata in Sunamganj that can very easily contend for paradise-on-earth. The villages are surrounded by haors littered with seasonal white water-lilies that children pick while wading their way to school in waist-deep swamps. 
The region lies in a valley and is flanked by the cloud-topped mountains of Meghalaya. For most of the year, rapid creeks wash coal and fertile silt downstream, which in monsoon, whimsically swells up to destroy. 
Each year when the waters rise, the haors and surrounding areas go underwater for months at a time. Sometimes it is high enough to trigger evacuation; other times it is just bad enough to impede transportation. One thing stays in common though, every time the weather takes a turn for the worse, children going to school are among the first to be affected. Either the schools are under-water themselves, or the roads leading to them are under-water, or the schools end up being used as shelters and warehouses. 
This month when the Surma and Kushiara rivers overflowed inundating the northern parts of the Sylhet division, The Daily Star reported that at least 500 educational institutions were shut down. In Moulvibazar, eight schools were being used as flood shelters, the newspaper reported, quoting ASM Abdul Wadud, the district education officer. Caritas Bangladesh, which operates mainly in the border areas of the country, sent out a statement that around 300,000 to 400,000 people have been affected by floods in the north-east. 
A month or so back, when the rains came too early during the harvest season in Tahirpur upazila in Sunamganj, Ujan Tahirpur Government Primary School was being used to dry and store grain. Bales of hay were loaded up on the long patios surrounding the classrooms for storage. The villagers were sunning the grain on every open space they could find. The school itself is built as a flood shelter, which means that should the waters rise high enough, classrooms can be used to house people. 
According to the BRAC study, 42.8 percent of the study participants enrolled in school but left before completing primary education. The other half never went to school. 
It is not hard to imagine why children leave primary education or get demotivated. Last week when the rains had inundated the road leading from Purbo Para to the primary school in Matikata village, the children were having to wade through waist-deep water. Shoes in a bag, books balanced on their head, they walked across to do their classes in wet clothes. Last Sunday, those who did manage to go to school, had done the journey in vain. School was discontinued for a day temporarily. 
"We have three teachers in the primary school for 300 children, but two of them are almost always absent," complained Jotsna Begum, who lives across the institution, and has put three kids through it. 
The road itself was like a tight-rope because that was the only part where the water was just about waist-deep for the kids. On either side of it lay deep ditches—one false step and a child would go tumbling into the depths. 
What this means is that the other group of children most at risk of not continuing their education or not being regular at school are young children—who are too young to swim, and who might fall and drown on their way to school. According to World Health Organisation and UNICEF, drowning is one of the major causes of death among children.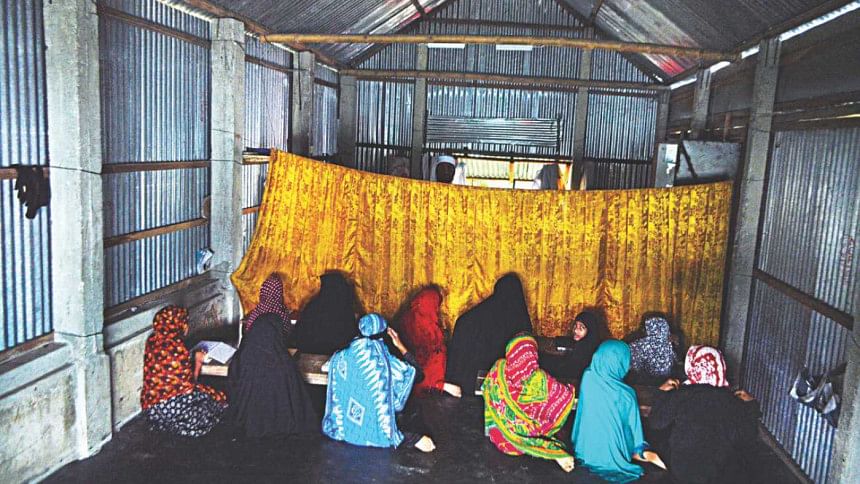 That is precisely why six-year-old Najib's mother did not let him go to school. Najib didn't mind though; he was busy digging out puffer fishes from the mud-banks while his brothers tried to score a catch for lunch. "He's so small he can't walk all that distance through the water. I'll send him to school when the waters recede," says his mom. When that will happen though, she does not know. The area has been inundated since March. 
Najib's father Ishak Miah has a boat but needs it for work. "All of my harvest went under water in a flash flood this time. I've planted watercress and I take that to the market everyday to see if I can earn a few. I can't give my boat to my son," describes Ishak Miah, when asked why he doesn't row his son to school. The BRAC study reported that approximately 17 percent of all haor households always have a food deficit. It seems that in addition to physically impeding children from going to school, the water has a few more tricks up its sleeves. It can hit the hearth, affect food security and force parents to keep their children out of school. Children fishing, children sifting through gravel for coal, diving for rocks, helping haul rice are sights as common as children going to school. 
Because of the distance between the primary school and their homes, the female students of Brindaban Dar-ul Ulum Nurani Hafizia madrassah chose to go to the religious institution instead. They learn Arabic, Bengali, Urdu and English but have not yet started mathematics.  Because of a lack of a female teacher, the kids are taught from behind a curtain by a male cleric—eye contact definitely is not in the curriculum. 
"The primary school is in the next village in Ledarban, so my parents sent me here," says a girl peeping out of a slit through her black niqab. She is currently a fifth-grader at the school, and has been here since the beginning of her education. Interactive learning, or even face-to-face interaction with her teacher, are not learning methods she has ever experienced. 
BRAC operates floating schools on board boats, which have gained fame in the media for innovation. A survey conducted among the kids on the boat-schools found that 79 percent of them would have had to cross a river during monsoon to go to the nearest primary school. Other times of the year, it is still half of the children. "There must be increased financing for these regions. Our study shows that the cost of education for a child in these marginalised communities is 3 to 5 times more than that in the plain lands," describes Nawra Mehrin, one of the authors of the study. Infrastructure development is an immediate policy priority, she adds. 
Floods are a reality that the population in the north-east live with. Schools will get inundated, homes will wash away. There is however one area where change can happen—the children need transport to go to school and something must be done about it.