The link between violence and mental health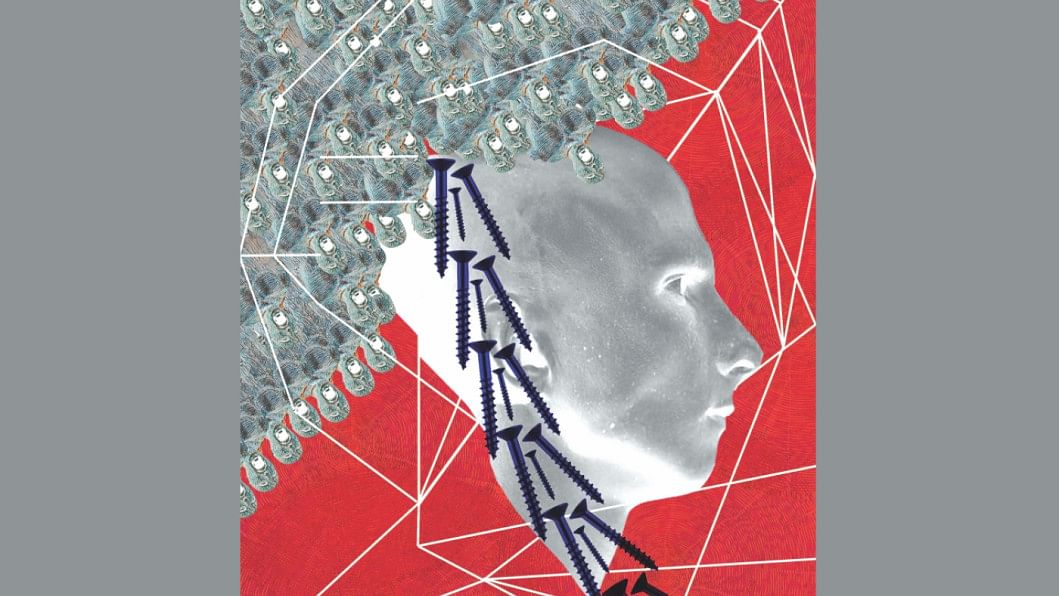 Ismail* is about 16 years old, and lives in Korail bosti with his mother. He comes over once a week to help me clean my house. He has meticulous knowledge of cleaning hacks, and does not miss any spots. The rest of the week he works as a professional cleaner at a cushy social club close to his home—or at least, he used to, until recently, when he lost his job unceremoniously. 
The reason? The manager kept asking him to hand over the tips he received from satisfied customers, and he refused to. He complained to his supervisor, who tried to resolve the issue by assigning Ismail to the night shift, one that ends at 3 am, and one that would force the teenager to walk back home alone through a treacherous city in the dead of the night. This is the second full-time cleaning job he has lost in less than six months, both due to unfair reasons. In the first job he lost, the company still owes him two months of wages. 
This time though, he is not going down without a fight. "I will make sure the supervisor pays for this. I am from Korail and he is from a village from outside Dhaka; he has no idea what me and friends can do to him on his way back home from work," the lanky teenager said casually while mopping the floor. I was doing the dishes, with my back turned to him, and felt a chill run down my spine—I knew he wasn't fibbing. I also have some idea of what his "friends" can do to the supervisor. Just a month ago they got into a fight, and Ismail was pushed into a corrugated metal structure. He slammed against a stray metal sheet jutting out of the roof, and it scalped him clean; the resultant gash required 36 stitches. Ismail rested for two days, popped a few painkillers, and was back to his grueling job the same week, his scalp barely held in place under a bright red cap.
Even the best of teenagers are difficult—they are moody, they are angry, they think the world is unfair. The anger that Ismail feels is on a whole different level, however. It is the kind of anger that makes you actually want to beat the stuffing out of someone, or get into bloody fights that leave you with half a head.
When a video of the mob killing of Renu—the single mother beaten to death after being mistaken as a child-napper—went viral on social media, I watched aghast at the rage of a blue-shirted young man. The crowd rallied him on with cries of "Hit her on the head!" and the young guy complied over and over again. He pinned the palm of her limp, lifeless hand to the ground with his stake, hit her on the chest from where Renu's scarf had slipped, and channeled a world of rage into each strike. It seemed as if, at that moment, he truly believed he was righting a wrong. When he was arrested last week, and it turned out he was just a teenager with a fuzzy upper lip, and a name that means "heart"—Hridoy. A vegetable hawker of the streets by profession. While his age is not verified, police quickly claimed he was 19 years old, a number that takes him out of juvenile prison and catapults him into the jurisdiction of capital punishment.
The incident begs the question—are we failing our youth in some major way?
A BRAC study unveiled in the capital last week, surveyed 4,200 youths nationally, and found out that a majority of them could not name a single role model they looked up to—not family, nor a political or civic personality, not even a religious leader or a celebrity. Even more saddening was the fact that of the respondents with no role model, over 70 percent were youths with no education or limited education. While the survey did not state as such, it is easy to read between the lines—when a youth cannot name a single person they look up to, and want to be like, they are clearly lacking in hope and clear, realistic goals for the future.
That children who work in the streets, work low-income, blue-collar jobs, or grow up in the streets, face horrifying violence that affects them in the long-term, is a well-researched fact. A 2013 study titled "The levels and patterns of resilience among male street children in Dhaka City" and published in International Journal of Adolescent Medicine and Health surveyed 366 boys living in the street to gauge the amount of violence faced by them. The average age of the participants was 15 years old. A clear majority, 72.4 percent, faced physical violence on the streets, 61 percent had friends who take drugs, and 36 percent admitted to taking drugs themselves. 67.5 percent of them, also experienced physical abuse at home, meaning their homes were just as violent as the streets.
What is rarely questioned, however, is how such violence affects the children. 
A Facebook group called "Voice of Rights" is a forum where social media users report instances of rights violations. Last week a post caught my eye—the post contained photos of little arms, slashed to the hilt, from the wrists to the elbows. Each tiny slash was overridden with another one, criss-crossing a hatch pattern on the skin. Each tiny slash was a momentary relief from pain.
The tiny arms belonged to equally tiny bodies, aged between 6 and 12 years, living at the Kamlapur railway station. Mostly orphans or runaways, the children are a prominent feature of our train stations, spending their formative years on the cold platform floor. Kindness comes in the form of hiring them for errands and the occasional hot meal and donated clothes. Outside of physical abuse, everyday violence comes in the form of treating them like disease-riddled, germ-laden vermin. I remember my elders warning me as a child: "Don't touch those children, they don't wash their hands after wiping their backsides."
But touch—especially positive touch like hugs—are integral to how a brain develops, decades of scientific research has shown. Studies carried out internationally on children deprived of hugging, found out that they have elevated levels of cortisol, a hormone produced by the adrenal gland, that regulates stress. Anxiety, depression and sadness are all related to this one hormone. While no such study has been conducted in Bangladesh, we can only presume what the situation might be like.
Very recently The Daily Samakal reported the story of how the Tejgaon Industrial Police arrested a 17 year old teenage boy living in the train station, for killing his rapist. The rapist was a well-known religious figure, and the boy had gone to him for advice. The boy also happened to be a serial rape survivor, having lived on the streets from a young age. He strangled his rapist during sleep, and wrote a note saying "Stop raping children" before escaping from the house. Tell me, in a society when a child feels compelled to take the law into his own hands, how can we blame the child?
*Name has been changed to protect identity of minor