Football Tournament held for Underprivileged Children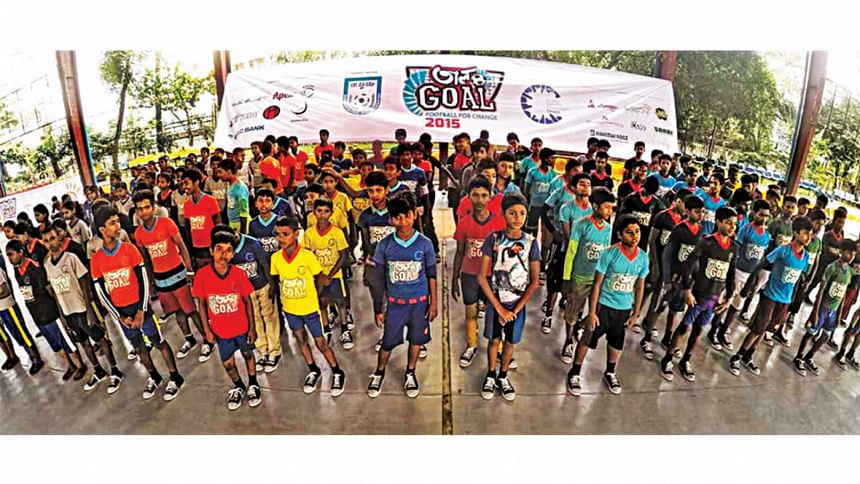 Last weekend, 16 teams and 128 children, both boys and girls between the ages of 10 to 14, participated in TaalGoal, a one-day football tournament for underprivileged children from different areas across Dhaka.
The tournament was organised by the Dhaka Hub of Global Shapers, an initiative by the World Economic Forum (WEF).
The tournament featured players from Geneva Camp, Rayerbazar, Abdullahpur, Notun Bazar, Karail and Kamrangirchar areas.
"Our theme is inclusiveness," said one of the Shapers. "Through this tournament, we aimed to promote an inclusive society where no child is denied basic right to recreations such as sports, regardless of their background and/or social status."
The tournament began at 9am on Friday, November 6, and was held at the Bangladesh National Handball Stadium.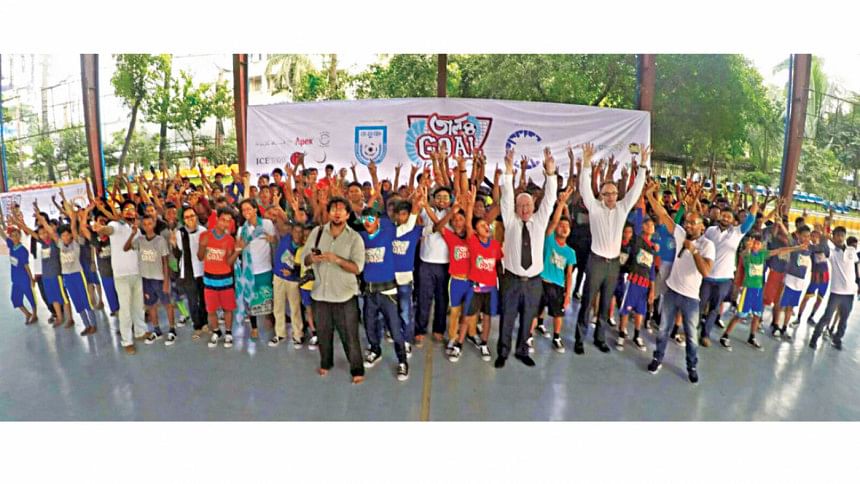 There were four girls' teams and 12 boys' teams. Among the girls' teams, Red Hunter and Phoenix reached the finals and Red Hunter became champions, beating Phoenix 3-2 on a tiebreaker. Rubina Akhter of the winning team became the best player.
From the boys' teams, Jagroto 8 became the champions beating Natun Bazar 1. Hasan from the runners up team bagged the best player trophy.
Chief guests at the event were one of Bangladesh's best footballers of all time Badal Rai and revered sports commentator Chowdhury Zafarullah Sharafat.
"More people today would be able to identify Maradona than the President of Argentina, and this legendary footballer was once an underprivileged child," said Sharafat at the closing and prize giving ceremony of TaalGoal. "This shows the need to create such opportunities for the underprivileged children of Bangladesh."
Special guests British High Commissioner Robert Gibson, and Deputy High Commissioner Mark Clayton were also present to show their support.
The Global Shapers Community is a network of Hubs developed and led by young people who are exceptional in their potential, their achievements and their drive to make a contribution to their communities. There are currently more than 5,000 Global Shapers in over 169 countries and territories worldwide. In the Dhaka Hub, the first one in Bangladesh, there are 16 members.