ALMOST USEFUL LIFE HACKS
How to decipher seemingly innocent Bangladeshi sale posts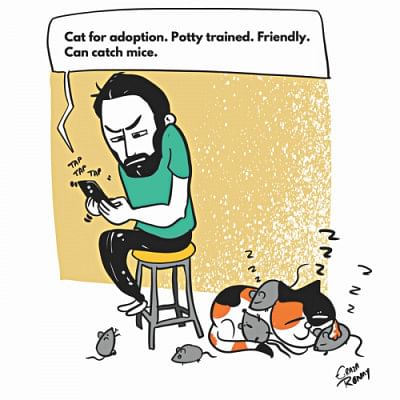 It is the weekend and you sit back hoping to satisfy your greedy capitalist inner demon—but within reason. (You do not want to anger the wife by buying a Honda manual transmission because, hey, it seems like a good deal even though you are driving a Nissan. You then proceed to look at buying a lovely used Honda. This could anger the wife even more. In which instance you think of buying her something. Expenses escalate and before you know it, your cat can no longer afford the cheesy treats she was getting accustomed to. These things are known to happen.)
The used 'stuff' online market is a dubious place though. Out of 10 posts, one may be a genuine seller. Others are just middle-men out to make a quick buck. Here's how you spot the not.
Buying cars
The online market is littered with 'dalals' buying cheap from someone and posting at ridiculous mark-ups later on. But people have to make money to feed their pet cats, right? The really dubious ones are easy to spot. Just translate their ad.
AD: "1994 Corolla. Power everything. Chilled AC, gas needs to charge."
What this means is the AC is kaput. If you call this seller, he will invariably tell you the AC is fine, just needs to have the gas refilled and it will be perfectly cold. He is correct, partially. A leaking AC system will initially cool very well. Then you buy it and drive it around for a while, wondering why the Mirpur traffic jam is starting to feel so hot inside.
Two mistakes.
First mistake: a leaking AC is often a little expensive to fix, which brokers try to avoid. A working AC does not need 'gas charge'.
Second mistake: You went to Mirpur. That is the same as labelling your dubious work experience on social media as 'Worked at Facebook and Gmail.' People do that but no one in their right mind should.
AD: "Has CNG, usually/always/frequently driven on octane"
This ad is made to make you think the car engine is in great health. We all know how CNG slowly deteriorates the engine condition till you have a leaking, overheating hunk of metal. No one has CNG and then decides, 'Let's drive on octane because I'm rich.' If CNG is installed, it is running on CNG because your wallet won't let you otherwise.
Buying smartphones
I have found buying used smartphones a great way to kick my tech boredom. I want the premium device but I really do not want to indulge in the massive depreciation. A 90k taka phone will become 50k in less than a year. Which is a great time to get it. Apple products though hold their value a little longer.
Ad: "Brand new iPhone for sale. Everything works, can't call cause Apple ID locked"
What this means is that the iPhone is very likely stolen. If you buy an iPhone, make sure it is Activation Unlocked. You need the original owner's password to unlock. Walk away otherwise because this is an expensive paperweight.
Buying property
AD: Beautiful small flat, south facing."
Err, yeah. That term has little or no value these days. The benefit of a south facing house is that you get plenty of sunlight throughout the day. Considering how our buildings are jam-packed like boys outside Viqarunnisa Noon girl's college, the only thing your south facing apartment will get is a view of your neighbour's set of drying underwear. If you are lucky, that underwear will not have the neighbour inside it.
Buying cows
Yep, you can buy cows on the internet also. You have to be careful because some of them may be business graduates looking for a marketing job. In most cases you WILL get a cow. Just make sure you collect them in the daytime.
AD: "Young cow grown in Dhaka, always fed with fresh grass."
Last time I looked around, all the available grassy land had buildings growing on them with multicoloured underwear hanging from the balconies. The only grass I see is the one in stadiums, around our very few public lakes and in the Prime Minister's office. Unless the seller means the other kind of grass used for casual relaxation activities, that ad is an outright lie. If upon inspection, the cow seems unusually relaxed and is giving you a high five, it is definitely the recreational grass at play.
Buying sandals
AD: "Bata sponge sandal. Slightly used, bought for 120tk, selling for 60tk"
This was posted a couple weeks ago. Are you actually spending a few seconds considering the pros and cons? IN which case, there is no help for you because you will buy anything including those weight loss devices that promise to reduce your belly by making it jiggle lightly for hours. Only thing those are good for is getting to sleep or dying from electrocution.
More on this later. I just spotted a fantastic bird cage for sale. I may need to get birds.