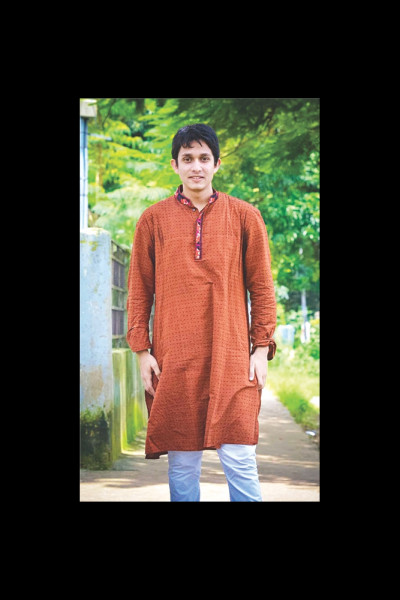 Syed Abid Hussain Sami is one of the fastest rising names in the industry now. The multi-talented protégé has stolen hearts across the city not only from his witty cricket commentary on Radio Bhumi, but also by showing off his cute-boy journalistic charms on television shows like Shokaler Bangladesh, Tech-trek, and Sami Kothay, on Jamuna Television. Sami has also just entered the world of television acting through Badrul Anam Saud's newest project- Antorjatra, which is yet to be aired. He also plays cricket at university level, and has been since he was a child. Even though Sami is involved in many great things, his passion lies in anchoring and commentating. The Star Weekend caught up with the wit-master for a quick chat. 
Who is you favourite cricketer? 
I am very emotional about Mashrafe Mortaza. His dedication towards cricket amuses me every day. Even after all the injuries, all the obstacles, he is always to valiant. On a more technical note- Rahul Dravid. Why? Because he is forever THE WALL! 
Your three favourite television shows? 
I don't watch much television. But I love cartoons! I watch/watched Captain Planet, Tom and Jerry and SWAT Cats. 
Favourite anchor on television? 
Munmun apa, no doubt. She is my inspiration, and she is the one who noticed me and gave me the courage to go forward with my talent. 
You recently began acting, what is it like? 
It's going over my head, so far! I never thought I would be acting with the likes of Raisul Islam Asad, Suborna Mustafa- it's like a dream! They help so much, make me feel so comfortable. It's surreal. And yes, it's going over my head! 
Who are you favourite co-actors so far? 
Suborna Mustafa inspires me a lot, while I'm most comfortable with Sanjida Preeti. 
What is your motto in life? 
Never do anything for which you have to sacrifice self-respect. 
What is your advice for young aspiring anchors and hosts?
No matter what happens, never lose self confidence. And in order to hold on to your achievements, you have to be disciplined with your life.

Photos: Courtesy