The graveyard in Banani
Love is the enormous mango tree growing directly from an ancient grave, so old that no headstone remains at all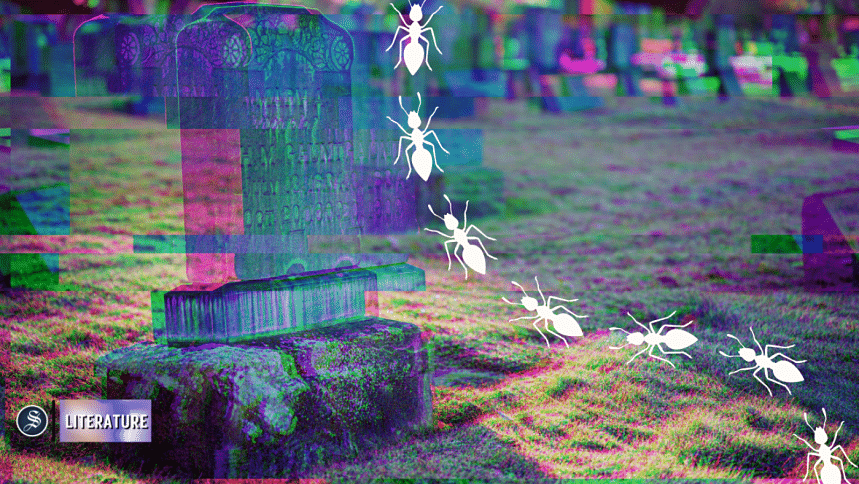 I went to visit my grandmother a few days ago. 
This is a strange sentence, not because of grammar or technicality, but because, literally, it is impossible. My grandmother died two years ago, leaving us to endure this world by ourselves, deprived of her strength, her wisdom, even her beauty. 
The site of her grave is one of the loveliest places in this stone-hearted city, however. Climbing vines and spread-eagle trees, birds composing haunting melodies amidst branches weighed down with greenery. The ground teems with life, ants and earthworms and crispy leaves yet to be swept away. There are pathways I can pick out between the graves here, created by the mourning feet of visitors counting every step they take either to or from the last resting place of a loved one. 
Graveyards tell the ultimate love stories. Not the gilded Hollywood version of love, where boy meets girl, there is trouble, trouble is swept away, and boy and girl live happily ever after. Love stories do not end with marriage or a child, or the grand realisation that "love conquers all!"
Love is the enormous mango tree growing directly from an ancient grave, so old that no headstone remains at all. Yet the tree lives, providing eternal shade, nourished by the forgotten body of a teenage girl who fell from the roof while playing with her little sister. No one remembers her now. No one visits her grave. Yet the tree lives. 
Love is the old woman I pass by on my way to my Noni's grave, who rests a hand on the six grave markers bearing her last name. I have never spoken to her, but the way she cares for those little bits of dirt can only come from a mother's love. 
Love is the young girl who visits every single day, her shell-shocked eyes on a devastatingly-tiny grave of her 10 month-old daughter. I once saw her husband standing beside her. The world allowed her tears to fall, but not his. What a strange custom.
Love is the ageing son who visits his father's headstone every single day, carrying a large bag of gardening supplies, trimming the grass, weeding the shrubs, and planting flowers. I wonder what nature of guilt he carries in that bag that forces him to come every single day, along with the leaf-blower, the dirt rakes and the hand-size shovel. 
Noni's grave, naturally, is my favourite. My mother and her brothers had a large stone marker engraved with the word "Amma" near where her feet are. Until the day I saw that for the first time, I did not know just how much power exists in a single word. She was their Amma and she was my Noni. She was ours, and she was beautiful, and she is so thoroughly missed that my knees give out every time I stand before her grave. 
I rarely cry, though. She'd never liked it when people cried. She'd been a believer of strength. Power. Steadfast confidence. 
So I kneel before her grave and I tell her about my week. The people I met, the friends I spoke to, little happenings at work and home. The way my bua was late that morning. I tell her about my hopes for the future, my insecurities. I tell her about the particularly funny video I'd found online about the cat running face-first into a glass wall. 
A breeze blows by. It is cold, almost uncomfortably cold, but the way it makes the bamboo stand shiver is oddly familiar. If I close my eyes, I can just hear a voice in that wind. 
Someone calling me to eat. Someone laughing at a joke. Someone singing tunelessly. 
I'm sure I am imagining it. I'm certain of it. It is not her voice. She is not with me anymore. Her bones lie in that patch of dirt that is covered with bright green Chinese grass, and her spirit has passed forever beyond my reach. 
Yet it's nice to imagine it's her. It's comforting to sit back on my heels and look up at the sky. The sun is setting, and the birds in the trees are restless, readying to go home. The wind has scattered the clouds, and the light of dusk makes the elongated clouds look like brushstrokes, like a bored artist playing with paint. Red and blue, green and pink, orange and purple. Colours that should not go together, but somehow that careless artist makes it work. 
I can smell the grass, the earthy scent of upturned loam. The caretaker and his apprentices have prepared two fresh graves somewhere down the lane. The smell should be ominous, but it's not. It's comforting to think two more people have passed beyond the confines of this limited world. They're free. Perhaps they might run into Noni. 
"I saw your granddaughter sitting by your grave", one might say.
"She does that a lot", would be the exasperated reply. "But staying out in the cold will make her sick. I worry."
Don't worry, Noni. I will go home before it gets truly dark. I just want to sit here for five more minutes, listening to the hum of the guilty son's leaf-blower. I will grin at the blood-red dragonfly that stops by to greet me every time I come here, the one that no one else seems to see. I will close my eyes and imagine I can smell the starch of your sari, muted and mingled with the smell of your favourite moisturiser. 
The street lamps will flicker on in a little while, which is my cue to get up and dust off my jeans, but until then, I will stay and watch the dragonfly.
Just five more minutes, Noni. Just five more minutes. 
Sarazeen Saif Ahana is an adjunct member of the faculty at Independent University, Bangladesh where she teaches English in the memory of her beloved grandmother, Maksuda Chowdhury Huq Noni.