On Literary Matters: Cultural Representation through Translation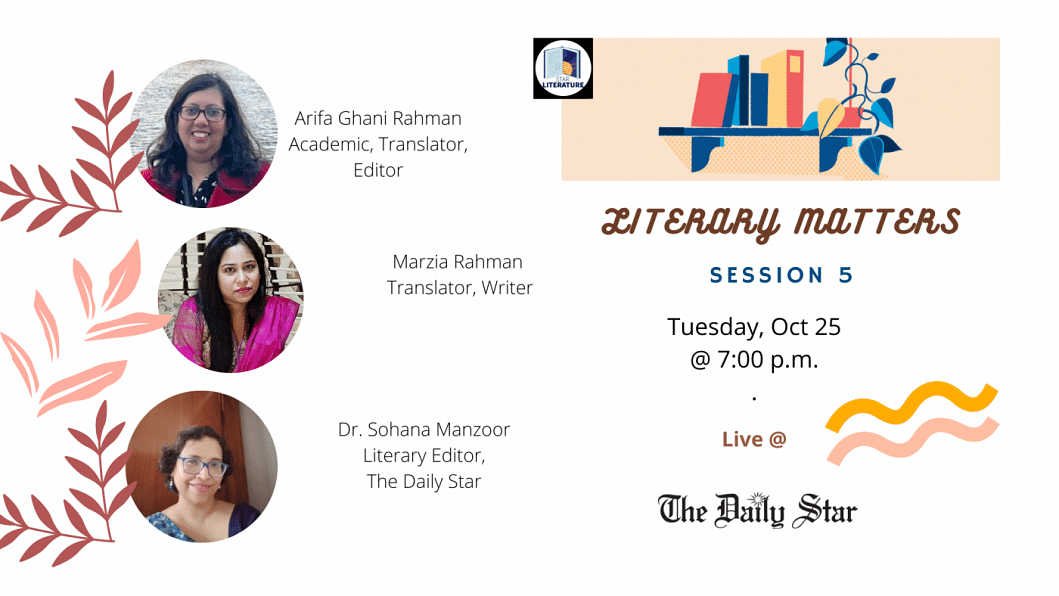 Literary Matters, the online literary discussion series, launched by The Daily Star, focuses among other things on academia, diversity of writing, cultural representation through translation, and up and coming writers and thinkers. Hosted by Dr. Sohana Manzoor, the Literary Editor of The Daily Star, the fifth session of Literary Matters was held Tuesday, 25 October 2022. The guests of the session were Ms. Arifa Ghani Rahman and Ms. Marzia Rahman.
       Ms. Arifa Ghani Rahman is the Associate Professor and the Head of the Department of English and Humanities at the University of Liberal Arts Bangladesh. She is also the Executive Editor of Crossings and an established Translator. She has translated many of Shaheen Akhter's short stories - she has also worked with Syed Manzoorul Islam, Rabeya Khatun, and Kazi Shahid Ahmed among others. Her translations have gone into many journals and anthologies such as Bengal Lights, The Book of Dhaka, The Escape and Other Stories, When the Mango Tree Blossomed, and Our Many Longings: Contemporary Short Fiction from Bangladesh.
       Ms. Marzia Rahman is another well-known translator. She is working on a collaborative project on Shahaduzzaman's novel Ekjon Komlalebu. Her translation of Syed Shamsul Haque's, The Aftermath, which is based on the Bengali titled দ্বিতীয় দিনের কাহিনী, has been published by ULAB Press in 2022. Lately, she has been popularizing Flash Fiction in Bangladesh. Her works have been published in Six Season's Review, The Book of Dhaka, The Demoness: The Best Bangladeshi Stories 1971 - 2021, When the Mango Tree Blossomed, and Ekushey Anthology.
       The first half of the discussion revolved around different issues regarding translation and the second half focused on other projects and professions that the guests are involved with.
       In reply to the host's question, Arifa Ghani Rahman initiated the discussion. She has been in the area of translation for over two decades. She was much influences by Dr. Niaz Zaman, the renowned Bangladeshi translator. Most of Ms. Rahman's translated works are short stories. While translating, she thinks of her target audience to be a non-Bangladeshi. According to her, everyone should know about the Bengali literary culture, and to bring about that reality, translation is an absolute necessity. She also said that if people are interested in translation, they should start with short stories instead of jumping onto poetry or novels. Apart from being a translator, Ms. Rahman's other identity is being a teacher. In addition to working as the Head of the Department of English and Humanities at ULAB, she is also an Adjunct Faculty at Rivier University, USA. She was also the key person to implement the Moodle system at ULAB where students get a modular dynamic learning environment. She follows a Student-Centered Learning strategy in her classes as she tries to draw her students into the learning process. She also encourages them to participate in different activities outside of academics and uplifts them to get out of their shells.
       Marzia Rahman has been writing for fifteen years now. She has been involved in translation since 2014. Her journey as a translator started at Arunava Sinha's workshop on translation. Ms. Marzia Rahman has also attended another workshop held at the University of East Anglia, Norwich. British Center for Literary Translation (BCLT. Her strategy of translation is to read it while she translates it. Her second draft is for editing purposes as she focuses on the structure, format, and rhythm, and she makes sure she is on the same page as the original work. Apart from being a great translator, she is also a flash fiction enthusiast. She points out that flash fiction is not a short story but a unique genre that captures a significant moment. She insists that Bangladeshi flash fiction writers should be known as such rather than short story writers.
       At the end of the session, both the guests shared their current projects and work along with important messages as translators. Marzia Rahman is currently translating Saleha Chowdhury's novella, Ekjon Jushnarar Galpa. It is commissioned by the writer herself. She is also working on a series of Flashes. And, lastly, she is polishing up her novella in a series of flash fictions, If Dreams had wings and Houses were built on clouds. It was longlisted in the Bath Novella in Flash Award Competition in 2022. Arifa Ghani Rahman is thinking of bringing out a collection of Shaheen Akhter's stories. She recently published a bio article on Shaheen Akhter in the Literary encyclopedia.
       The session ended with Ms. Rahman's message to everyone how translators do not get enough credit. She adds, "Yes, there is an original story for which the writer deserves absolute credit, but the transcreation of the translation needs to be acknowledged too." 
Shahriyer Hossain Shetu is currently pursuing his MA in Cultural Studies and Literature at ULAB and is interested in creative writing and translation.