The day when Shoaib silenced Kolkata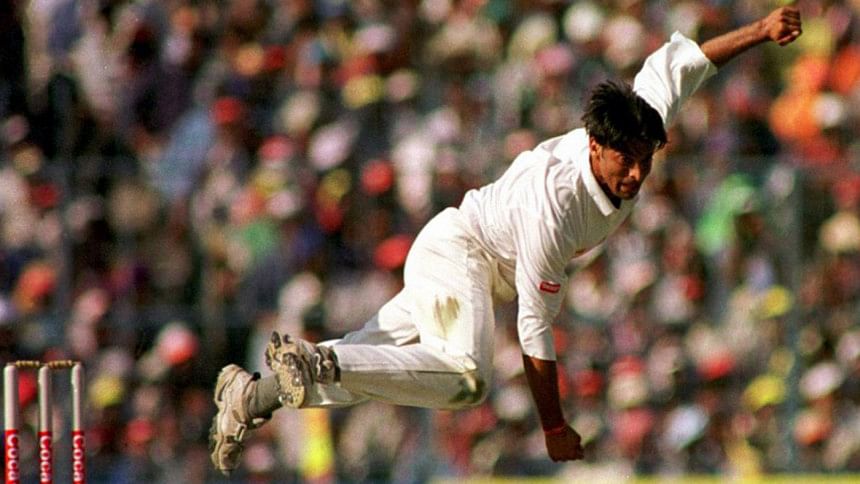 Date: February 17, 1999
Place: Eden Gardens, Kolkata
Occasion: First match of Asian Test Championship
A break in play is often the last thing a batsman wants when going in full flow, and it causes even the best of the best to give in to its distractions. Midway during the 2nd day of the opening match of the Asian Test Championship between India and Pakistan, Sadagoppan Ramesh and Rahul Dravid were batting fluently, and kept the opposing bowlers at bay while they chipped away at Pakistan's paltry 185 in the first innings. At 147 for 2, with India well and truly on top, drinks were taken.
What followed became the stuff of legends. Shoaib Akhtar, the Rawalpindi Express silenced the Eden Gardens, Kolkata with two unforgettable deliveries.
Dravid, who held fort with gritty application, spent nearly two hours at the crease and faced 92 balls was on strike during the 51st over of the day. Shoaib sprinted in, bowled a low full-toss that curved in at the last moment and clattered into the leg stump before Dravid got his bat down…too quick, too good for the Wall!
In came the best, most recognized batsman of the world, the darling of India, Sachin Tendulkar with a wave of cheer carrying him to the crease. A hop and crouch from the Little Master, a swift scan of the field, elbow protection nudged and guard taken. With only one slip in place, Shoaib raced in. Another low full-toss, but this one had more pace but less swerve. Tendulkar shifted his back foot across to cover an off stump line and played the on-drive.
One could hear a pin drop at Eden Gardens, and the celebration of Pakistani cricketers as Tendulkar's middle stump was sent for a cart-wheel. One of the best batsmen of his era was beaten all ends up by pace, real pace from the jubilant Rawalpindi Express.
After the dismissal, Shoaib rejoiced. He was on to his knees, head skywards, arms outstretched like some Jesus Christ Superstar. He just gave Sachin the second golden duck of his career!